Place
Stop 1: The Orella badlands from the North Overlook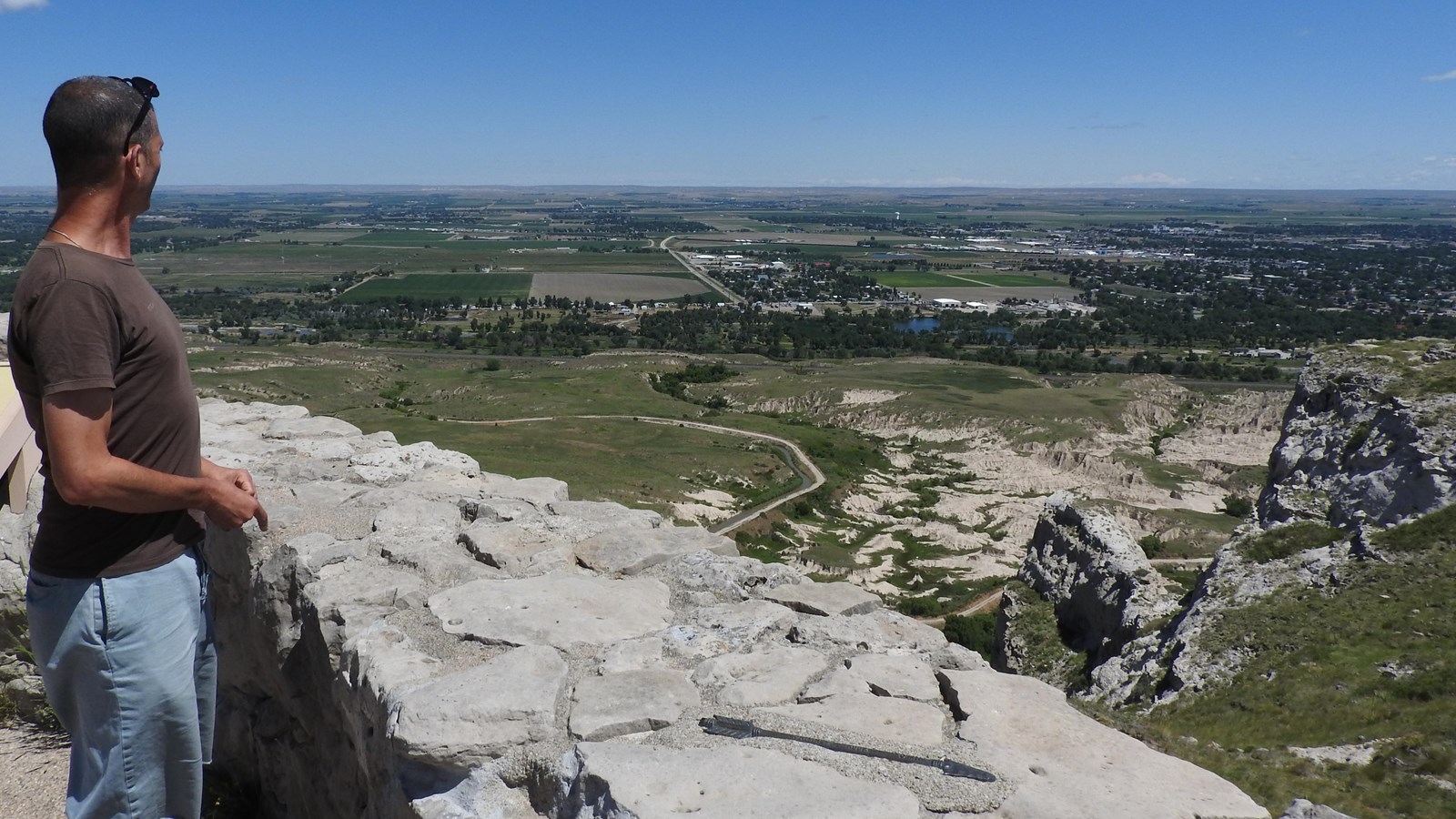 Location:
41.839946, -103.698892
Historical/Interpretive Information/Exhibits, Scenic View/Photo Spot
Before starting your hike down the Saddle Rock Trail, take a short side trip over to the North Overlook. The Orella badlands are visible from this point. A large number of vertebrate fossils were collected from this area prior to 1919 when the area was incorporated into Scotts Bluff National Monument. Today, fossil collecting is prohibited.

It stands to reason that the oldest layers of sediment would be the ones at the bottom of Scotts Bluff. Those oldest exposed sediments can be seen here from the North Overlook. The Orella Member is the lowermost member of the Brule Formation. The overlook is about 800 feet (244 meters) above the North Platte River and provides a panoramic view of the fertile cropland in the North Platte Valley, which is about six miles (9.7 kilometers) wide at this location. Upstream from this point, the North Platte River drains an area of 24,330 square miles (63,000 square kilometers) starting in the Rocky Mountains of Colorado. Because reserviors were built to retain spring snowmelt for summer irrigation, the flow of the river is much less variable than it was in past and the channel is considerably narrower than it previosly was. Most of the water used for irrigation in the Platte River Valley is obtained from canals that divert water from the North Platte River in Wyoming and Nebraska. One of three canals that pass through the monument, the Mitchell-Gering Canal, can be seen traversing the badlands from this overlook. 

To get to the next stop on the tour, backtrack on the North Overlook Trail, following the east sides of the loops to the start of the Saddle Rock Trail. As you head to the next stop on the tour, think about why the badlands below have eroded away so much, but Scotts Bluff still stands 800 feet above the river.
Last updated: October 5, 2020