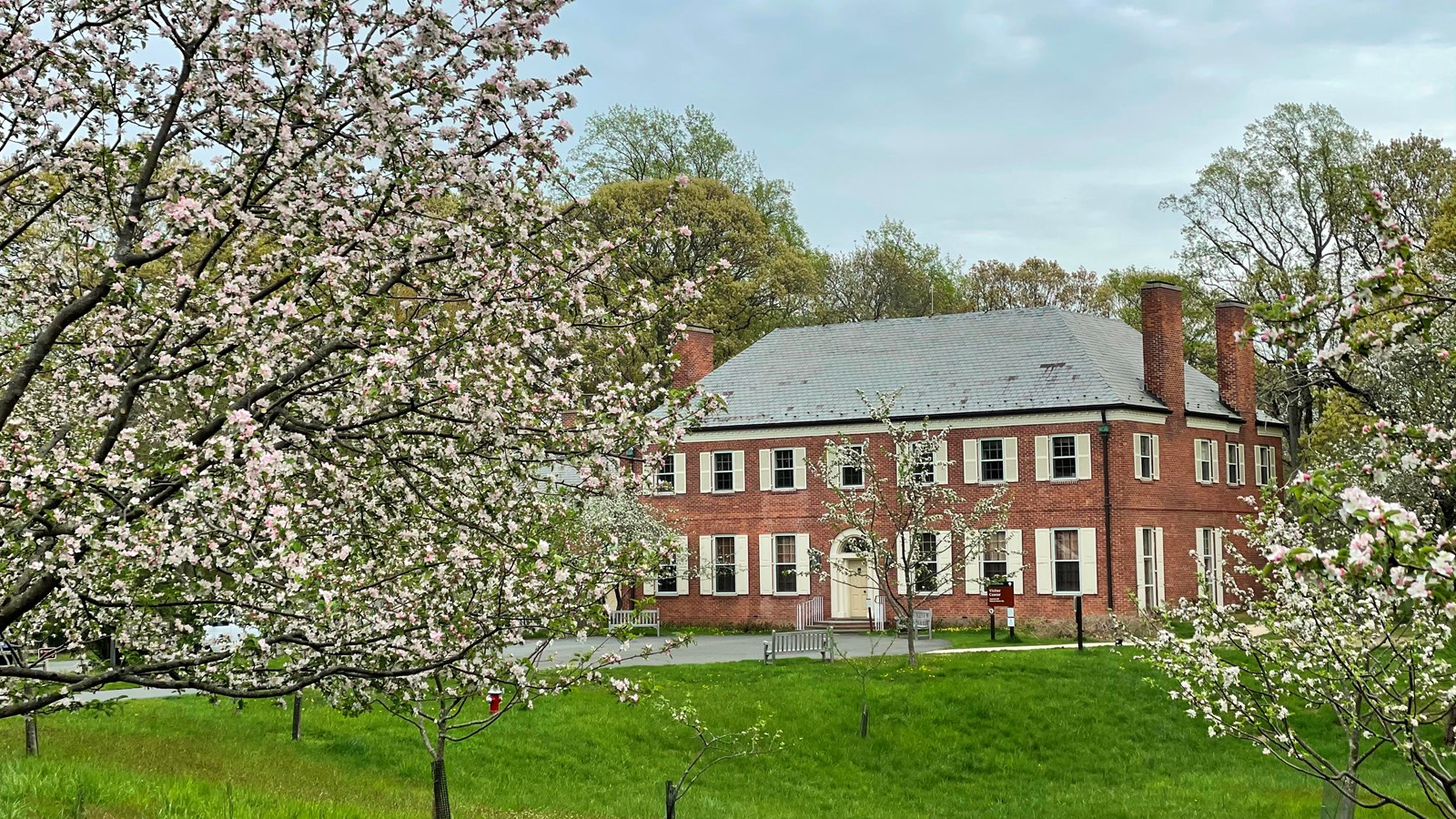 Significance:
Theodore Roosevelt Jr.'s Residence
Accessible Rooms, Automated Entrance, Automated External Defibrillator (AED), Baby Changing Station, Benches/Seating, Captioned Media, Entrance Passes For Sale, Food/Drink - Snacks, Gifts/Souvenirs/Books, Historical/Interpretive Information/Exhibits, Information, Information - Maps Available, Information - Ranger/Staff Member Present, Internet/WiFi Available, Open Captioning, Restroom, Restroom - Accessible, Theater/Auditorium, Ticket Sales, Toilet - Flush, Water - Bottle-Filling Station, Water - Drinking/Potable, Wheelchair Accessible, Wheelchairs Available
Theodore Roosevelt Jr. (Ted) and his wife Eleanor Alexander Roosevelt built the house they called "Old Orchard" in 1937-1938 on four acres of land purchased from Ted's mother in the Sagamore Hill apple orchard. The Georgian style home was designed to Ted and Eleanor Roosevelt's satisfaction by their son-in-law, Baltimore architect William G. McMillan, Jr.
Theodore Roosevelt Jr. and Eleanor Alexander Roosevelt
Eleanor Butler Alexander was born in New York's Upper East Side to Henry Addison Alexander and Grace Green in 1888. Although a native New Yorker, Eleanor spent the first years of her life on move, living in California and Paris, France for a period of six years. She returned to the United States in 1900.
Eleanor and Ted had several encounters at social functions since Eleanor was acquainted with Ted's younger sister, Ethel. The two were married in New York City at Fifth Avenue Presbyterian Church on June 20, 1910. Together, Theodore and Eleanor Roosevelt had four children: Grace, Theodore II, Cornelius and Quentin II (named for Ted's baby brother who was killed during the First World War.)
Old Orchard House 
The Old Orchard house was built of brick and intended to be painted white, but left exposed because Eleanor found the color to be "so good." Instead, the doors, shutters and trim of Old Orchard were painted off white. The exterior brick would eventually be covered in English ivy, which remained until the National Park Service acquisition in 1962.
The elegant home was filled with mementos of world travel, including Chinese furniture collected by Eleanor in the 1920s as well as reminders of Ted's service in the infantry during World War I. The large eighteenth-century front door was found in back yard of a parish in Dublin by Ted and Eleanor.
The entrance hall to the home was lined with family portraits dating back four generations, and some of Ted's flags, including those from his governorships and of other prominent positions he held. Ted shared his father's love of reading, and Eleanor stated that books "…have overflowed into every room in the house, both upstairs and down." Eleanor referred to the inside of the home as her province and wanted color everywhere. Some rooms had a color theme –the drawing room, "happily combined every shade of red from deep crimson to pale rose"—while others were filled with items from a trip to China, gifts from family and friends and other family treasures.
The upstairs was home to the family bedrooms. One for Ted and Eleanor and one each for their sons, Quentin and Cornelius (their daughter Grace and son Theodore III had moved out years earlier), as well as one for their maid and two spare rooms.  As was typical in some English country houses at the time, the Roosevelts decided to name some of the bedrooms in their home, with names as exotic as "Chengtu," after Quentin's interest in China or as American as "Vermont," after the state where some of the furniture in Ted and Eleanor's room was purchased.
Along with the house, the Old Orchard compound also included a multi-bay garage for the family's automobiles; a cottage for the site foreman, and a cold storage all located within close proximity to the home.
Ted Jr. lived in the Old Orchard House until his death in 1944 and his wife Eleanor Alexander Roosevelt lived in the house until her death in 1960.
Last updated: May 30, 2021