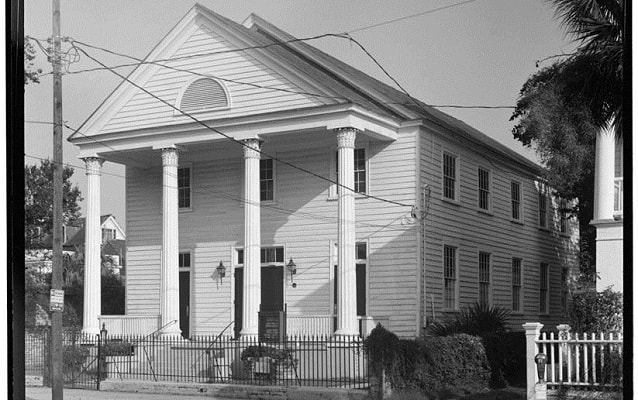 Quick Facts
Location:

222 Calhoun Street, Charleston, SC

Designation:

National Register of Historic Places

OPEN TO PUBLIC:

Yes

MANAGED BY:
Old Bethel United Methodist Church is the third oldest church building surviving in Charleston. The church is an architectural reminder of the significant relationship between African Americans and the Methodist Church in Charleston. Methodists conducted extensive missionary work among African Americans in South Carolina, sometimes suffering persecution for their suspected abolitionist tendencies. Indicative of the Methodist Church's philosophy of encouraging black membership, Old Bethel was founded and paid for by both black and white citizens.
Construction began in 1797 and was completed in 1807. The church was originally constructed in the gabled meetinghouse style with white clapboards after a design by Francis Asbury, the first Methodist bishop in the United States. It stood at the corner of Pitt and Calhoun Streets, then the extreme northwestern part of the city. Membership in the congregation of Old Bethel was open to both free blacks and slaves. However, in 1834 a schism developed over whether blacks were to be restricted to sitting in the galleries. By 1840 the black members seceded to form their own congregation.

In 1852 the church was moved to the western portion of the lot on which it stood, to be used by the black congregation. A new church, Bethel Methodist, was built on the original site, to serve the white congregation. After the church was given to the black population, in 1880, it was moved across Calhoun Street to its present location. The addition of a gabled portico supported by four fluted Corinthian columns documents changing styles in ecclesiastical architecture. The interior of the church was likely damaged by the 1886 earthquake in Charleston, and the pressed metal ceiling and Victorian era furnishing of Old Bethel date to the end of the 19th century. The church currently serves a black congregation, which includes descendants of the 1880 congregation.