Place
Georgia O'Keeffe Home and Studio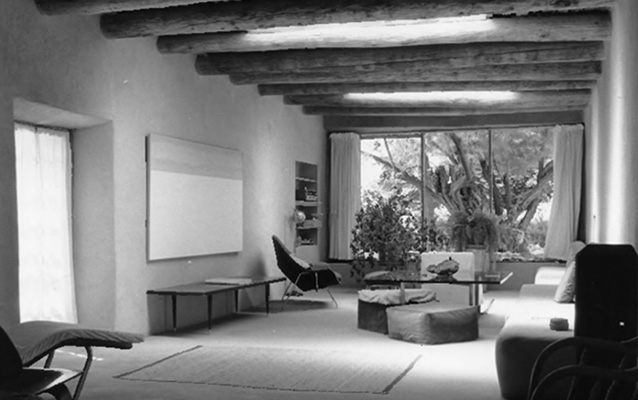 Location:
12 Palvadera Rd., Abiquiu, NM
Designation:
Listed on the National Register of Historic Places and designated a National Historic Landmark
The home and studio of the artist Georgia O'Keeffe (1887-1986) in Abiquiu, New Mexico (approximately 60 miles northwest of Santa Fe), is one of the most important artistic sites in the southwestern United States. The buildings, their immediate surroundings, and the views they command of the magnificent landscape that inspired many of O'Keeffe's best-known paintings all combine to provide insight into the vision and process of a major figure in 20th century American art. This insight becomes particularly useful for evaluating the work of an artist whose life and persona have taken on mythical proportions within our national culture. O'Keeffe has become, according to critic Mark Stevens, "an iconic figure, a woman who represents an essential version of the American dream."
O'Keeffe purchased the Abiquiu property from the Roman Catholic Archdiocese of Santa Fe in 1945, after eyeing the house and grounds--and attempting to buy them--for some ten years. Discovering the house in the early 1930s during one of her frequent visits to northern New Mexico, O'Keeffe moved permanently from New York to New Mexico in 1949. O'Keeffe designed the property in collaboration with her partner, Maria Chabot. The house in Abiquiu became her primary residence until 1984, when she moved to Santa Fe two years prior to her death at the age of 98.
In 1989, the Georgia O'Keeffe Foundation became owner and manager of the Abiquiu property. The Foundation, a nonprofit organization dedicated to perpetuating the artistic legacy of Georgia O'Keeffe for the public benefit, began a program to preserve and maintain the house and its contents as one of the most important artist's home and studio complexes of the 20th century. The Georgia O'Keeffe Home and Studio is now part of the Georgia O'Keeffe Museum.
Georgia O'Keeffe Home and Studio Information
Property Name: Georgia O'Keeffe Home and Studio
Reference Number: 9800197
State: New Mexico
County: Rio Arriba
City: Abiquiu
Street Address: 12 Palvadera Rd., Abiquiu, NM
Multiple Property Submission Name: N/A
Status Listed: 8/5/1998; NHL Designated: 8/5/1998
Link to National Register Nomination
The National Register of Historic Places is the official list of the Nation's historic places worthy of preservation. Authorized by the National Historic Preservation Act of 1966, the National Park Service's National Register of Historic Places is part of a national program to coordinate and support public and private efforts to identify, evaluate, and protect America's historic and archeological resources.
National Register of Historic Places
Last updated: March 21, 2018