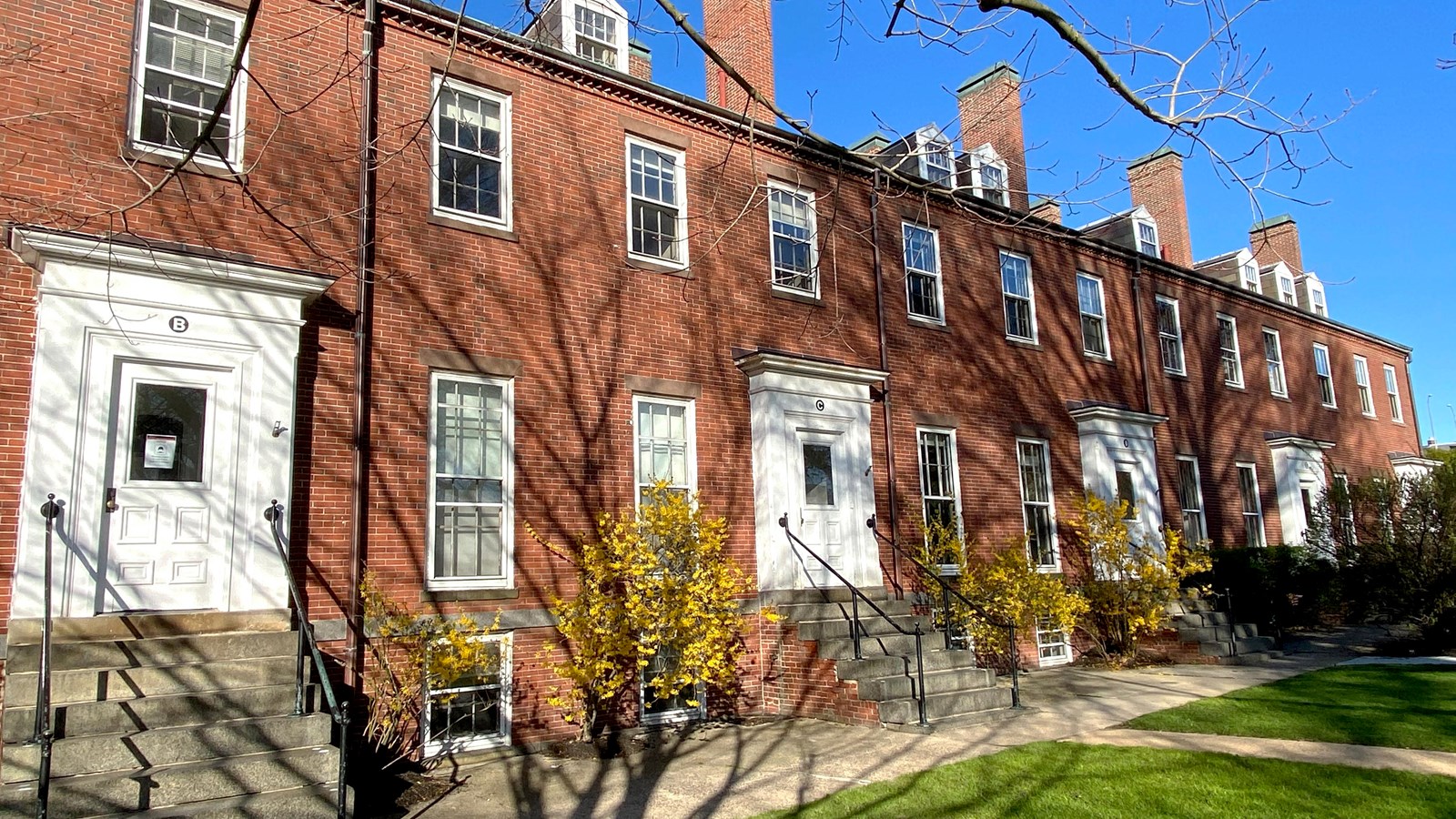 Location:
Quarters B-F, Building 265, near Gate 1
Significance:
One of two sets of rowhouses constructed in the 19th century to house officers and their families.
Built in 1833, this row of five townhouses primarily served as the homes of naval officers and their families. Many of these officers supervised the building and repairing of ships in the Charlestown Navy Yard.
These 2½ story Federalist-style homes were originally only two rooms deep and all have been expanded over the years. Despite having a busy shipyard right outside of their front door, these residences became desirable places to live. Most families lived here for about three years, the typical length of a job assignment in the US Navy.
This row of housing was also called "Captains' Row." The Navy provided additional quarters at the opposite end of the Yard. During World War II, the Navy did not have sufficient housing for all officers' families within the Navy Yard, so they found accommodations at nearby military facilities.
These buildings are designated as B through F. There was a Quarters A, demolished in 1958, that was the home of the porter, or Navy Yard property manager. It stood behind Quarters B and adjacent to Gate 1. The exterior wall of Quarters A remains as part of the yard's Boundary Wall.
Naval Strategist Alfred Thayer Mahan and Commodore Matthew Perry are notable officers who once lived in these houses.
These buildings are now used as offices and housing by the National Park Service.
Sources
Black, Frederick R. and Edwin C. Bears. The Charlestown Navy Yard 1842-1890. Boston, MA: Boston National Historical Park, National Park Service, U.S. Dept. of the Interior, 1993.
Carlson, Stephen P. Charlestown Navy Yard Historic Resource Study, Vol 1-3. Boston, MA: Division of Cultural Resources Boston National Historical Park National Park Service U.S. Department of the Interior, 2010.
National Park Service, Boston National Historical Park. "National Register of Historic Places Inventory, Charlestown Navy Yard Nomination Form (1978)." In Boston National Historical Park, Charleston Navy Yard Boundary Enlargement Report. Denver: Denver Service Center, National Park Service, 1979.
Last updated: January 18, 2023