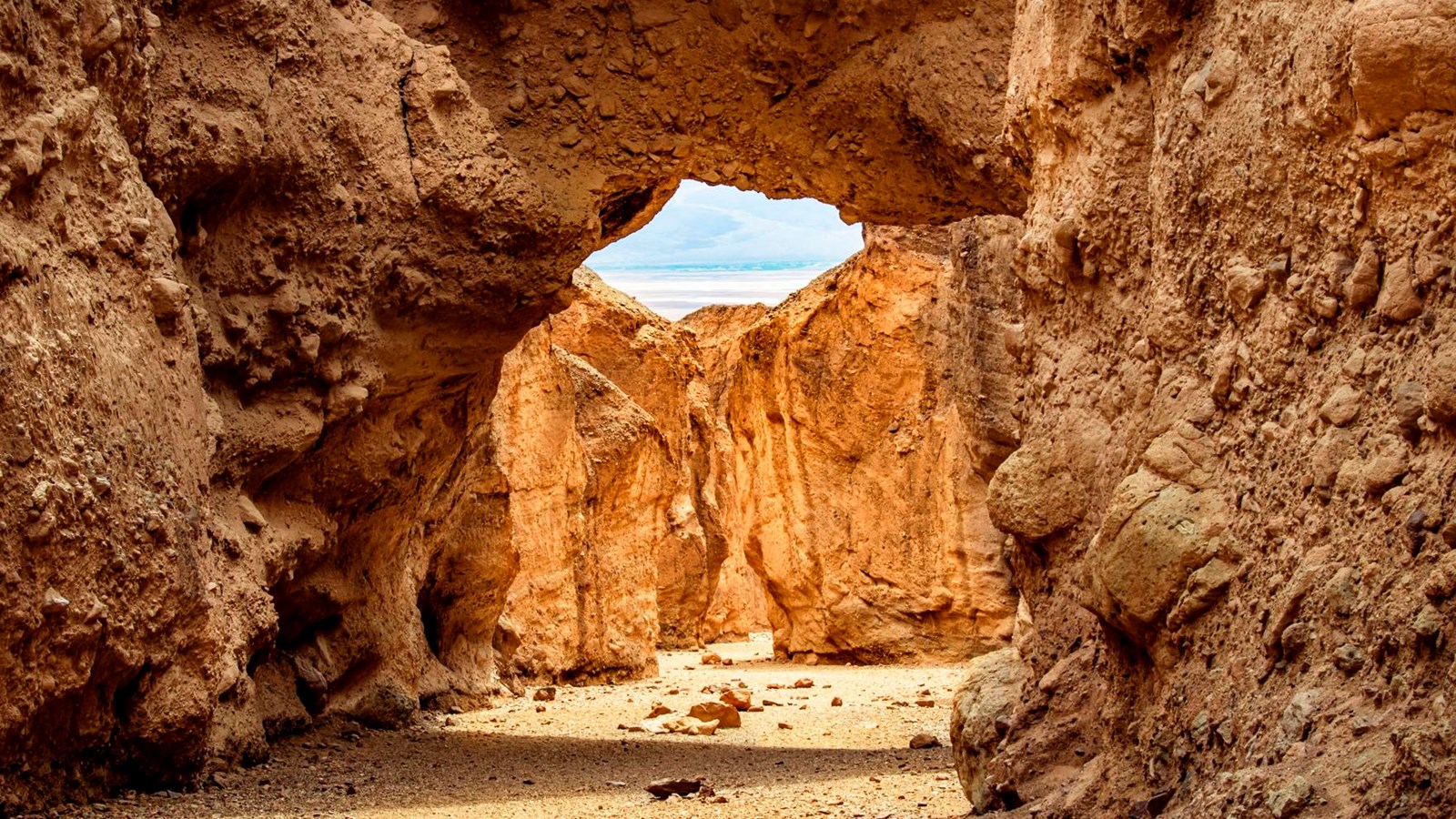 Location:
Death Valley National Park
Significance:
Hiking Route
Parking - Auto, Parking - Bus/RV, Scenic View/Photo Spot, Toilet - Vault/Composting, Trailhead
Natural Bridge is a stunning geologic formation tucked back in a Death Valley canyon.
This is an excellent short hike for families, geology lovers, and those who simply enjoy getting out and exploring. Although there is no official trail, a walk straight up the wash from the parking area will bring hikers directly under the bridge. Different from the smooth sandstone arches found in Utah, Natural Bridge is interesting because it is made of a jagged rocky alluvial deposit (rock, gravel, and sediment washed to the base of an ancient mountain and cemented together). Hikers who continue beyond the bridge up the canyon will encounter more examples of interesting Death Valley geology including dry falls, vertical chutes, and hanging canyons.

The bridge rises approximately 35 ft (11 m) above the canyon floor and is about 35 ft (11 m) thick. Although rain is infrequent in Death Valley, over thousands of years, flash flood events have carved the canyon which Natural Bridge spans today. At some point, the water changed course slightly and ran just north of the present location of the bridge (look for this diversion as you hike). This diversion lowered the level of the canyon just above the location of the bridge. Eventually, the water returned to its initial, straighter course, forming a hole under the span of the bridge and eventually lowering the floor of the canyon even more, creating the bridge and leaving it high and exposed. 

Natural Bridge parking area and trail head is accessed via a dirt road 13.5 miles (22 km) south of CA-190 off Badwater Rd. Although the road is typically well-maintained and accessible by most vehicles, washouts and deep ruts can occur, so check with a ranger for current conditions. 
---
HIKING NOT ADVISED AFTER 10AM IN THE SUMMER

Round Trip Length: 1 mi (3.2km)
Round Trip Time: 45 minutes
Difficulty: Easy
Elevation Gain: 86 ft (26m)
Trail Type: No official trail- out and back route up a canyon
Location: Trailhead located at the end of the unpaved Natural Bridge Road, 13.5 miles (22 km) south of CA-190 off Badwater Rd. Check with a ranger about current road conditions.
Parking: Open dirt parking area large enough for buses and RVs
Closest Restroom: Vault toilet located in parking lot. Do not leave toilet paper in the canyon.
Route: The route from the information sign up the canyon to the bridge formation is easy to follow but is very rocky. The canyon continues a short distance beyond the bridge, where it abruptly ends at a dry waterfall.

Note: pets are not allowed on any trail in Death Valley National Park, even if carried. Do not leave your animal in your vehicle. Speak with a ranger about one of the incredible dirt roads where you may walk your pet.
 
Last updated: March 24, 2022