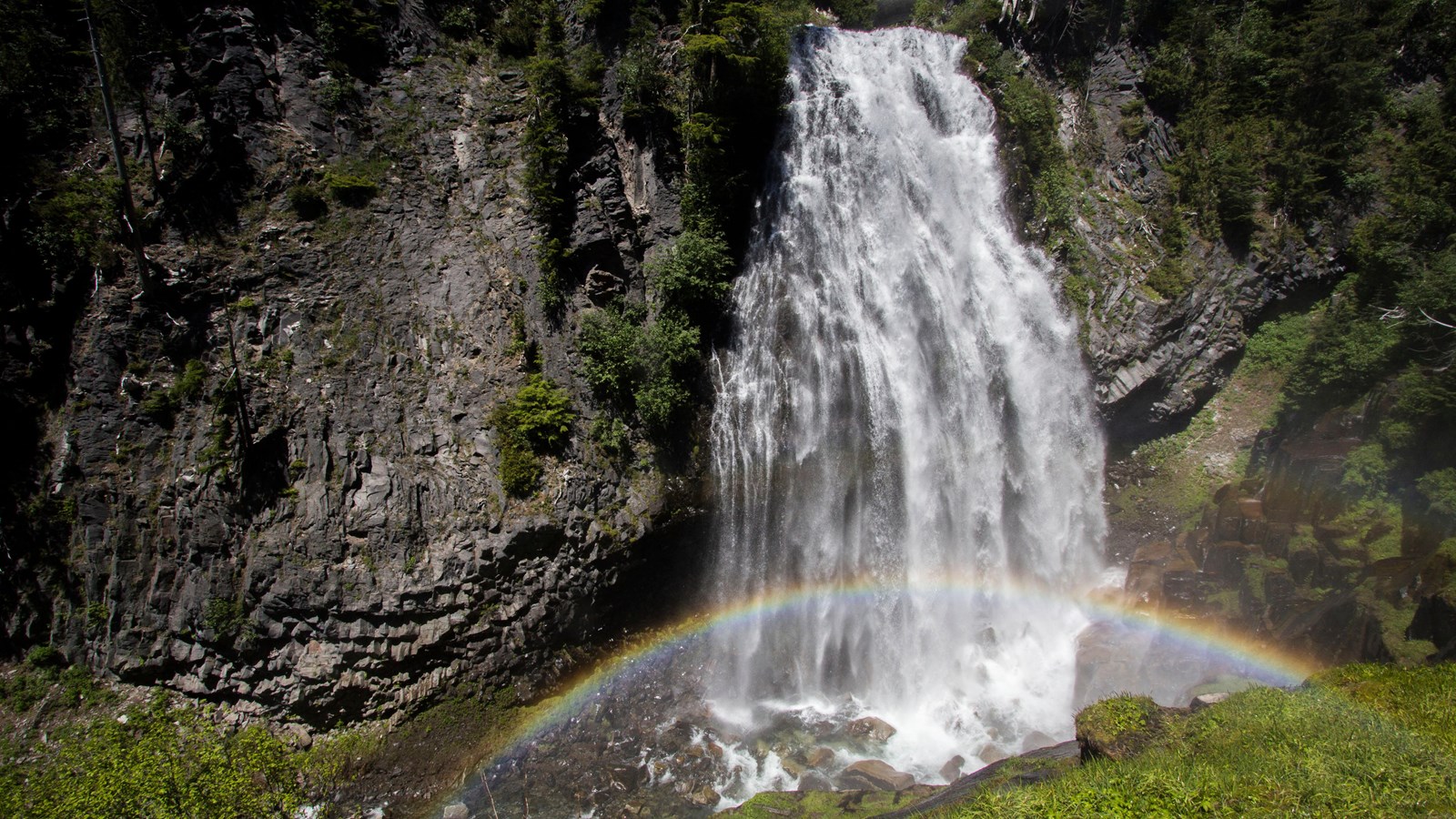 Location:
Approximately 17 miles east of the Nisqually Entrance, with Paradise one mile to the northeast.
Significance:
Contributes to the Mount Rainier National Historic Landmark District
Historical/Interpretive Information/Exhibits, Parking - Auto, Parking - Bus/RV, Picnic Table, Restroom - Accessible, Scenic View/Photo Spot, Toilet - Flush, Trailhead, Trash/Litter Receptacles
Season: Year-Round
The Narada Falls parking and rest area is open year-round, with a view of the top of the falls from the upper pullout. The trail to the lower viewpoint is snow covered and hazardous during the winter. 

Narada Falls is located approximately 17 miles east of the park's southwest entrance, with Paradise one mile to the northeast. At only 150 feet from the road to Paradise, Narada Falls is the largest waterfall accessible by car in the park, and one of the most impressive. The area is composed of a parking area with a viewpoint, a stone-faced bridge across the top of the Narada Falls, picnic tables, restrooms, and a trail to a scenic overlook. Structures in this area, including the bridge, were designed and constructed according to naturalistic principles of landscape design and the National Park Service rustic style of architecture in the early 1900s.

Walk across the bridge to access the restrooms and a steep trail to the bottom of the waterfall. The path may be wet and slippery. The trail is 0.2-mile (0.4 mile round-trip) with a steep, 200-foot descent/ascent. The trail connects to the 97 mile around-the-mountain Wonderland Trail to the south. Take the trail north to access the Lakes Trail that leads to Reflection Lakes to the east or Paradise to the north.

At the end of the short trail, the entire 168-foot-high waterfall is visible. The vista is not only about dramatically falling water but also the rock that creates the steep drop. Here the Paradise River plunges over the edge of a relatively recent flow of hard andesite lava that abuts much older rock. This lava's cooling was accelerated by contact with the icy surface of the glacier that once filled this valley. The Paradise River runs clear, not milky, because it originates from snowfields, not debris-laden glaciers.
Last updated: July 13, 2023