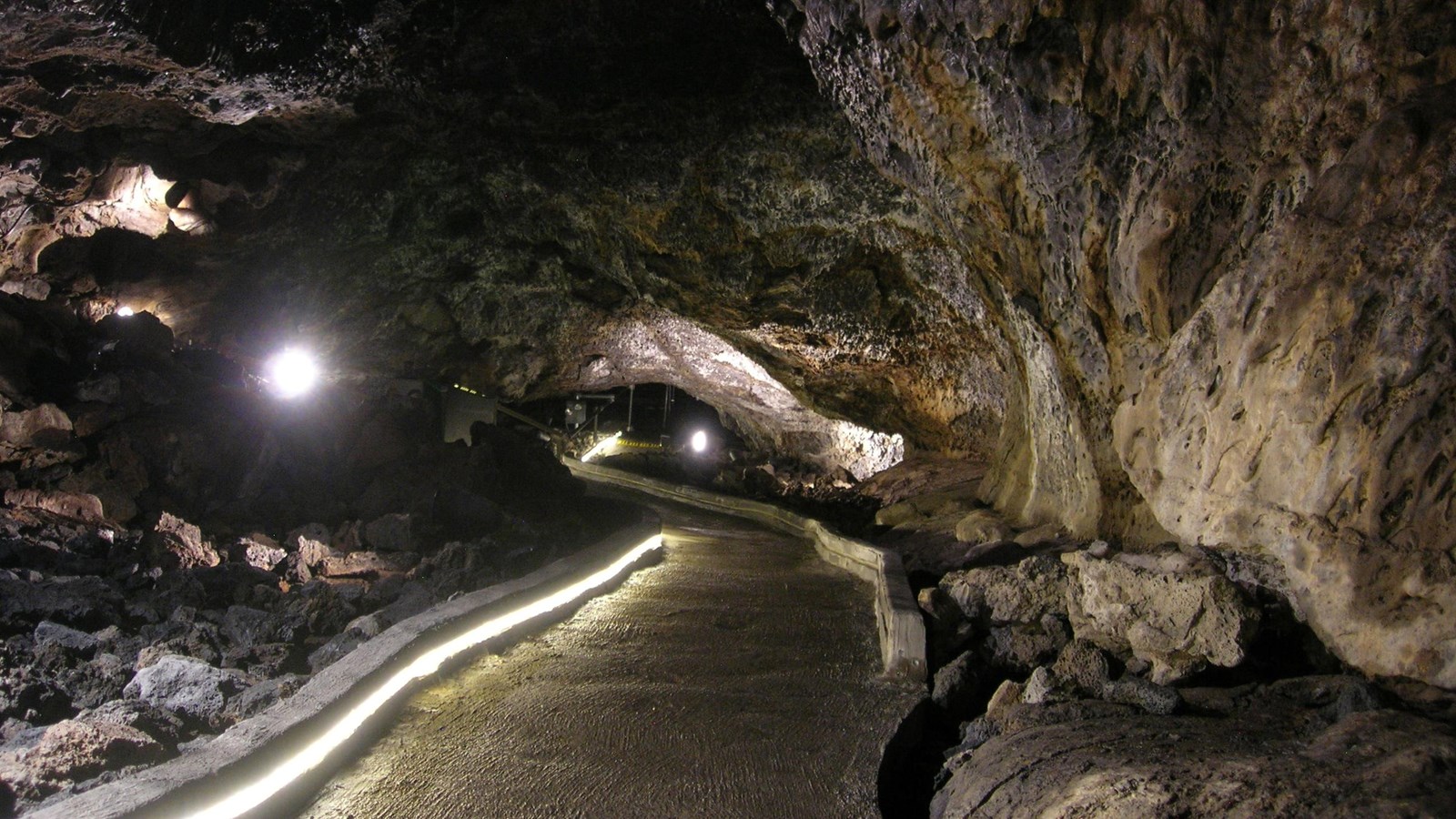 Benches/Seating, Historical/Interpretive Information/Exhibits, Information Kiosk/Bulletin Board, Theater/Auditorium
Mushpot Cave: (770 ft / 235 m) One of the "Least Challenging Caves" is recommended as an introductory cave. It is the only cave in the park to have lights and interpretive signs explaining the cave formations, ecology and cave climate. Even though the cave is lit, we still recommend bringing extra lights and always watch your head.  

Length: 770 feet. 
Cave has stairs/steps. 
Cave has a relatively "smooth" path (paved). 
Most people must duck-walk in some places. 
Distance from visitor center: 524 foot walk. 

The caves found here were created by flows of smooth lava 10,500 to 65,000 years ago. As the lava cooled, caves formed and created homes for unique cave life to thrive. These fantastic underground worlds can be visited on your own or by guided tour in the summer. Please "take only pictures, leave only footprints" so others have a chance to discover what you have during your trip.
---
Certain caves are closed to protect bats. Please check with a ranger for current closures.

You Can Help Protect Bats!
Learn about white-nose syndrome and get screened before you enter caves.
Lava Beds provides critical habitat throughout the year for large, stable populations of at least 14 species of bats. During the summer, some caves are closed to protect maternal bat colonies where mothers raise thousands of tiny, vulnerable bat pups on the ceiling. Other caves may contain groups of hibernating bats in winter, which can die if awakened often.

What to Do if You See Bats?
Stop talking, shine your light away from the bats, and leave the area as quickly and quietly as possible. Note about how many bats there are and where they are, so you can tell a Ranger. Your information will help us better protect these important, fascinating animals.
---
Cave Softly
Please care for these fragile, amazing environments and cave life by following these rules during your visit:
• Stay on available trails
• Leave no trace of your visit behind—do not eat, drink, smoke, or leave trash
• Do not use caves as bathrooms, use a "wag bag" and pee bottle
• Formations made of lava, calcite, and ice can be permanently damaged—
cave slowly and carefully and do not touch
• Do not touch hydrophobic bacterial mats—they are easily damaged and take decades to regrow
• Use electric flashlights, not carbide or gas lamps
• Do not touch paintings or cultural artifacts, as they are easily damaged
• Observe closures to protect bats, and do not disturb any cave life you see
• Pets are not permitted in caves

Cave Safely
• Wear Appropriate Safety Gear - Prevent injury by wearing long sleeves, pants and closed-toed shoes or boots. Gloves and kneepads are recommended in difficult caves.
• Protect Your Head - Use bicycle, construction, or other types of helmets. Bump hats are sold at the Visitor Center.
• Bring Enough Light - Each person should carry at least one flashlight with extra batteries (and bulbs if available). Three flashlights per person are ideal. Flashlights are loaned free of charge during hours of operation at the Visitor Center.
• Wear Warm Clothing - Most caves are about 55 °F (13 °C) year-round. Caves with ice are colder.
• Know Yourself and Your Group - Choose caves suitable for everyone in your group. Don't push beyond anyone's limits. Children and seniors should be able to walk safely on their own. Caves are not appropriate places for infants.
• Explore as a Group - Tell a friend or family member where you are going and when you expect to return. If you must go alone, choose easier caves and carry three flashlights.
• Know Your Route - Be observant, and look back at junctions and landmarks to make mental notes. A book of cave maps can be purchased in the Visitor Center—learn to read map symbols before you go. Using a compass will help you use the maps.
Last updated: March 4, 2023