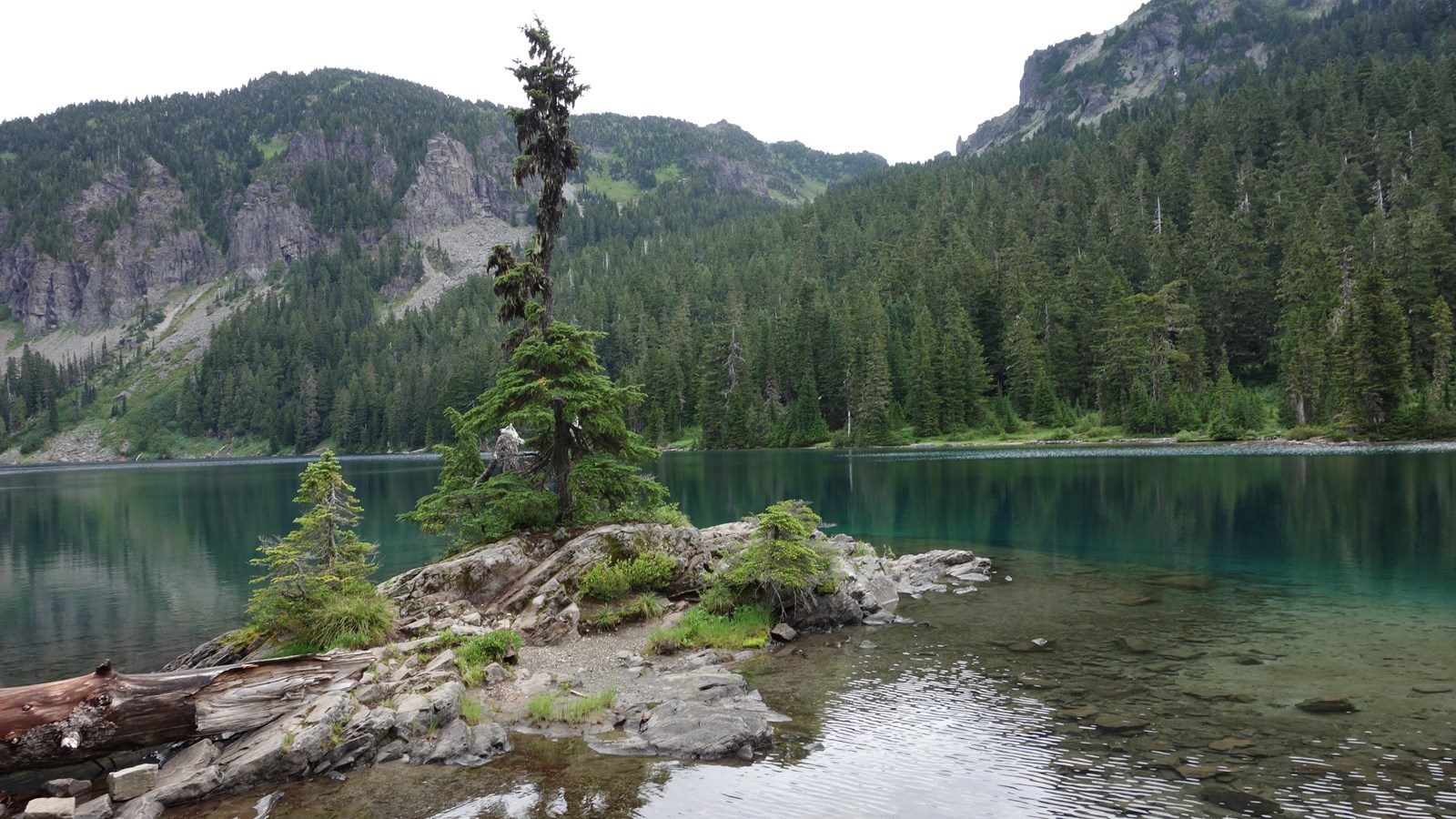 Location:
Mowich Lake is in the northwest corner of Mount Rainier National Park via State Route 165.
Animal-Safe Food Storage, Beach/Water Access, Information Kiosk/Bulletin Board, Parking - Auto, Picnic Table, Restroom - Seasonal, Scenic View/Photo Spot, Toilet - Vault/Composting, Trailhead, Trash/Litter Receptacles
Season: Summer Only (July - October)
Mowich Lake Road is open to vehicles during the summer only, typically from mid-July to mid-October. During the winter, hikers and snowshoers can still use the road. 
 
Set in a glacial basin surrounded by fragile wildflower meadows, Mowich Lake is the largest and deepest lake in Mount Rainier National Park. It is located in the northwest corner of the park and is reached via State Route 165. The road is unpaved after the first three miles and may be rough. 

Mowich Lake is one of the few lakes in the park where visitors can enjoy non-motorized boating. The lake is also open to fishing. The Mowich Lake Campground is a rustic wilderness campground located near the parking area. The subalpine meadows surrounding the lake are very sensitive to disturbance, so please stay on the trails at all times. Keep an eye out for Cascade frogs, birds, and other wildlife. Learn more about Mowich Lake.
Hiking
Tolmie Peak Trail (6.5 miles roundtrip) climbs to one of the park's four historic fire lookouts. The trail begins on the north side of Mowich Lake. 

Starting on southeast side of the Mowich Lake campground, the Spray Park Trail (6 miles roundtrip) leads east for two miles to a spur trail junction to view Spray Falls. The trail then climbs a series of switchbacks to the first meadows of Spray Park. Eventually the Spray Park trail connects to the Wonderland Trail near the Carbon River Glacier. 

The Wonderland Trail also passes by Mowich Lake. To the north, the trail descends Ipsut Pass to Carbon River. To the south, the trail connects to the Paul Peak trail and continues towards Golden Lakes. 
Last updated: November 7, 2021