Place
Mount Vernon Place Historic District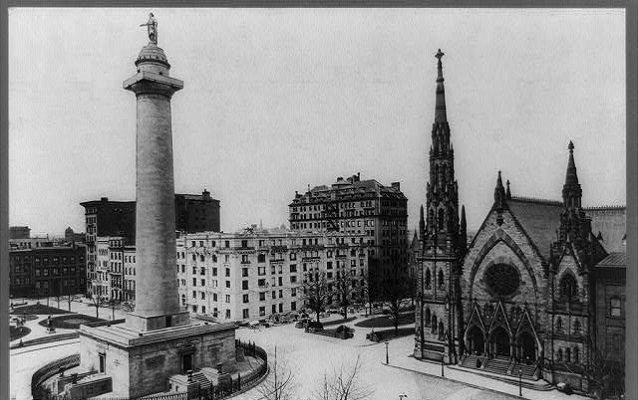 Location:
Mount Vernon Pl. and Washington Pl., Baltimore, MD
Significance:
Art, Landscape Architecture, Architecture
Designation:
National Register of Historic Places, National Historic Landmark
Mount Vernon Place Historic District is comprised of four rectangular parks-- East and West Mount Vernon Place and North and South Washington Place. These garden parks, and the houses that line them, form the setting for the Washington Monument, the first major monument in the country to honor the first President. Designed by Robert Mills, the monument's cornerstone was laid July 4, 1815, and was substantially completed in 1829 when the statue of Washington, by sculptor Enrico Causici, was raised to the top.
A National Historic Landmark, Mount Vernon Place is one of the first examples in the United States of deliberate city planning to create a dramatic setting for an existing monument. Notable buildings include the Thomas--Jencks House built in 1851 by Niernsee and Nielson (1 West Mt. Vernon Place); the Jacobs House built in 1884 by Stanford White and enlarged by John Russell Pope in 1902 (9-11 West Mt. Vernon Place); the Peabody Institute built from 1859 to 1866 by E. G. Lind (1 East Mt. Vernon Place); and the Walters Art Gallery built from 1905 to 1909 by Delano and Aldrich (Washington Place and Centre Street).
Last updated: August 29, 2018