Place
Mount Pleasant Beech Church and Beech Cemetery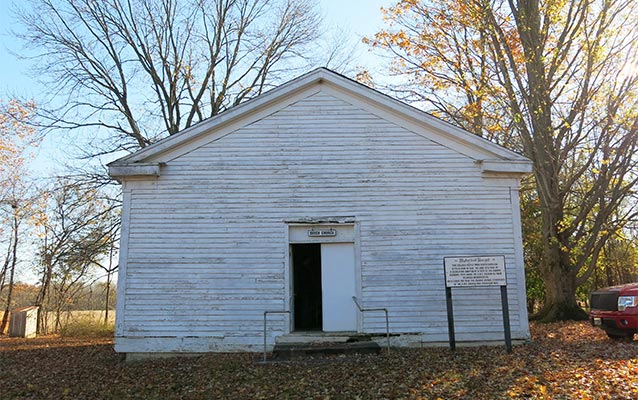 Location:
East side of County Road 725 West between County Roads. 1000 N & 1100 N, Carthage, Indiana
Significance:
African American History, Religion
Designation:
Listed in the National Register – Reference number 100002865
The Mount Pleasant Beech Church and Beech Cemetery was listed in the National Register of Historic Places on September 4, 2018. The Beech Church, c.1865, is a single-room, gable-front wood-frame building with weatherboard siding and details reflecting a vernacular adaptation of the Greek Revival style. The Beech Cemetery, located in Carthage, Indiana, is typical of rural Indiana cemeteries established in the early-to-mid-nineteenth century, with burials arranged in rows and a wide range of stone grave markers in various styles popular between the 1830s and the 1900s. These resources are the last remaining community landmarks of the Beech Settlement and offer a unique connection to Indiana's African American heritage. 
The Mount Pleasant Beech Church congregation built its first log church on the property in 1838 and the earliest identified burial in the Beech Cemetery dates from c.1838. The Beech Church remained a significant religious and community institution and landmark within the Beech Settlement into the 1910s. The latest identified burial in the Beech Cemetery dates from 1907. 
Since 1914, descendants of the settlers of the Beech Settlement have returned to the Beech Church for a reunion each August. Through this annual gathering, the Beech Church and Beech Cemetery have remained significant landmarks critical for maintaining the continuing cultural identity of the Beech Settlement's descendants. As one of the last surviving sites associated with a rural African American community in Indiana, the Beech Church and Beech Cemetery offer a unique connection to a critical aspect of the state's history and a dimension of the Hoosier experience distinct from that of Euro-Americans during the same period. 
The Beech Church is also significant in the area of religious history, as it was the site of the establishment of the Indiana Conference of the African Methodist Episcopal Church in 1840. This marked a significant phase of the growth of the denomination as Americans moved westward during the nineteenth century. As the first A.M.E. Church in Indiana, the Beech Church served as a parent and precedent for numerous other congregations that would be formed throughout the state over the following decades. In addition to its religious significance, the A.M.E. Church was a key organization in the promotion of education for African Americans, creating educational opportunities when state law and white hostility prohibited the children of black taxpayers from attending Indiana's public schools. For these reasons, the Beech Church provides a connection to local, state, and national history for the descendants of the Beech Settlement and for all Hoosiers. 
Last updated: January 14, 2022