Place
Mount Lebanon Shaker Society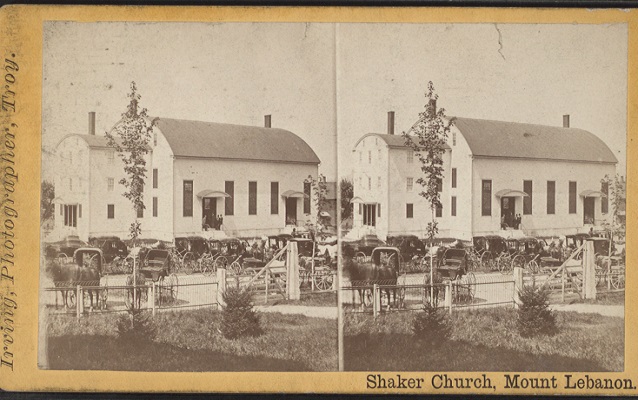 Location:
Rte. 20, New Lebanon NY
Significance:
Religious Community in New York
Designation:
National Historic Landmark
The Mount Lebanon Shaker Society, in New Lebanon, New York, was the spiritual center of Shaker society in the United States. Following the death of Mother Ann Lee in 1784, the United Society of Believers (Shakers) came under the leadership of Father James Whittaker. Whittaker founded an entirely original community, one which would ideally become the center of Shaker ideology in America. Construction began in 1785, the Shakers of Mount Lebanon soon developed into Whittaker's vision. It became a model for Shaker societies that followed. At its peak, Mount Lebanon had 600 members and hundreds of buildings spread out over 6,000 acres.

The first community also became an architectural model for future Shaker villages. The Meetinghouse, built in 1785, was first building erected in Mount Lebanon. Construction expanded linearly from the Meetinghouse as living and working quarters were built. Buildings in Mount Lebanon were simple and functional, thus setting the precedent for future Shaker communities. Towards the late 19th-century, however Victorian architecture did begin appearing in the community. The Ministry House and the Main Dwelling, built in 1875, both contain Victorian architectural elements.
Mount Lebanon also set precedents for commercial and industrial activity. Seed production, patent medicines, and chair manufacturing were among the industries that supported the community. During its most active period, several hundred buildings were dedicated to serve domestic, industrial and agricultural production. However, by the early 1930s, Shaker influence in the area had waned, with the last Shaker dying in 1947.
Over the following years, the village was broken into three sections and sold. Today, known as the Shaker Museum/Mount Lebanon, the site hosts walking tours and a museum.
Last updated: February 7, 2018