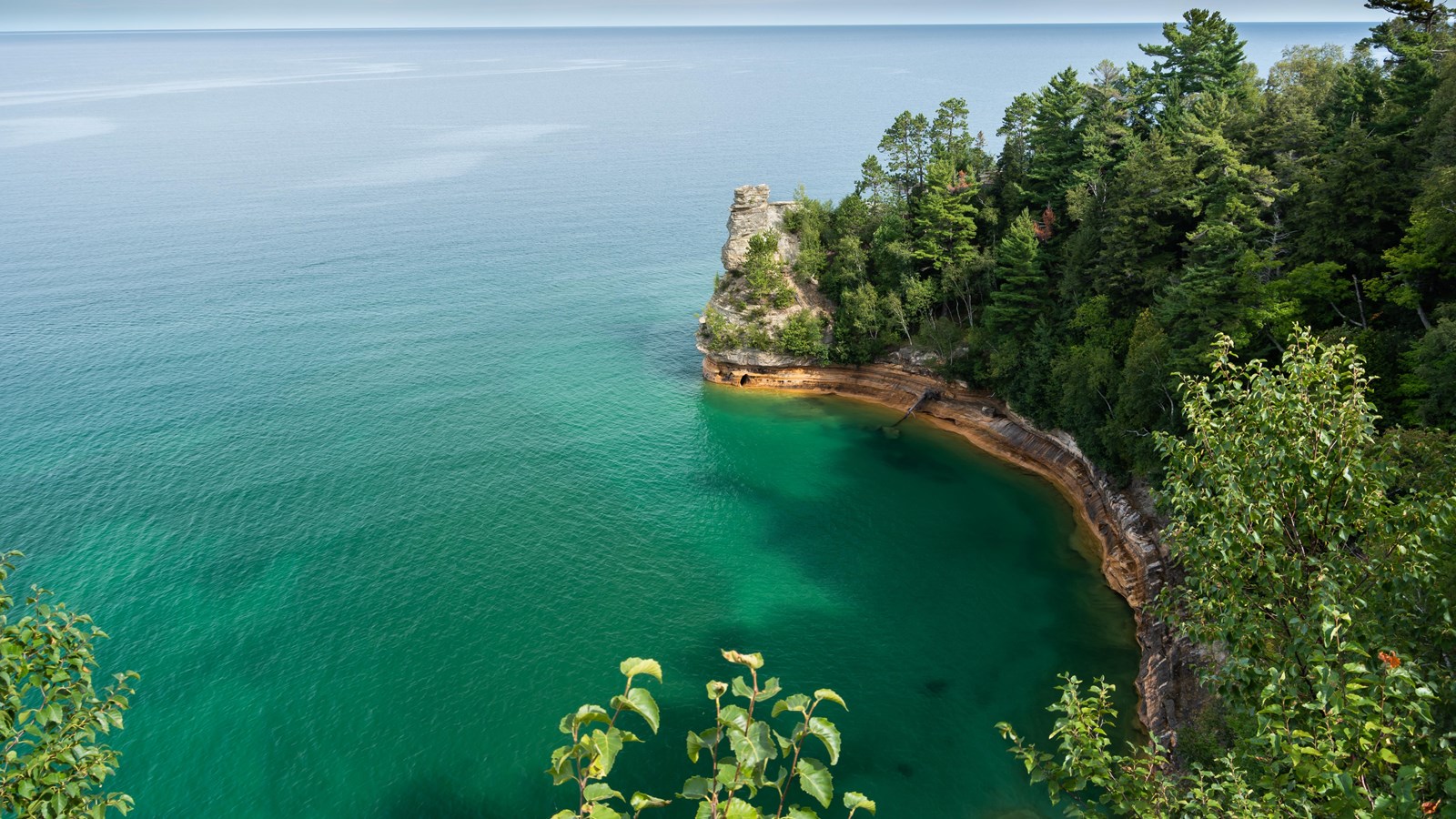 Location:
At the end of Miners Castle Road, about 11 miles northeast of Munising
Significance:
Miners Castle is the only location where visitors can drive to overlooks on the cliff.
Benches/Seating, Grill, Historical/Interpretive Information/Exhibits, Information Kiosk/Bulletin Board, Parking - Auto, Parking - Bus/RV, Pets Allowed, Picnic Table, Recycling, Restroom - Seasonal, Scenic View/Photo Spot, Toilet - Flush, Toilet - Vault/Composting, Trash/Litter Receptacles, Water - Bottle-Filling Station, Water - Drinking/Potable, Wheelchair Accessible
Miners Castle is located about 5 miles east of Munising on Alger County Road H-58, then 6 miles north on Miners Castle Road (H-11). It is one of the most famous landmarks along the Pictured Rocks shoreline, and is the only cliff area in the park accessible by vehicle. 
Leashed pets permitted. 
From the parking lot, a short paved wheelchair-accessible trail leads past interpretive exhibits to two breathtaking overlooks of Lake Superior and Grand Island. Stairs and a steeper trail lead to the lower overlook adjacent to Miners Castle. Erosion over long periods of time has created the interesting rock formation that gives this place its name. A 
rockfall in 2006
 dramatically changed the look of Miners Castle as one of its two turrets unexpectedly fell into the lake.
The loop from the information deck to all three overlooks and back is about 1/2 mile. Access to the lower overlook includes stairs and a steep walking incline. The North Country Scenic Trail passes through the Miners Castle area. There is a 1.0 mile section of the trail that leads from top of the cliff down to Miners Beach. 
The Pictured Rocks cliffs hold great spiritual significance to the Anishinaabe or Ojibwe people who have lived in this area for thousands of years. Miners Castle was named by Englishman Alexander Henry's employees when they were exploring the area for minerals in 1771. Though no minerals were ever found, the name "Miners" has endured. 
To the geologist, Miners Castle is an open textbook, revealing the history of the Earth at the northern edge of the Michigan Basin. The Pictured Rocks escarpment is one of the primary landscape features along the entire south shore of Lake Superior. Commercial tours have been providing boat tours past the castle since the 1940s. This rocky cliff is one of several highlights of the 2 to 2.5 hour cruise that continues east to Chapel Beach.
Why is this rock here?
The Pictured Rocks cliffs are made of three formations of Precambrian and Paleozoic age sandstone, the Jacobsville (bottom), Munising (middle), and Au Train (top). These layers represent different periods of time, sources of sediment, and physical characteristics. Weathering, ancient and current great lakes levels and several glacial events have carved the rocks into the forms we see them today.