Place
Mesquite Flat Sand Dunes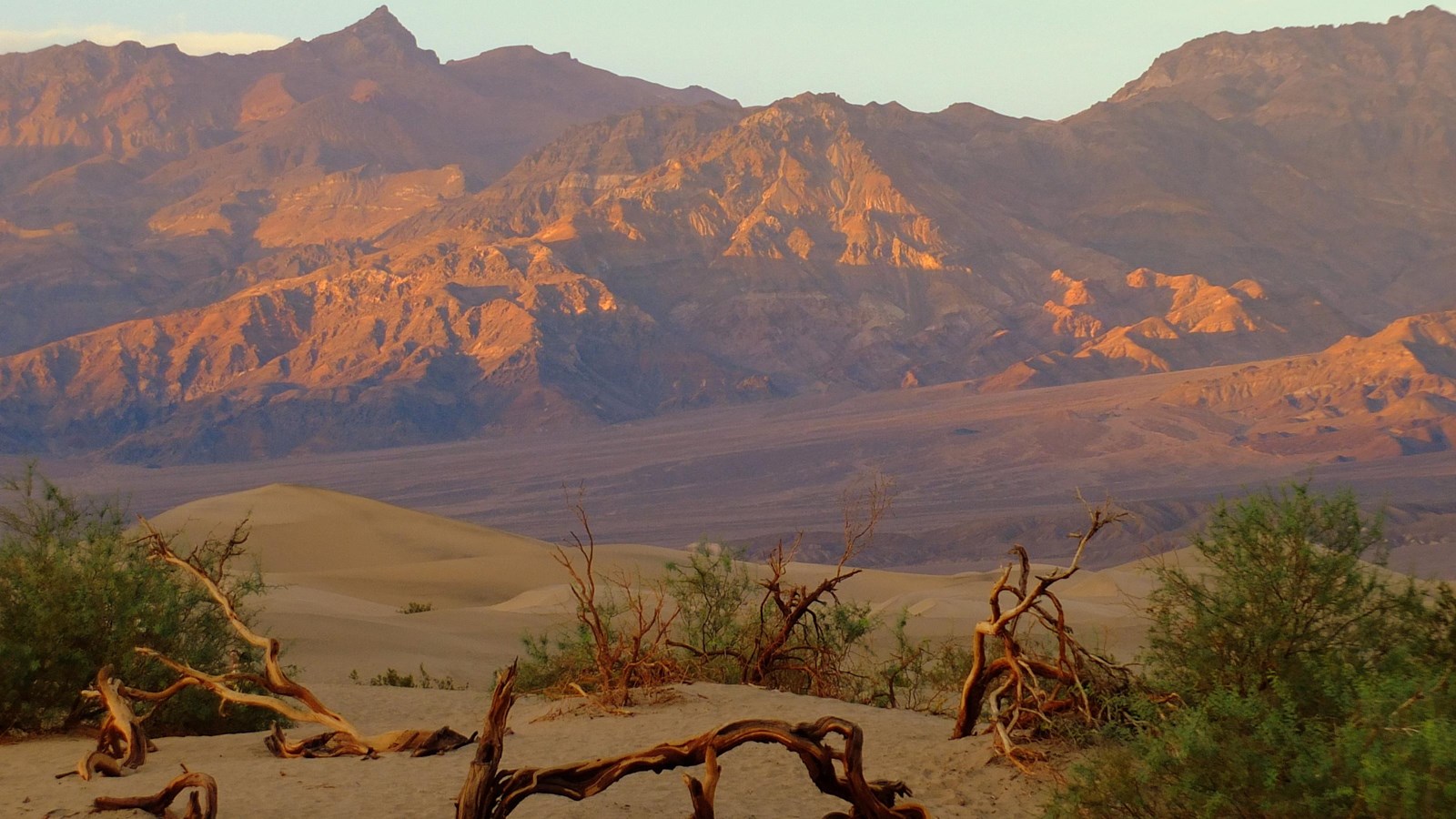 Location:
Death Valley National Park
Historical/Interpretive Information/Exhibits, Information Kiosk/Bulletin Board, Parking - Auto, Parking - Bus/RV, Scenic View/Photo Spot, Toilet - Vault/Composting
Sand, wind, and entrapping mountains are the perfect combination to create a dune field.   
While sand exists throughout the park, there are very few locations where large dune fields are created. In order to create sand dunes, there must be a source of sand (in this case, the eroding mountains to the north), wind to move that sand, and a barrier to prevent the sand from being blown farther (the mountains to the south). The conditions at Mesquite Flat Sand Dunes are perfect for the creation of dunes, and while individual grains move, and ripples form, the dune field remains.

These dunes are named for the mesquite tree which grows in abundance in the area. The trees must twist and grow to avoid being buried, and leafless brown trunks are often exposed by the shifting sands. The arrival of spring brings forth a burst of bright green leaves and yellow flowers from the trees' upper branches. Mesquite bean pods are a traditional food of the Timbisha Shoshone, and the flour from these pods can be purchased in specialty food stores today.  

Sand dunes provide habitat for many animals, including nocturnal kangaroo rats and sidewinder rattlesnakes. No official trails exist at the dunes, so please watch your step when exploring and do not disturb burrows.  

The Mesquite Dunes are known for dramatic shadows at sunrise and sunset, as ripples and edges in the dunes stand out in greater contrast. They are also a great place to observe Death Valley's famous dark night skies. 
---
HIKING NOT ADVISED AFTER 10 AM IN THE SUMMER

Hike to Tallest Dune
Round Trip Length: 2 miles (3.2 km) 
Round Trip Time: 1.5 hours
Difficulty: Easy/Moderate
Elevation Gain: 185 ft (65 m)
Trail Type: No official trail 
Location: Just east of Stovepipe Wells Village off CA-190
Parking: Paved lot with pull-through spaces for buses and large RVs
Closest Restroom: Vault toilets located in parking lot. Do not leave toilet paper in the dunes.
Route: Area open for cross-country exploration; choose your own route to the tallest dune. 

Note: pets are not allowed on the dunes or on any trail in Death Valley National Park, even if carried. Do not leave your animal in your vehicle. Speak with a ranger about one of the incredible dirt roads where you may walk your pet.
Last updated: October 3, 2023