Place
Maurice Stephens House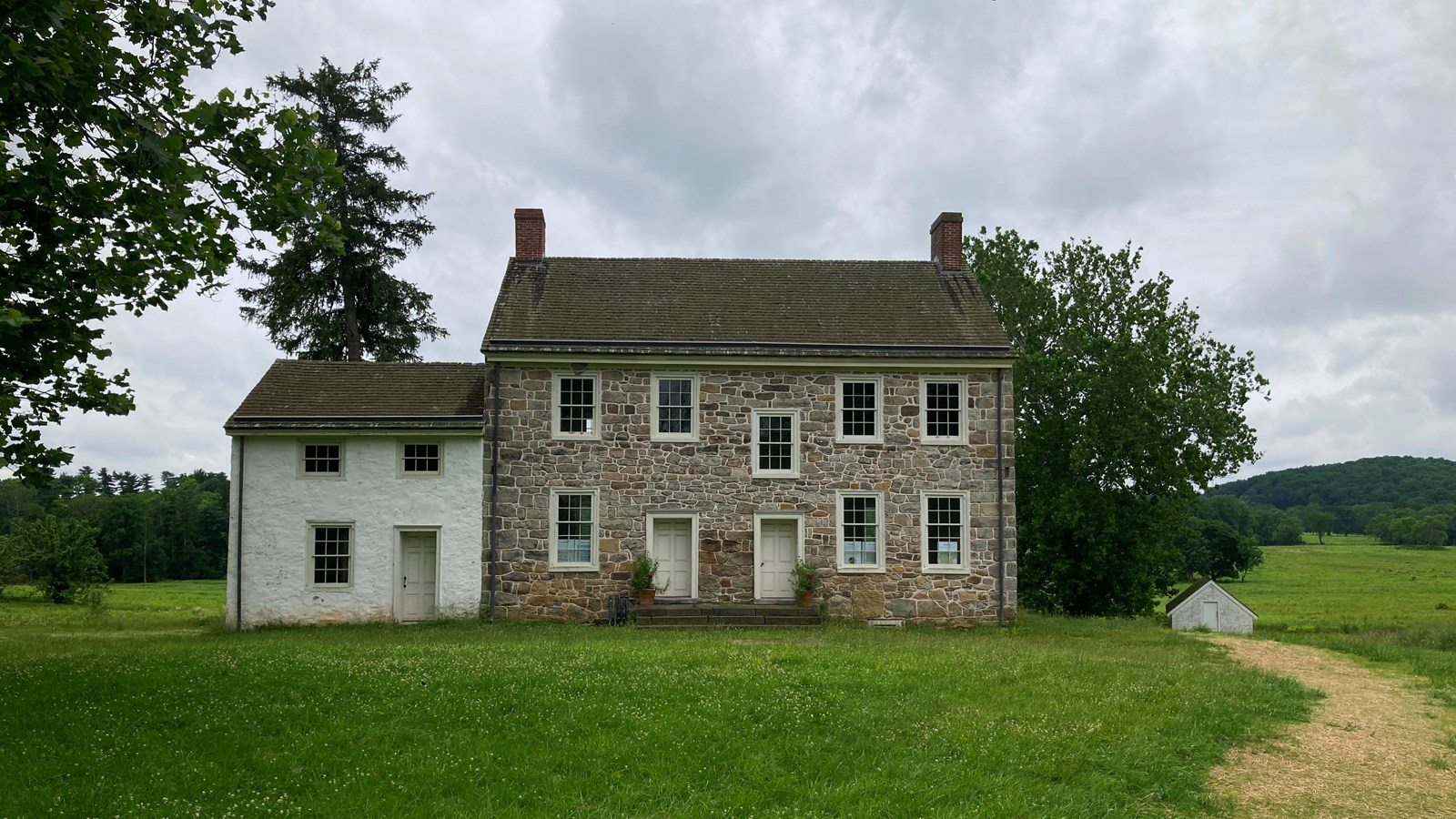 Location:
The Grand Parade near Rt. 23 in Valley Forge National Historical Park
Significance:
Property owned by the Stephens family during the Valley Forge encampment
Designation:
Early 19th century farmhouse
Cellular Signal, Parking - Auto, Trailhead
The Maurice Stephens House, located on the Grand Parade at Valley Forge, is a 2-story, 5-bay farmhouse with 1 1/2 story 2-bay addition to the east. The original section has a full attic and cellar. The original main entrance to the home faces south with the rear entrance facing Rt. 23. The main section of the house was built around 1816 by Maurice Stephens, and additions were built around 1841 by William Henry. The home was remodeled by the Valley Forge State Park in the 1950s and in 1975. The size of the house is 40 by 30 1/2 feet with the addition of 18 by 21 feet.
The land on the Grand Parade where the Maurice Stephens House sits today was owned by the Stephens family beginning in 1742, when Maurice's grandmother Elinor Evans bought the land from William Penn. Elinor Evans willed the 150-acre property to Maurice in 1758 when he was still a minor, and a 1761 codicil to Elinor's will stipulates that the dwelling on the property would be rented until Maurice came of age, with the rental proceeds going to his mother until that time. The main block of the home was built by Maurice Stephens in 1816, as proclaimed by the structure's date stone, "M.S. 1816," located in the east gable.
As late as 1976, it was thought that at least part of the house served as Brigadier General Jedediah Huntington's quarters during the encampment of the Continental Army in the winter of 1777- 78. However, historic documentation strongly suggests that General Huntington's quarters were in a log house formerly on the property, and not in the existing masonry house.
At the time of the Valley Forge encampment, French Engineer Officer Duportail indicates a structure at this location on his map of the camp, but he does not label it, and General Huntington's copious correspondence does not describe the details of his Valley Forge accommodations.
In 1798, the Direct Tax List for Upper Merion Township shows the Stephens farm to include a log dwelling and stone milk house. The log house was 16 by 25 feet in dimension and the stone milk house 15 by 20 feet, the latter of which corresponds roughly to the extant spring house on the property. It is most likely that General Huntington stayed in the log dwelling in 1777-78.
Want to learn more about the Maurice Stephens House? Check out the Historic Structure Report.
Last updated: August 5, 2022