Place
Massachusetts: W.E.B. Du Bois Boyhood Homesite Great Barrington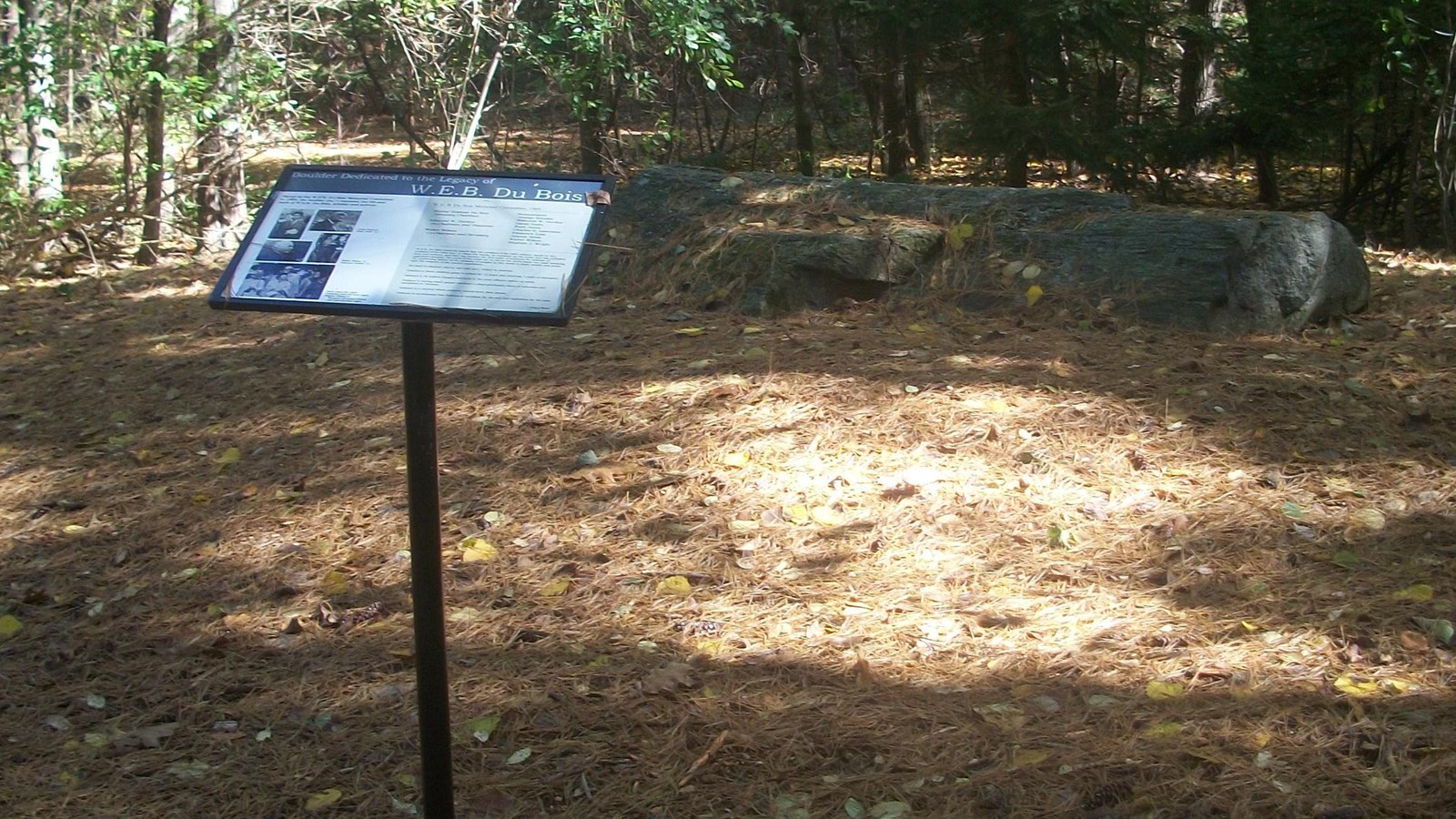 Location:
North side of Route 23, approximately two miles west of Great Barrington, Massachusetts.
Designation:
National Historic Landmark
We are returning from War!...For the America that represents and gloats in lynching, disenfranchisement, caste, brutality and devilish insult--for this, in the hateful upturning and mixing of things, we were forced by vindictive fate to fight. We return. We return from fighting. We return fighting. Make way for Democracy! We saved it in France, and by the Great Jehovah, we will save it in the United States of America, or know the reason why.
W.E.B. Du Bois, who lived in a now demolished house on this site during his boyhood, was a voice that inspired African Americans to believe in themselves and to fight for justice. Du Bois felt a special bond to the Great Barrington property, which had been in his family for more than 200 years. The property was given to Du Bois as a 60th birthday gift in 1928. He was a sage who motivated black activists to use "organization"--not "apology"--against white oppression.
Du Bois' 1903 book The Souls of Black Folk--especially the essay "The Talented Tenth"--established his reputation as a writer. He wrote more than 20 books and hundreds of essays and pamphlets, covering topics ranging from history, to education, to segregation, to poor housing, and to the subjugation of black women. In the NAACP's Crisis magazine, which he edited for nearly 25 years, he consistently spoke out against racism.
Du Bois excelled in other areas. In 1896, he became the first African American to earn a Ph.D from Harvard. His dissertation, "The Suppression of the African Slave Trade," became the first volume in the Harvard Historical Studies. He taught sociology at Atlanta University and the University of Pennsylvania. In 1905, he launched the Niagara Movement, asserting equal political rights, economic opportunity, education, justice, and an end to segregation. Four years later, he co-founded the NAACP, serving on its board of directors and coordinating publicity and research.
Late in his life, Du Bois joined the Communist Party and died in Ghana, where he received a state funeral. When leaders of the 1963 March on Washington learned "the Old Man" had just died, they knew who it was. W.E.B. Du Bois Boyhood Homesite is a National Historic Landmark.
Visit the National Park Service We Shall Overcome travel itinerary to learn more about the civil rights movement themes and histories. Also, be sure to check out Civil Rights subject site.
Last updated: May 3, 2020