Place
Site of the Massachusetts Anti-Slavery Society Office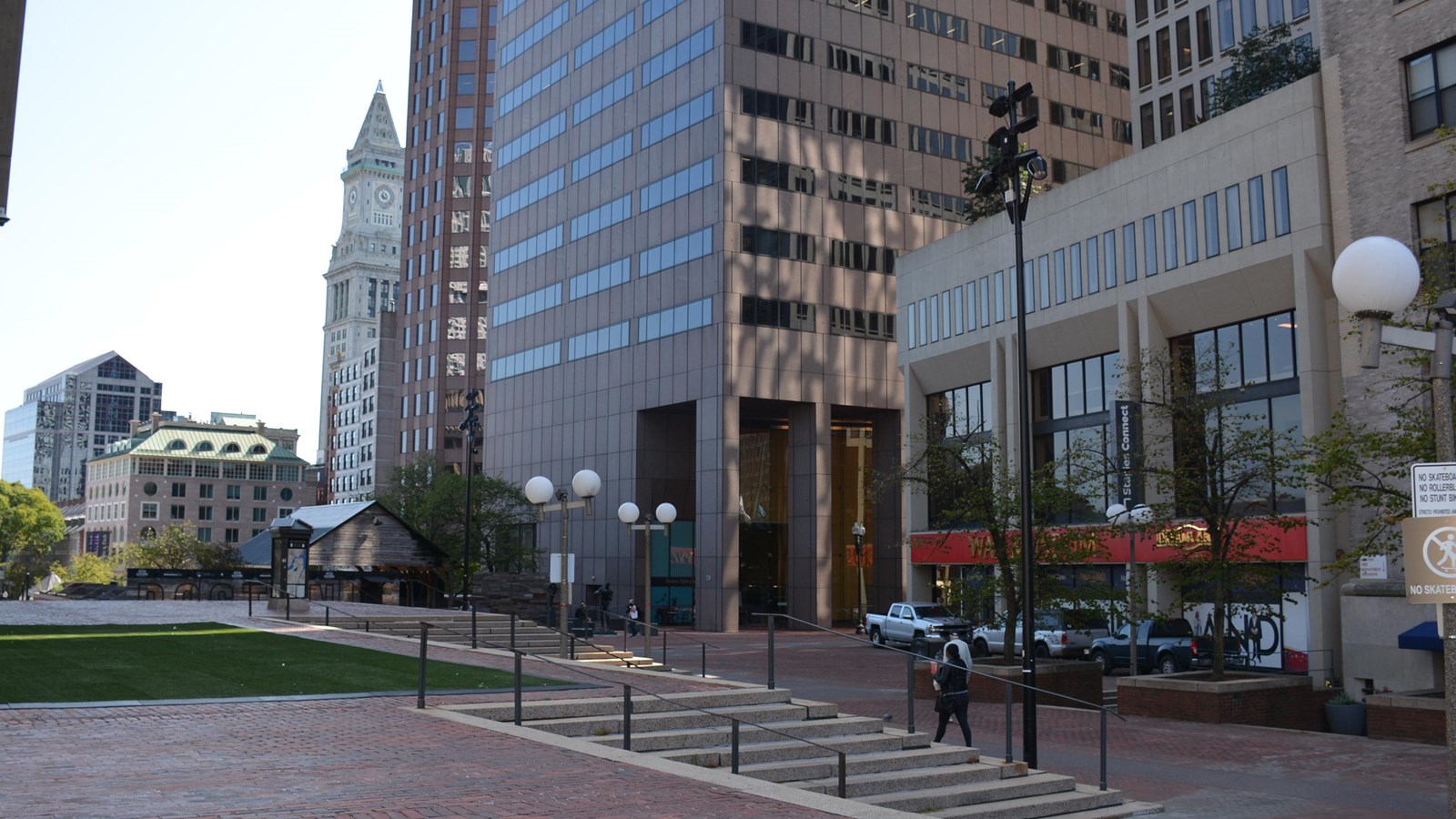 Location:
21 Cornhill Street
Significance:
Site of the Massachusetts Anti-Slavery Society Office
Cornhill Street acted as a hub for anti-slavery activism. With the office of The Liberator and local abolitionists nearby or within the same building, 21 Cornhill Street served as the office for the Massachusetts Anti-Slavery Society from approximately 1854-1859.1 Established in 1834, this society grew out of the New England Anti-Slavery society and acted as a state chapter of the national American Anti-Slavery Society.2 Members of the Massachusetts Anti-Slavery Society called for an immediate end to slavery and, according to historian Elaine Brooks, they sought to achieve this goal through "moral suasion, political action, and direct aid to fugitive slaves."3 The Society held anti-slavery meetings, printed literature on the topic, wrote petitions to state and national legislatures, and sent agents across New England to lecture on the topic.4 In the 1850s, the Society used its office at 21 Cornhill Street to sell anti-slavery and women's rights literature, to correspond with its members and agents, and to advertise job listings.5 For example, The Liberator printed an advertisement directed "To the Friends of the Fugitive" asking someone to employ a freedom seeker.6
From at least 1854-1856, Francis Jackson served as the president of the Massachusetts Anti-Slavery Society, while also holding the position of Treasurer of the Boston Vigilance Committee. Several officers of the Society, such as Henry I. Bowditch, Edmund Jackson, Wendell Phillips, and Charles K. Whipple, also served as officers of the Vigilance Committee. Other members of both groups included William Lloyd Garrison, John T. Hilton, and Samuel May Jr.7 This overlap demonstrates strong ties between the Massachusetts Anti-Slavery Society and the Boston Vigilance Committee, highlighting that several Massachusetts abolitionists both advocated against slavery and directly aided freedom seekers.

Newspaper clipping titled "To the Friends of the Fugitive." (Credit: The Liberator, February 18, 1859)
Footnotes
Footnotes
"Receipts," The Liberator (Boston, Massachusetts), February 11, 1859
"Massachusetts Anti-Slavey Society (MASS)," American Abolitionists and Antislavery Activists: Conscience of the Nation," updated November 8, 2020, accessed November, 2020, http://www.americanabolitionists.com/massachusetts-anti-slavery-society.html; Elaine Brooks, "Massachusetts Anti-Slavery Society," The Journal of Negro History vol. 30, no. 3 (July 1945), 311-312.
Brooks, "Massachusetts Anti-Slavery Society," 312-314.
Brooks, "Massachusetts Anti-Slavery Society," 315, 317.
"Tracts for the Times," The Liberator, April 8, 1859; "West India Emancipation," The Liberator, September 15, 1854; "The Fugitive Slave Law and Its Victims," The Liberator, June 6, 1856.
"To the Friends of the Fugitive," The Liberator, February 18, 1859.
"Proceedings of the Massachusetts Anti-Slavery Society at the Annual Meetings held in 1854, 1855 & 1856; with the Treasurer's Reports and General Agent's Annual Statements" (Boston: Office of Massachusetts Anti-Slavery Society, 1856), HathiTrust, accessed November 2020, https://babel.hathitrust.org/cgi/pt?id=loc.ark:/13960/t9s183c0z&view=1up&seq=10&q1=cornhill; Austin Bearse, "Reminisces of the Fugitive Slave Law Days," (Warren Richardson, 1880), 3-6,https://archive.org/details/reminiscencesfu00beargoog/page/n12/mode/2up?q=south+boston
Last updated: January 8, 2023