Place
Florida: Mary McLeod Bethune Home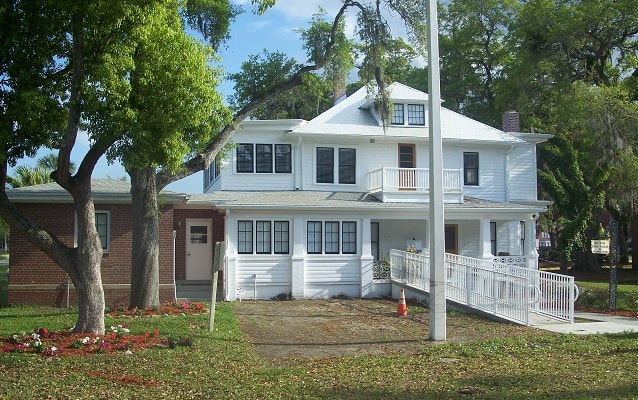 Location:
Daytona Beach, Florida
Significance:
Association with activist and educator Mary McLeod Bethune.
Designation:
National Historic Landmark
When Mary McLeod Bethune heard about the African American community in Daytona Beach, Florida, she decided to move to the area and establish a school for girls. On October 3, 1904, she established the Daytona Literary and Industrial Training School for Negro Girls. The school eventually merged with the nearby boys school, forming Bethune-Cookman College (now University), of which Bethune served as president. Bethune also served as advisor to four United States presidents, most notably President Franklin D. Roosevelt and founded the National Council of Negro Women, Inc. (NCNW) in 1935. She was a tireless advocate for African Americans and women.
This two-story home was purchased for Bethune in 1913 and became her primary residence until her death in 1955. The house is maintained in the same state as when occupied by Bethune. The rooms have not been changed since her death and the original furnishings remain. Members of the public can visit her Florida home and learn more about her life and work. The Mary McLeod Bethune Council House National Historic Site site located in Washington, DC, which was the first national headquarters of the NCNW and her final residence in nation's capital, is also open to the public.
Sources:
Mary McLeod Bethune House National Register nomination: https://npgallery.nps.gov/AssetDetail/NRIS/74000655
Johnston, Lissa Jones. Mary Mcleod Bethune: Empowering Educator. Mankato, MN: Capstone Press, 2007.
Last updated: April 9, 2021