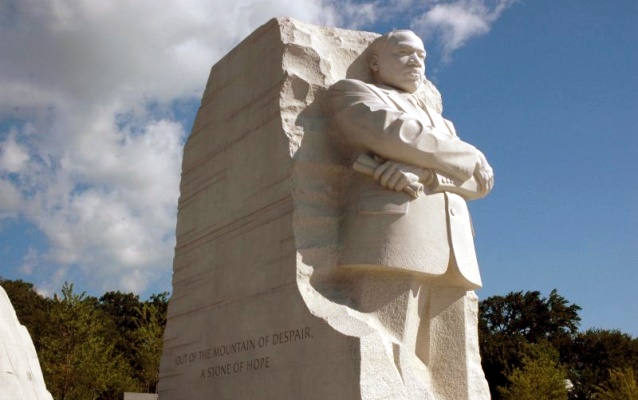 Quick Facts
Location:

Washington, DC

Significance:

National Memorial for civil rights leader, Dr. Martin Luther King, Jr.

Designation:

Memorial

OPEN TO PUBLIC:

Yes
The Martin Luther King, Jr. Memorial is in West Potomac Park on a four-acre parcel along the west side of the Tidal Basin and the Franklin Delano Roosevelt Memorial. Dr. Martin Luther King, Jr. was one of the most prominent leaders of the civil rights movement in the 1960s. The memorial honors his legacy and the struggle for freedom, equality, and civil rights with themes of justice, democracy, hope, and love. The site includes a large stone sculpture of Dr. King, inscription walls, two water features, an entry plaza, and raised garden areas. The memorial provides four access points to the Tidal Basin and a nearby visitor facility with a bookstore, information, and restrooms.

About Dr. King
"Let us realize the arc of the moral universe is long but it bends towards justice." With words like these and actions to back them, Dr. Martin Luther King, Jr. inspired many people during the civil rights movements of the 1950s and 1960s. As a student of the Bible and the nonviolent resistance of Mahatma Gandhi in British-colonial India, Dr. King believed in the inherent worth of all people.
He became an important part of the African American struggle for freedom and fought for equal rights for all throughout his life. As one of the founders of the Southern Christian Leadership Conference, Dr. King supplied crucial leadership to African Americans who struggled for their freedom in the deeply segregated South and throughout the rest of the United States. During his peaceful marches, Dr. King and his followers faced violence and experienced the isolation of imprisonment with a dignitary that inspired many who read about them in newspapers or saw their peaceful protests on television. At the Lincoln Memorial in 1963, during the March on Washington for Jobs and Freedom, he articulated a dream of racial brotherhood that moved the world. That dream continued even after he was assassinated in 1968.