Place
Marsh-Billings-Rockefeller Mansion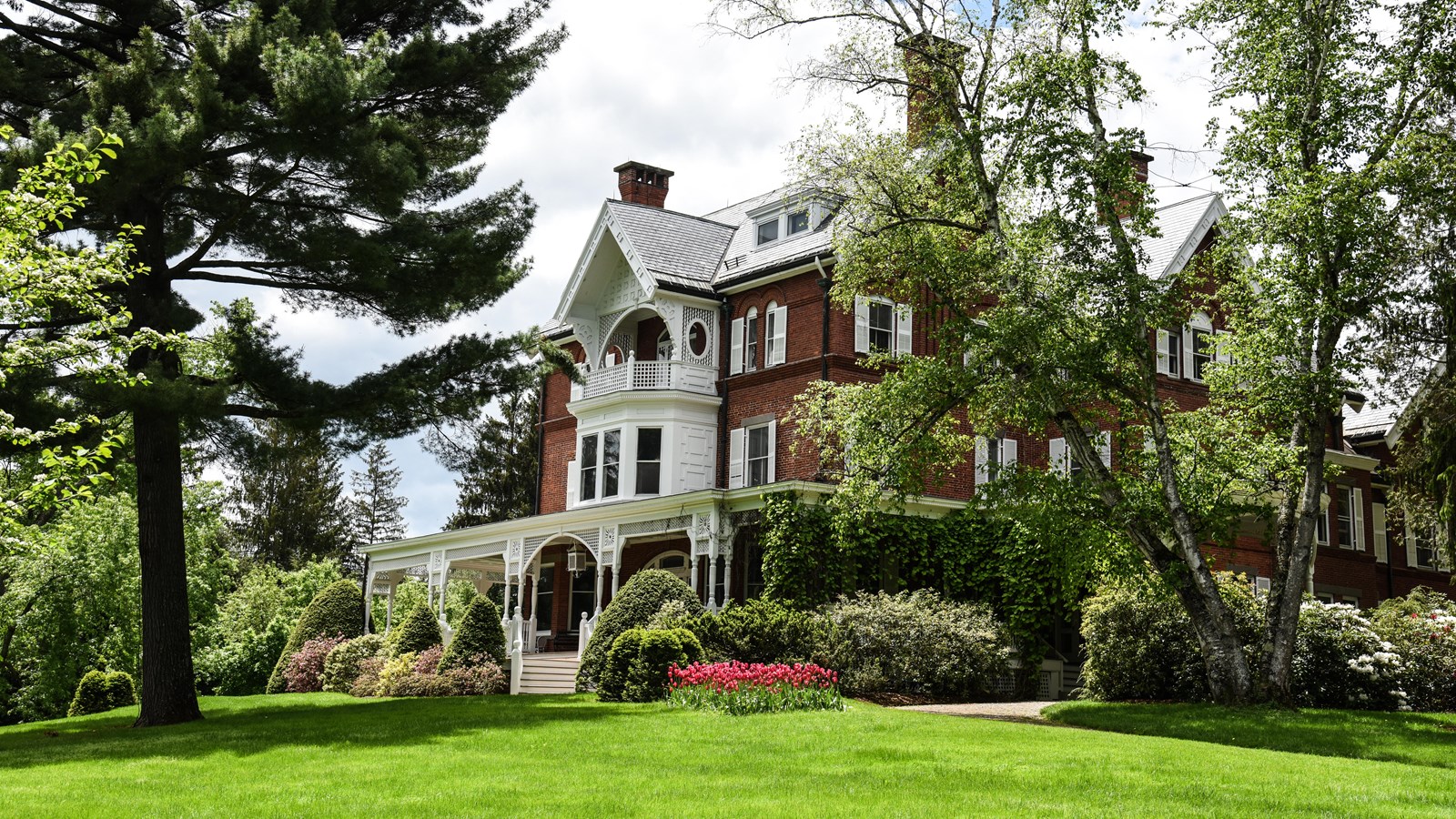 Significance:
George Perkins Marsh, Boyhood Home
Designation:
National Historic Landmark
Automated External Defibrillator (AED), Elevator, Scenic View/Photo Spot, Wheelchair Accessible
Originally built in 1805 by Charles Marsh Sr., the father of George Perkins Marsh, the federal-style brick house was sold to Frederick Billings in 1869.
Billings subsequently undertook dramatic renovations. The 1869 renovation, by Boston architect William Ralph Emerson, transformed the property into a fashionable Stick Style mansion. A mansard roof, pointed gable dormers, tall chimneys and a verandah were added and the trim was painted in two or more different colors.
In 1885, Billings hired the renowned architect and author Henry Hudson Holly to remodel the house in the newly-fashionable Queen Anne style. The mansard roof was removed and Holly added much ornamental brickwork. The third story and service wing were enlarged and the interiors were redecorated in lavish Victorian style. The Tiffany Glass Company of New York designed several stained glass windows and provided the wallpapers and fabrics for the newly-decorated home.
After Billings' death in 1890, his wife, Julia, and daughters, Laura Billings Lee, Mary Montagu Billings French, and Elizabeth Billings, took over the care of the property.
The Billings Mansion remained virtually unchanged until 1954, when Mary Billings French's daughter, Mary French Rockefeller, inherited the home and estate with her husband, Laurance Rockefeller, son of John D. Rockefeller Jr. While the Rockefellers updated rooms and replaced many wallpapers, paints and upholsteries, the house remains an excellent example of the Queen Anne style.
In 1967, the house was designated as a National Historic Landmark. First Lady Lady Bird Johnson, dedicated the house in a special ceremony, attesting to the care and sense of heritage with which Mary and Laurance Rockefeller preserved the property. In June of 1998, on the opening day of the Marsh-Billings-Rockefeller National Historical Park, Mrs. Johnson returned to Woodstock to rededicate the house with a plaque honoring all three generations of conservationists who have lived on the site.
The mansion exterior,
gardens
, and grounds are open year-round from dawn to dusk. Tours of the interior mansion are available from May-October. Advanced reservations are recommended. Visit our
Guided Tours
page for details. 
Last updated: April 7, 2023