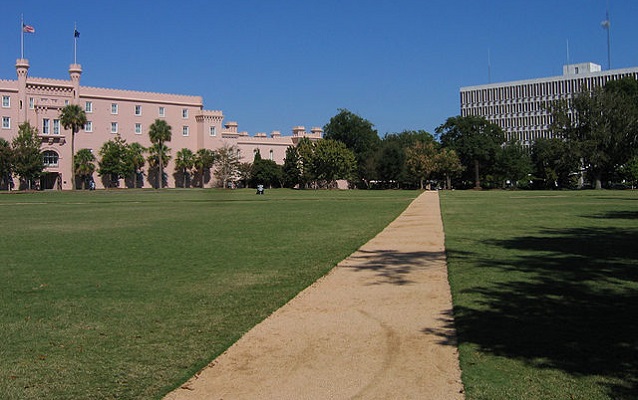 Location:
329 Meeting St, Charleston, SC
Previously known as the Citadel Green, Marion Square is a 10 acre rectangular plot of land that was conveyed to the colony of South Carolina in 1758. The Old Citadel, or South Carolina State Arsenal, currently sits on the north side of the square where a group of buildings known as the Tobacco Inspection once stood. These buildings were erected by the State in 1790 for the storage and inspection of tobacco prior to its shipment. The grounds of the Square served as a muster ground for the State Arsenal. At one time the Square was bisected by Lowndes Street and divided into building lots. Houses remained on the King Street side of the square until the latter part of the 19th century. Lowndes Street disappeared, but Tobacco Street, which runs along the south side of the Old Citadel, remains a dedicated public street. According to the lease agreement made with the City of Charleston, the central portion of the square is to be kept open forever as a parade ground for the Sumter Guards and the Washington Light Infantry.
Marion Square also houses several monuments. The most noted is the John C. Calhoun Statue. Calhoun, a native South Carolinian, was an orator, Secretary of War, U.S. Senator, Vice President and staunch defender of slavery. The cornerstone, laid in 1858 before construction was halted by the Civil War, contained a cannon ball used in the Revolutionary War battle of Fort Moultrie, a banner used in Calhoun's funeral, $100 in Continental money, a lock of Calhoun's hair, and the last speech he delivered in the U.S. Senate, on March 4, 1850. The original statue was criticized for its poor casting, and replaced in 1896 with the current stone statue with cast-iron palmettos flanking its base. Marion Square also contains a remnant from the 18th century fortifications of the city; and the Bandstand, designed by August Constantine and constructed in 1944.
Lately Marion Square became the site of a new Holocaust Memorial. A master plan has recently been completed for a major relandscaping and renovation project. Marion Square is one of more than 1400 historically significant sites within the Charleston Old and Historic District.
Last updated: February 21, 2018