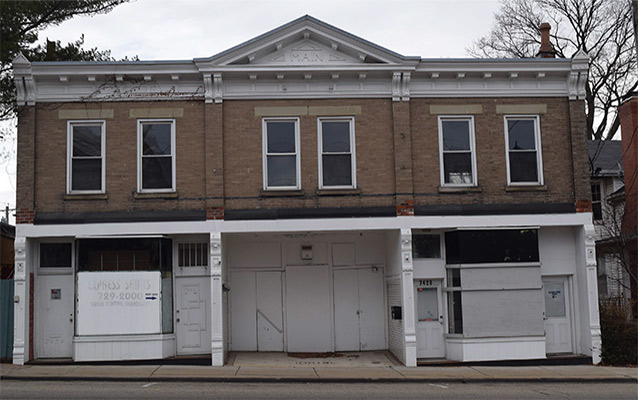 Quick Facts
Location:

7428 Hamilton Ave., Mt. Healthy, Ohio

Significance:

ENTERTAINMENT/RECREATION

Designation:

Listed in the National Register of Historic Places, reference number 100001934

OPEN TO PUBLIC:

No
The Main Theatre in Mt. Healthy, Ohio, is locally significant for its contribution towards entertainment and recreation in the Mt. Healthy community. Since 1915, the Main Theatre offered leisure and pleasure through cinematic entertainment, until its doors closed in May of 1971. Although many early 20th century movie theaters have been lost over time, the Main Theatre remained an excellent example of an entertainment and recreation venue that served the local Mt. Healthy community and nearby farm towns during its period of significance.  
Mt. Healthy and other nearby villages benefitted from the Main Theatre, as it offered wholesome movies for a wide-ranged audience. While the earliest motion pictures were modest, films were becoming more risqué. Peter Blum worked tirelessly to preserve the sanctity of his theater by refusing to show motion picture films that had the potential for being offensive.
According to oral histories with Vierling Blum (born 1921), Peter chose the films he showed very carefully, especially because the movie theater catered to kids during the weekends. "Saturday was for the kids," said Vierling, "…used to be fifteen cents on Saturdays." Another relative, Marie Blum (born 1923), recalled the Main Theatre as a place where families felt safe sending their children. The Main theatre made entertainment a shared experience and connected people of all ages. It allowed parents to send their children to the movies without worrying about what they were watching, or who they would be watching with.