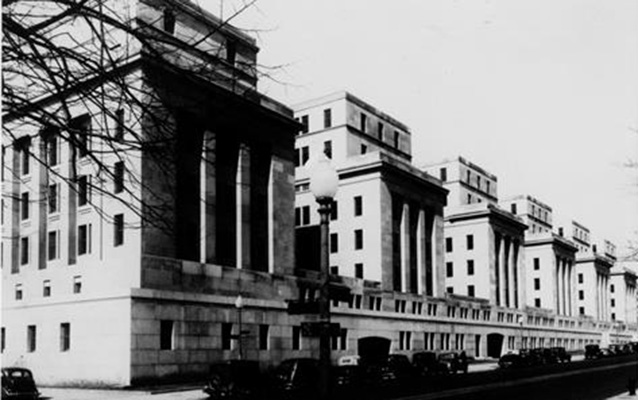 Quick Facts
Location:

1849 C Street NW, Washington, DC

Significance:

Art, architecture, politics/government, conservation

Designation:

National Register of Historic Places

OPEN TO PUBLIC:

Yes

MANAGED BY:

United States Department of the Interior
The Interior Building is an excellent example of Federal government architecture that, in both conception and design, reflects the humanisitic concern and "progressivism" which characterized Franklin Delano Roosevelt's Administration.
The United States Department of the Interior Building, 575 1/2 feet long and 382 feet wide, occupies two city blocks, from C to E Streets, and from 18th to 19th Streets, NW. It is located southwest of the
White House
, with Daughters of the American Revolution
Constitution Hall
and the Red Cross Building on its east, Simon Bolivar Park and the Pan American Annex on its south, the Office of Personnel Management on its west and Rawlins Park and the old Interior Building (now the General Services Administration) on its north.
Commissioned by the Roosevelt administration in 1934, designed by architect Waddy Butler Wood, and supervised throughout by Secretary of the Interior Harold L. Ickes, the Interior Building was dedicated on April 16, 1936. Of smooth Indiana limestone laid in a regular ashlar pattern, the exterior reflects the Art Moderne style popular in the 1930s, an intentional departure from the traditional classicist style of the majority of federal government office buildings in the District of Columbia. Austere and simply decorated on the exterior, the building itself is seven stories high with a basement, an additional floor between the fifth and sixth stories devoted entirely to mechanical equipment, and an eighth story that is set back from the first and sixth wings over the center wing.
The latest innovations in building technology were utilized by Waddy B. Wood in the construction of the structure to ensure the comfort, safety, and well-being of some 4,000 employees. At the time of construction, the Interior Building provided the most modern and comfortable work environment for Federal employees in Washington. The building is significant as well as the last major work of Wood, one of Washington's most prolific architects in the first decades of the 20th century.
Also of significance is the extensive artwork large-scale murals and sculpture in the public corridor that is an integral part of the building's interior design. Done by many American artists who had gained national reputation by the 1930s, the murals and sculpture in the Interior Building constitute the largest collection of New Deal art (commissioned by the Treasury Department's Section of Painting and Sculpture) in a Federal government office building. Finally, construction of the building itself in 1934 reflected growing Federal concern and involvement in conservation and the planned use of America's natural and manmade resources an impetus that culminated in key conservation legislation of the later 1930s and well beyond to the 60s, 70s, and 80s.
The Main Interior Building was listed on the National Register of Historic Places on November 10, 1986.
Read the full nomination
.

Find out more about the
National Register of Historic Places program
.