Place
Madison Square Garden (1925-1968)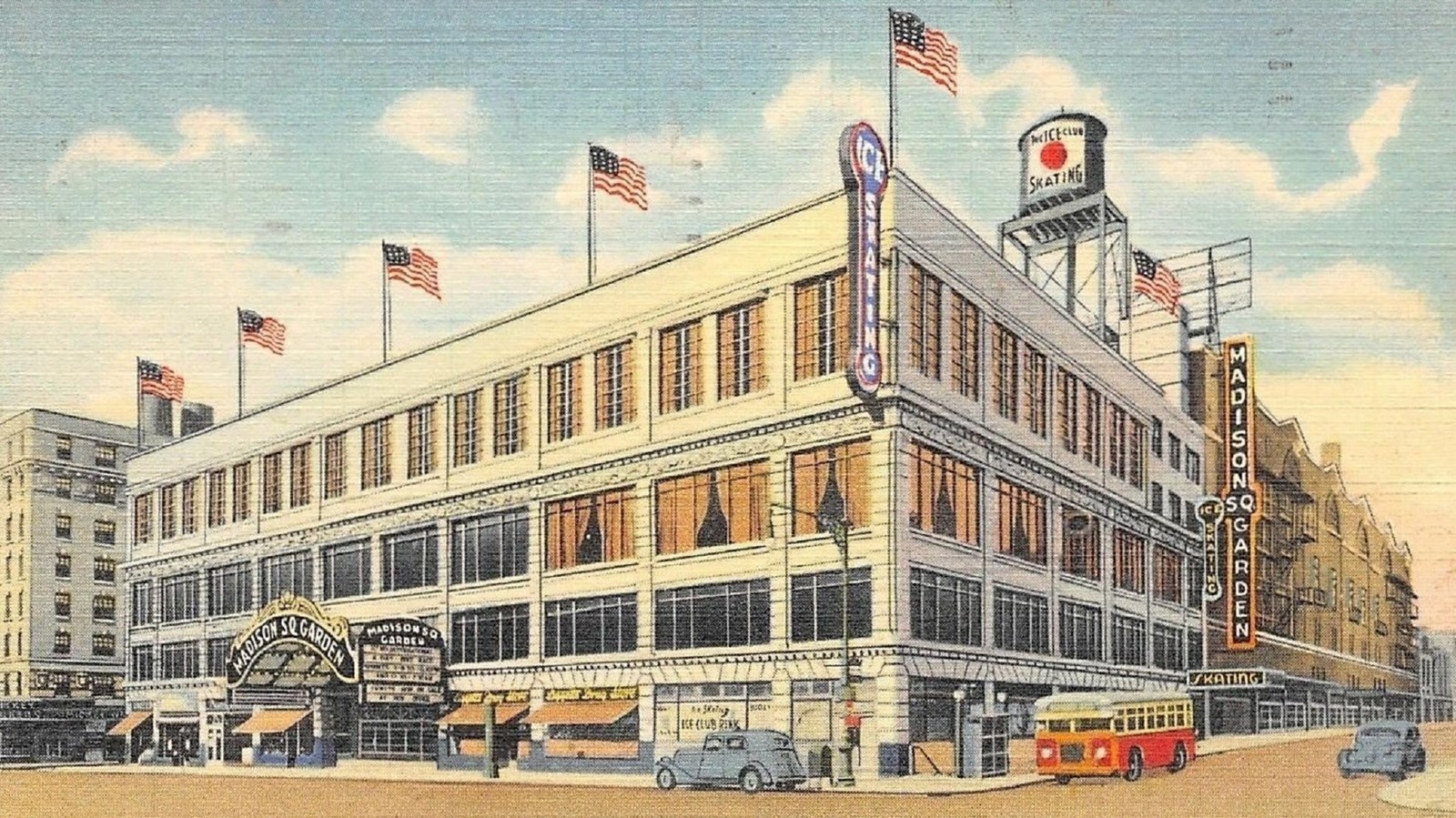 Significance:
Popular arena; the site of major political, sporting, and arts events in NYC 1925-1968
Madison Square Garden (1925-1968), also known as MSG III, was an arena in New York City that operated from 1925 until 1968. The third venue to go by that name, it was located on Manhattan's Eighth Avenue between 49th and 50th Streets. The arena could fit 20,000 people and hosted sports, entertainment, and political rallies.

Before and during the World War II era, MSG III was the site of several major political events where Jewish Americans spoke out against the Nazi government in Germany and its antisemitic goals. At the arena, American Jews wielded economic pressure against the regime, took direct action against fascism, and raised awareness about the victims of the Nazis' murderous campaign.
1933: Protest Against Antisemitism in Nazi Germany
In the 1930s and 1940s, about four percent of Americans were Jewish. Many Jewish Americans lived in and around New York City. Several Jewish civic, political, and service organizations were headquartered there. The community observed Hitler's rise to power and the increasing persecution of Jews in Germany with alarm. Many of them were recent immigrants with family and friends who remained in Europe.

After Hitler was named Chancellor of Germany in early 1933, civic leaders with the American Jewish Congress began to coordinate a response. Led by Rabbi Stephen Wise, the Congress organized a boycott of German-made goods. It began in March 1933 and lasted until the US entered WWII in December 1941.The Congress also spearheaded a National Day of Protest on March 27. Just five days earlier, the Nazis had opened the regime's first concentration camp at Dachau. After a day of fasting and prayer, more than 55,000 people flooded MSG III and the streets surrounding it for the largest rally. Jewish leaders, union presidents, politicians, and Christian clergy addressed the crowd. They denounced the Nazis and compared the persecution of European Jews to the terror of the Ku Klux Klan.

In his address, Rabbi Wise demanded the "immediate cessation of anti-Semitic activities and propaganda in Germany," including economic discrimination as well as physical violence. He went on:
"There must be no further reprisals against our fellow-Jews, no penalizing them as German hostages because the conscience of the world utters its mighty protest. God help the German people to be equal to themselves."
1939: German American Bund Rally
On a cold February night in 1939, a Nazi leader named Fritz Julius Kuhn addressed a crowd of 20,000 people who had packed into New York City's Madison Square Garden arena. He represented the German American Bund, an organization that promoted support in the United States for Adolf Hitler's regime. The Bund had arranged what it called a "pro-Americanism rally" to coincide with George Washington's birthday.

Inside, Kuhn raged against "Jewish domination" and called for "a socially-just, white, Gentile-ruled United States." Attendees waved American flags and performed the Nazi salute. A giant portrait of the first American president hung over the stage next to huge banners emblazoned with swastikas. Outside, police on horseback held back more than 100,000 protesters who denounced the rally as traitorous.

A young Jewish man named Isadore Greenbaum had snuck into the arena. In the audience, he decided he had heard enough. He charged onto the stage and straight at Kuhn, shouting "Down with Hitler!" Immediately, half a dozen of the uniformed storm troopers who guarded the stage tackled Greenbaum. They beat him viciously as the audience cheered.

New York police officers removed Greenbaum from the stage and placed him under arrest for disorderly conduct. He refused to pay the $25 fine and spent the night in jail until sympathetic allies bailed him out. At his arraignment, the judge asked him why he had done it. Greenbaum explained:
"I went down to the Garden without any intention of interrupting, but being that they talked so much against my religion and there was so much persecution I lost my head and felt it was my duty to talk."
After being released, Greenbaum returned to his work as a plumber's assistant and the Brooklyn home he shared with his wife and young son. When the United States entered the war, he enlisted and fought in Europe. He later moved with his wife to Southern California, where he worked for decades as a fisherman until his death in 1997. Greenbaum's story is just one example of ordinary American Jews' resistance to fascism and antisemitism during World War II.
1943: "We Will Never Die" Pageant
Despite the efforts of organizations like the American Jewish Congress and of individuals like Greenbaum, the Nazis' murderous campaign only intensified. In the fall of 1942, American newspapers reported the shocking news that Hitler's forces had already murdered more than two million European Jews. Jewish screenwriter Ben Hecht was determined to bring home the overwhelming scale of this atrocity and the need for action by the American government. Hecht set out to compose a pageant to dramatize the situation. Along with Zionist leader Peter Bergson and writers, directors, and producers from both Hollywood and Broadway, Hecht put together a stage production he called We Will Never Die.  

A sold-out audience of 20,000 people attended the first performance at Madison Square Garden on March 9, 1943. The show featured traditional Hebrew prayers interspersed with scenes showing Jewish soldiers fighting under the American flag. The final tableau depicted a future peace conference negotiating an end to the war. The ghosts of murdered Jews haunted the proceedings. One of the narrators intoned:
"No voice is heard to cry halt to the slaughter, no government speaks to bid the murder of human millions end. But we here tonight have a voice. Let us raise it."
We Will Never Die subsequently toured the United States, helping to increase public pressure on the US government to respond to the Holocaust.
Conclusion
MSG III closed in 1968. The building was torn down in 1969. The current Madison Square Garden opened in 1968, several blocks south of MSG III. New York City is a Certified Local Government.
Bibliography
"55,000 Here Stage Protest on Hitler Attacks on Jews; Nazis Order a New Boycott." New York Times (New York, NY) Mar. 28, 1933, 1. 
American Experience. "We Will Never Die Pageant." America and the Holocaust. https://www.pbs.org/wgbh/americanexperience/features/holocaust-pageant/. 
A Night at the Garden. Directed by Marshall Curry. 2017; New York: Field of Vision. Video. https://www.youtube.com/watch?v=MxxxlutsKuI. 
Bump, Philip. "When Nazis Rallied in Manhattan, One Working-Class Jewish Man From Brooklyn Took Them On." Washington Post (Washington, DC) Feb. 20, 2019. Originally published Oct. 2017. https://www.washingtonpost.com/news/politics/wp/2017/10/17/when-american-nazis-rallied-in-manhattan-one-working-class-jewish-man-from-brooklyn-took-them-on/. 
"Bund Foes Protest Policing of Rally." New York Times (New York, NY) Feb. 22, 1939, 6. https://timesmachine.nytimes.com/timesmachine/1939/02/22/96020101.html?pageNumber=6. 
Foreman, Adam. "American Nazism and Madison Square Garden," National World War II Museum, April 14, 2021. https://www.nationalww2museum.org/war/articles/american-nazism-and-madison-square-garden. 
United States Holocaust Memorial Museum. "The 'We Will Never Die' Pageant." Holocaust Encyclopedia. Last updated Sept. 17, 2021. https://encyclopedia.ushmm.org/content/en/article/the-we-will-never-die-pageant. 
"U.S. Probe of Bund Demanded; Pals of 'Hero' Pay His Fine." Daily News (New York, NY) Feb. 22, 1939, 3. https://www.newspapers.com/image/429837092https://www.newspapers.com/image/429837092. 
---
Article by Ella Wagner, Cultural Resources Office of Interpretation and Education.
Last updated: July 28, 2022