Place
Good Spring Baptist Church & Cemetery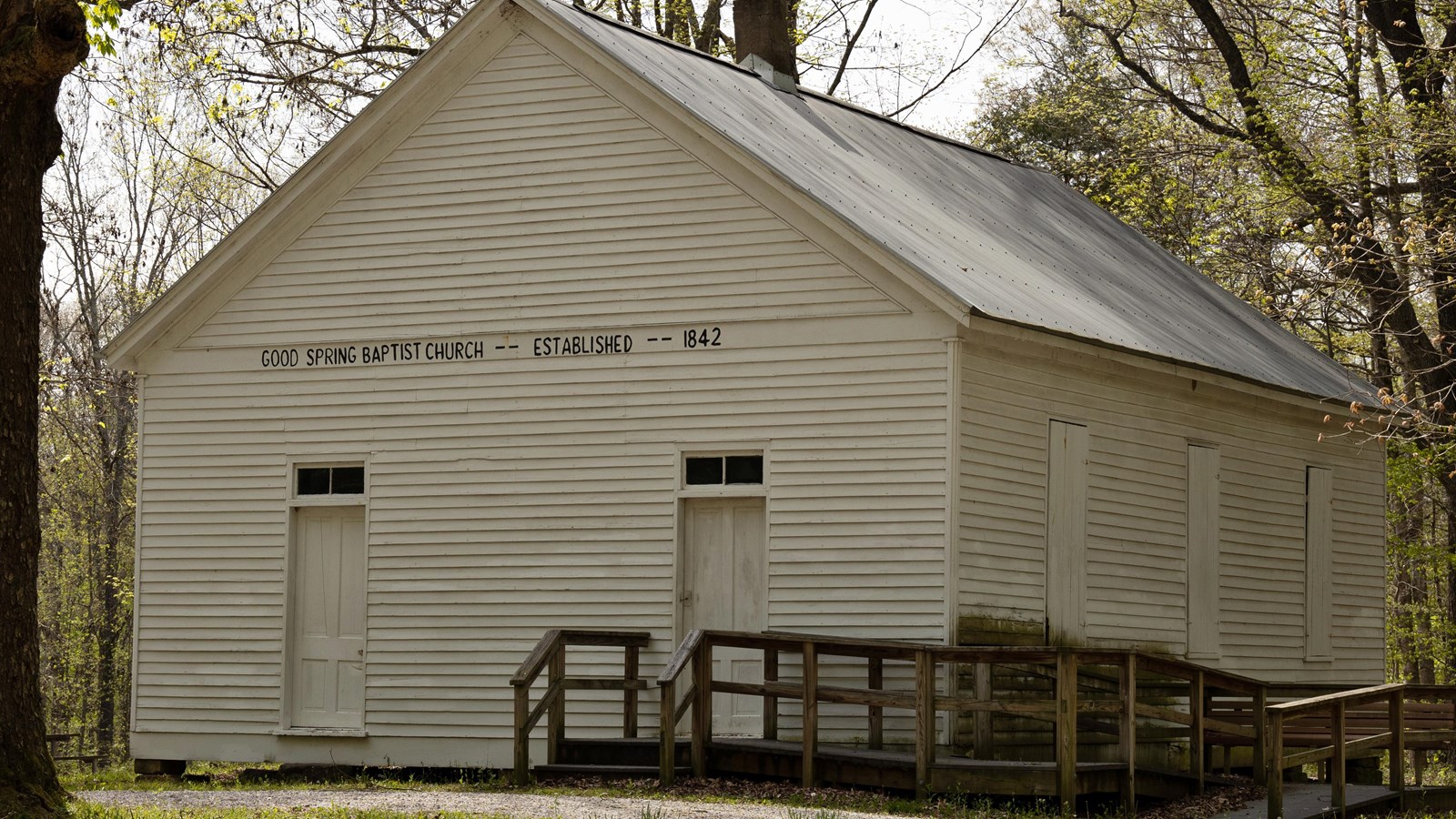 Location:
Mammoth Cave National Park, by Maple Springs Campground
Significance:
Historic Church founded in 1842
Designation:
National Registrar of Historic Places 1991
Information Kiosk/Bulletin Board
Good Spring Baptist Church is located near the Maple Springs trailhead. The church is composed of one building and an accompanying cemetery. It was founded the third Saturday in February, 1842, by church elders Jesse Moon, R.T. Gardner and William Skaggs. The conditions of the church can be seen in a letter written in 1931 by Aunt Susie Blair to Charlie Whittle: "On Sunday we went to church where Good Spring Church now stands. The old house was built of logs and heated with a fireplace." Her letter also mentions that, when the number of service attendees was larger than the church could hold, they had service outside amongst the trees. 
Before this church was formed, its members had to travel to Nolin Baptist Church or to a church in Beaver Dam. With Nolin Baptist church being about 10 miles away, and with the town of Beaver Dam being about 65 miles away, the construction of the Good Spring Baptist Church saved residents considerable travel time. The church charter members included Brown Blair, Mary Blair, Isaac Blair, Lucy Blair, David Blair, Betsy Blair, J.L. Smith, Sarah Smith, Rachel Pace, William Skaggs, J.D. Sanders, Sally Sanders, Thomas Meredith, Esaline Smith and Pega Davis. Many of these charter members were descendants of the pioneer Baptists that settled in Green County near the Brush Creek Church, located in Tennessee. 
Good Spring Baptist Church had the largest membership of any church in the Green River Association from 1896 to 1900. When the National Park Service acquired the church property, the church dissolved. The church building itself is still standing today. It currently holds reunion services for descendants of the pioneers during a yearly homecoming and dinner on the grounds. The church was added to the National Register of Historic Places (NRHP) in 1991.  
Last updated: May 3, 2021