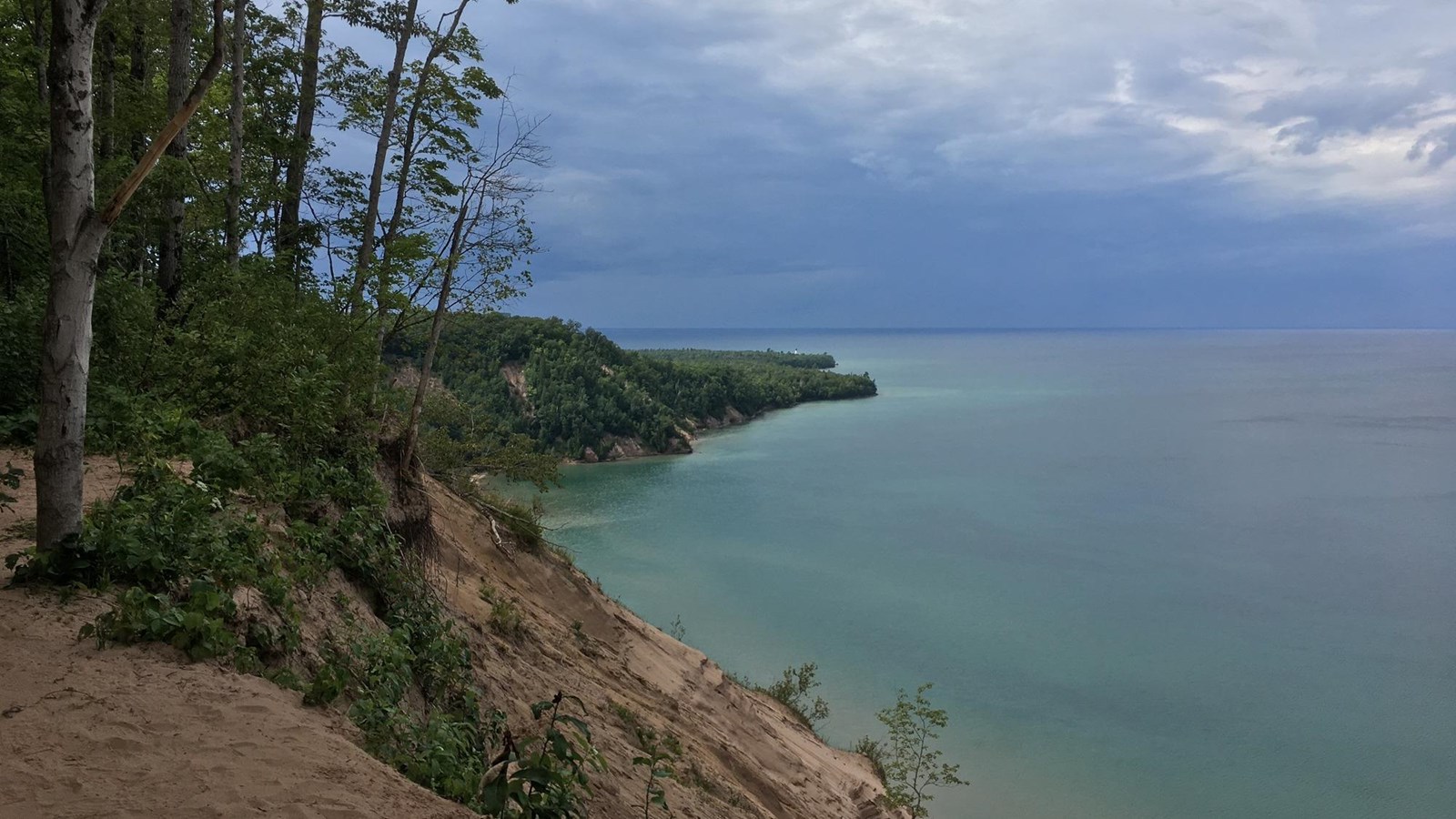 Significance:
The Log Slide area offers stunning views of Lake Superior and the Grand Sable Dunes.
Historical/Interpretive Information/Exhibits, Information Kiosk/Bulletin Board, Parking - Auto, Parking - Bus/RV, Picnic Table, Restroom - Seasonal, Scenic View/Photo Spot, Toilet - Vault/Composting, Trailhead, Trash/Litter Receptacles, Water - Drinking/Potable
The Log Slide area is located approximately 7 miles west of Grand Marais on Alger County Road H-58, and then 1.0 mile north on Log Slide Road to the parking lot. A short walk from the parking lot past historic logging equipment leads to the Log Slide area on top of the dunes. Pets are not allowed on the trail to Log Slide or in the nearby dunes.

What is the Log Slide? In Michigan's past, loggers built a long wooden chute on the dune slope to slide logs down into Lake Superior where they could be easily floated to saw mills in Grand Marais. Legend has it that logs sent down the tall dunes on a dry log chute would generate enough friction to cause the chute to catch fire. Today the chute is gone, but the lumberjack stories still linger as you read the interpretive exhibits along the trail.

The North County Trail intersects the Log Slide Trail at the base of a large dune. At this point you can climb up the dune ahead for great views. Or if you don't want to climb in sand, you can walk a level path to the site of the former overlook platform for panoramic views.

To find this path, turn left on the North Country Trail. Go about 25 yards to the end of the wooden fence and you'll see a path going off to your right. Follow that short path to the viewing location at the end.

From this spot, look left to see the Au Sable Lighthouse in the distance. Look right to see the massive Grand Sable Banks and Dunes stretching to the east.

Be careful near steep edges! Be aware of poison ivy in the area.