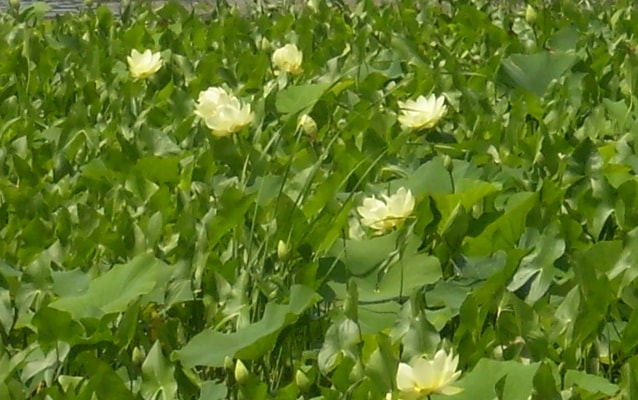 Location:
South of 220th Trail between Amana and Middle Amana, IA
Significance:
Ice harvest; Recreational
Designation:
National Historic Landmark
Lily Lake was formed around 1880 when a break in the Mill Race levee flooded a low area. It's named for the thousands of yellow American lotus lilies which bloom across the 170-acre lake in the summertime, for which it has become famous. The Lake played several important roles in communal Amana. It served as a source of ice for both Amana and Middle Amana, which was then stored in village ice houses. It also provided recreational opportunities for the colonists including fishing and ice-skating. During the communal period, lilies from the lake were sold to tourists, thus providing the colonists with a source for additional income.
One of Amana's most beautiful sights, it has become an inspiration for artists and photographers. A year-round haven for wildlife, the Lily Lake is a resting spot to migrating birds. Herons, bald eagles, muskrats and other animals occupy this ecological niche in a part-marsh, part-lake habitat. The Lily Lake is surrounded by a 3.1 mile recreational trail, the Kolonieweg (colony path), which connects the villages of Amana and Middle Amana.
Last updated: December 13, 2017