Place
Lees Ferry Entrance Station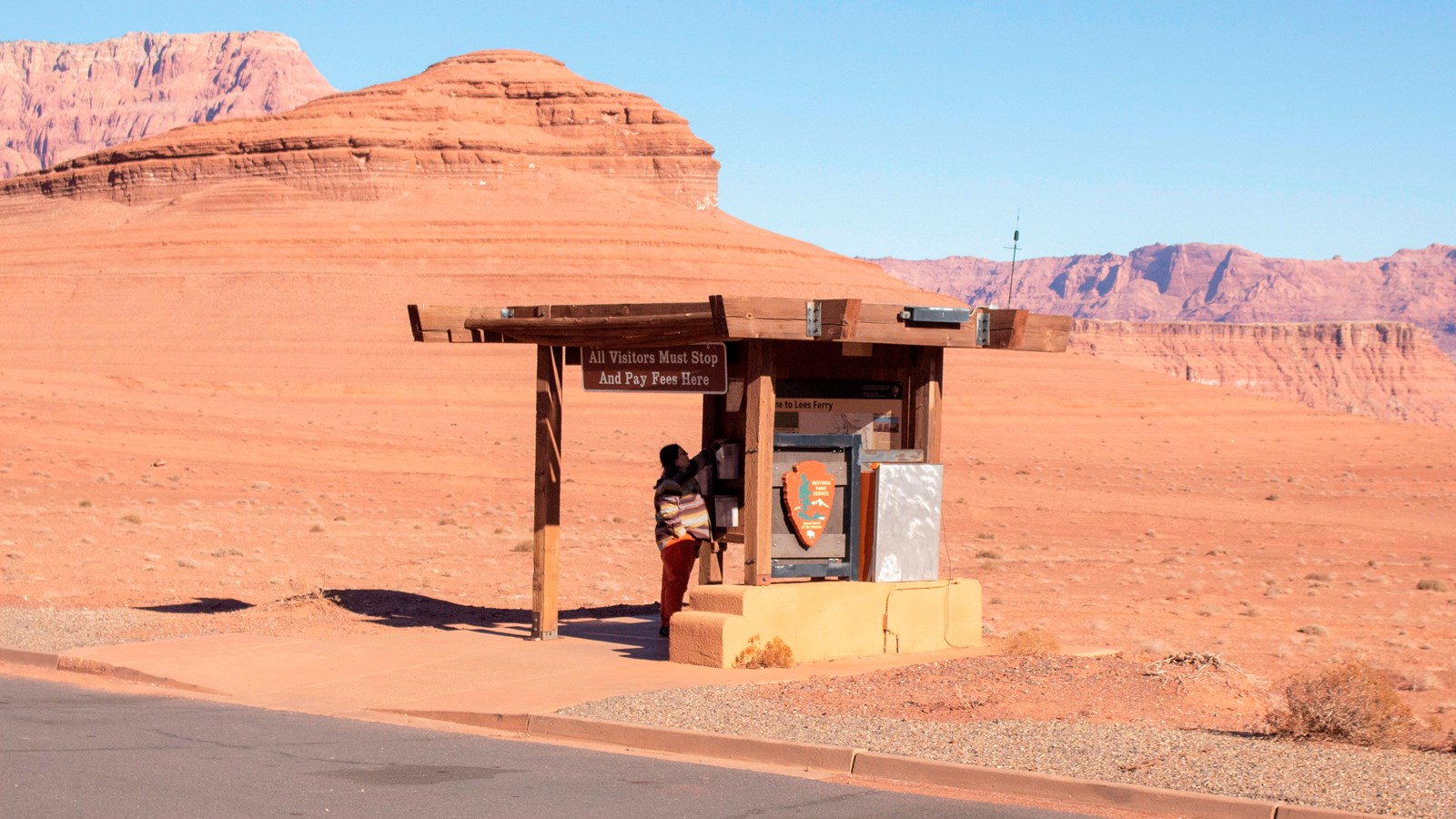 Location:
Lees Ferry Rd, half a mile after turnoff from Hwy 89A
Significance:
Entrance Station
Entrance Passes for Sale, Information, Information - Maps Available, Information Kiosk/Bulletin Board
Welcome to Glen Canyon National Recreation Area
Lees Ferry is located off US Hwy 89A, about 45 miles south of Page AZ. At Marble Canyon, turn off onto the Lees Ferry Road, and in about half a mile stop at the Entrance Station. Use the automated fee machine for your entrance fee and all relevant passes. No cash, the machine accepts cards only.
 
---
Lees Ferry is the only place within Glen Canyon where visitors can drive to the Colorado River in over 700 miles of canyon country, right up to the first rapid in the Grand Canyon. A natural corridor between Utah and Arizona, Lees Ferry figured prominently in the exploration and settlement of northern Arizona. Lees Ferry is now a meeting of the old and the new.
Here at the very start of the Grand Canyon, adventurous river runners launch their boats for trips down the canyon. Fishermen enjoy world-class trout fishing upstream to Glen Canyon Dam. Backpackers finish their 4 or 5 day hike through the Paria Canyon Wilderness Area here. Hikers can explore canyons and desert ridges.
 
---
Entrance Fees - Weekly
1-7 Day Vehicle Entrance - $30.00
Admits one single, private, non-commercial vehicle and all its passengers
1-7 Day Motorcycle Entrance - $25.00
Admits one single, private, non-commercial motorcycle and its riders.
1-7 Day Individual Entrance - $15.00
Admits one individual when entering on foot or bicycle. Individuals 15 years of age and younger are admitted free.
1-7 Day Boating Entrance - $30.00
Admits one single private vessel. If a Senior Pass is presented at time of purchase, the boat entrance fee is $15.00 and good for 1-7 Days.
1-7 Day Boating Entrance additional vessel - $30.00
Admits one single private vessel on the same trailer as a vessel paying full entry fees
Lees Ferry Campground
$20 per site per night. No reservations. Pay at campground.
54 designated sites. No hookups. RV dump station available seasonally.
Modern bathroom/comfort station, potable water available. Grills, tables provided, no open fires.
Please visit our website for more information about fees and passes.
Last updated: December 6, 2022