Place
Lewis & Clark Boat House and Museum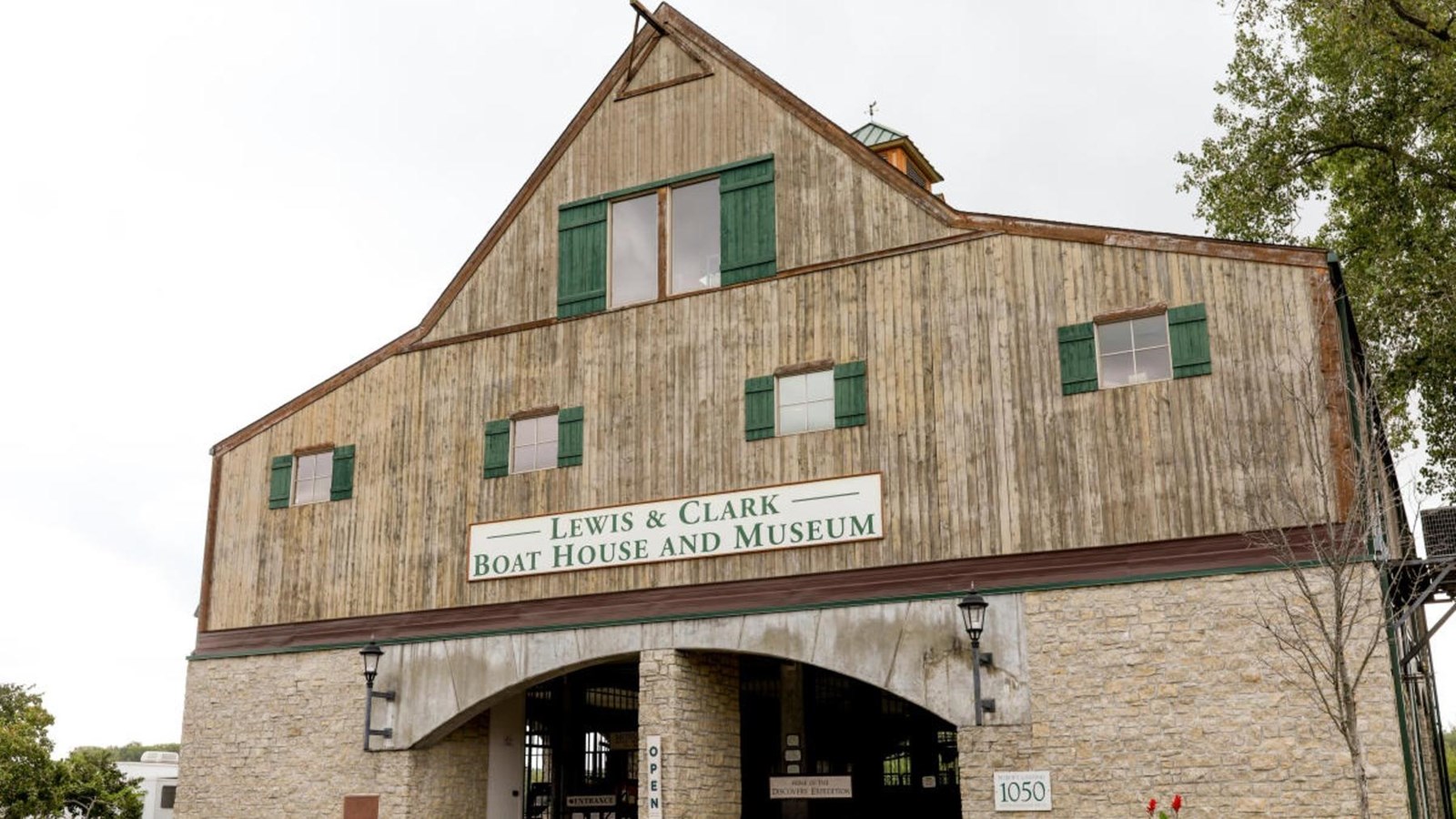 Location:
St. Charles, Missouri
Gifts/Souvenirs/Books, Historical/Interpretive Information/Exhibits, Information, Information - Ranger/Staff Member Present, Parking - Auto
Lewis and Clark NHT Visitor Centers and Museums
Visitor Centers and Museums along the Lewis and Clark National Historic Trail
Travel to St. Charles, Missouri and you'll feel like you've stepped back in time to the early 19th century.  The original state capital of Missouri, the picturesque town is filled with living history.  Located about 25 miles northwest of downtown St. Louis, St. Charles played a significant role in the Lewis and Clark story.
One of the highest ranked attractions in St. Charles is the Lewis & Clark Boat House and Museum, located right along the Missouri River.  In an impressive two-story building, the lower level is home to the full-size replica keelboat and two pirogues of the Lewis and Clark Discovery Expedition, a nationally recognized group of re-enactors of the Corps.  This dedicated group of historians provide ongoing appearances and demonstrations throughout the area to promote the Expedition and living history.  
Building the three boats required over 16,000 volunteer hours. Glenn Bishop initially spearheaded this immense project of constructing the boats. His vision continues to be realized today with re-enactments featuring the magnificently, hand-crafted, and highly unique fleet.  The Keelboat and two pirogues have been showcased in several films, documentaries and an upcoming televised miniseries.  When the boats are not appearing in events or re-enactments, they are on display at the Boat House. 
On the second floor is the Museum and Visitors' Shop.  Formed in 1985, the educational Museum provides visitors the opportunity to explore the Lewis & Clark Expedition, Native American displays, various Missouri River habitats, and natural discoveries the Corps encountered during the journey. The museum's artwork, "Missouri River Walk," is the largest indoor mural in the state.
Classes, private presentations, and tour-group talks are conducted in the classroom area and when not in use an award-winning film is shown throughout the day.  Adjacent to the Boat House is Bishop's Landing with its huge sculpture of Lewis, Clark, and Seaman. 
Unique items for all ages are available in the Visitors' Shop featuring a wide selection of books of all reading levels. Titles include those related to Lewis & Clark, Native Americans, general history, local interest, and nature.
The first Missouri State Capitol State Historic Site and the historic town of St. Charles are both easily walkable from our site.
Last updated: July 26, 2022