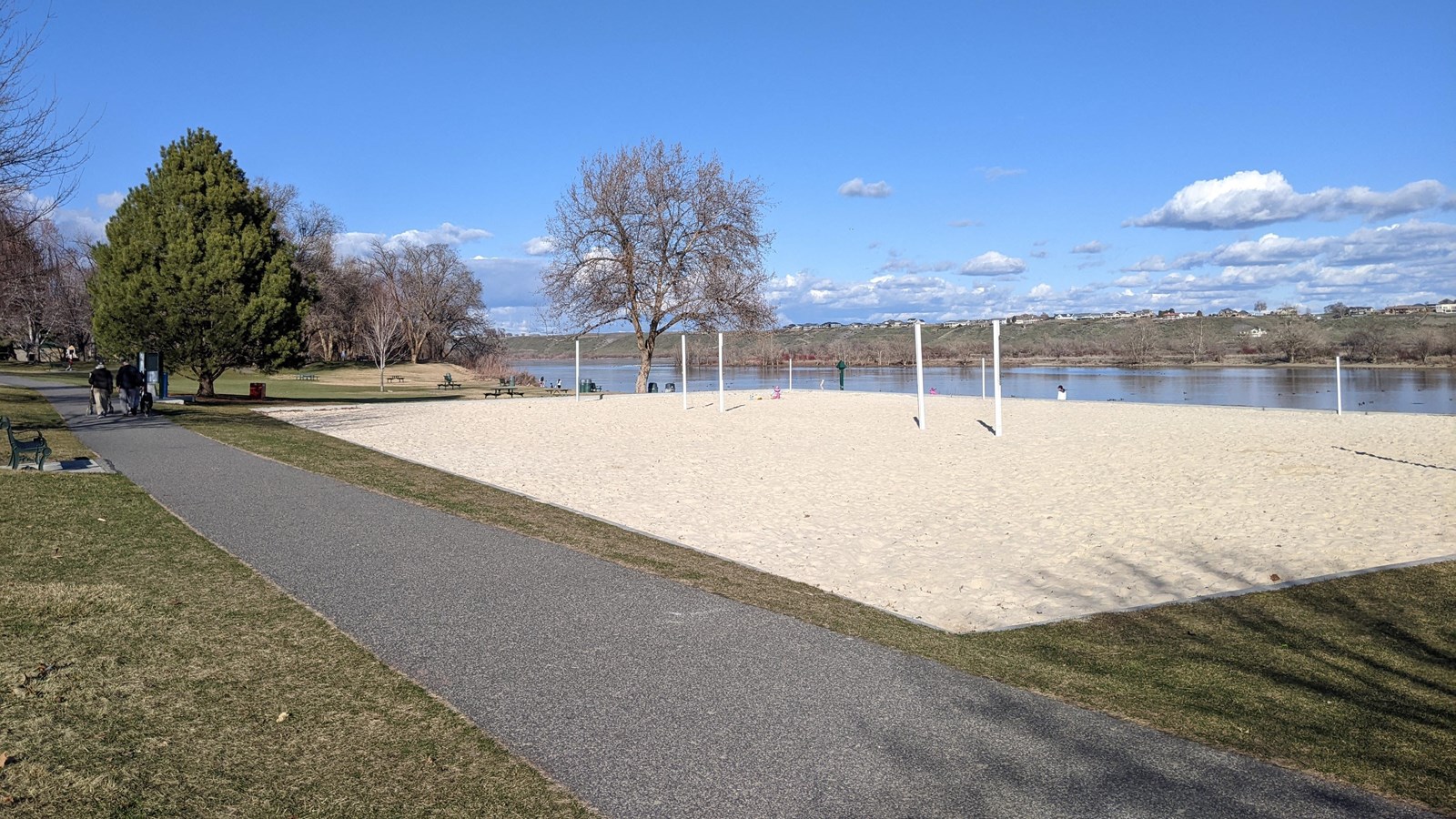 Beach/Water Access, Benches/Seating, Bicycle - Rack, Grill, Picnic Shelter/Pavilion, Playground, Restroom
This park honors General Leslie R. Groves, the US Army officer in charge of the Manhattan Project. It was Groves who in January 1943 selected a 670 square miles (1740 square kilometers) swath of eastern Washington State as the center for plutonium production for the Manhattan Project, the American effort to develop an atomic bomb. Groves approved the Hanford Site in January 1943. He visited the Hanford Site and Richland several times during the war. 
Groves grew up in a military family, moving frequently as his father accepted new assignments. After graduating from the United States Military Academy, Groves entered the US Army Corps of Engineers. He was a dominant, controlling personality, a practical-minded military engineer―brusque, egotistical, and confident―who would later tell associates, "If I can't do it, no one can." He joined the War Department's general staff in 1939. He oversaw construction of the Pentagon, the world's largest office building, as well as the siting and construction of several major military depots, including one in nearby Pasco.  
The Columbia River played a large role in Groves' decision to site the plutonium production facilities at Hanford. The river provided the cold water needed to cool the reactors and produced massive amounts of electricity from the recently completed Grand Coulee Dam needed to run the reactors and other production facilities.     
Long and narrow, Leslie Groves Park consists of 149 acres (60.4 hectares) bordering the Columbia River. It features both natural spaces and recreational facilities, including hiking and biking trails, boat ramp, sand volleyball courts, playground, picnic area with covered pavilions, restrooms, and ample parking.
Continue Your Journey

While in Leslie Groves Park, you can bike or stroll the shoreline on Richland's Riverfront Trail. Or you can detour from the path to view the Gold Coast Historic District's "alphabet homes," constructed in 1949 when Hanford's Cold War mission brought new growth to the Tri-Cities. 
If you are up for a longer outing, you can take the Riverfront Trail and the connecting Sacagawea Heritage Trail all the way to Sacajawea State Historical Park where Lewis and Clark camped during their time in this area. Upriver is the USS Triton Sail Park, which preserves a portion of the first submarine to circumnavigate the globe while staying submerged. The USS Triton relied on nuclear reactor technology developed for the Manhattan Project to complete this feat.   
Last updated: April 26, 2022