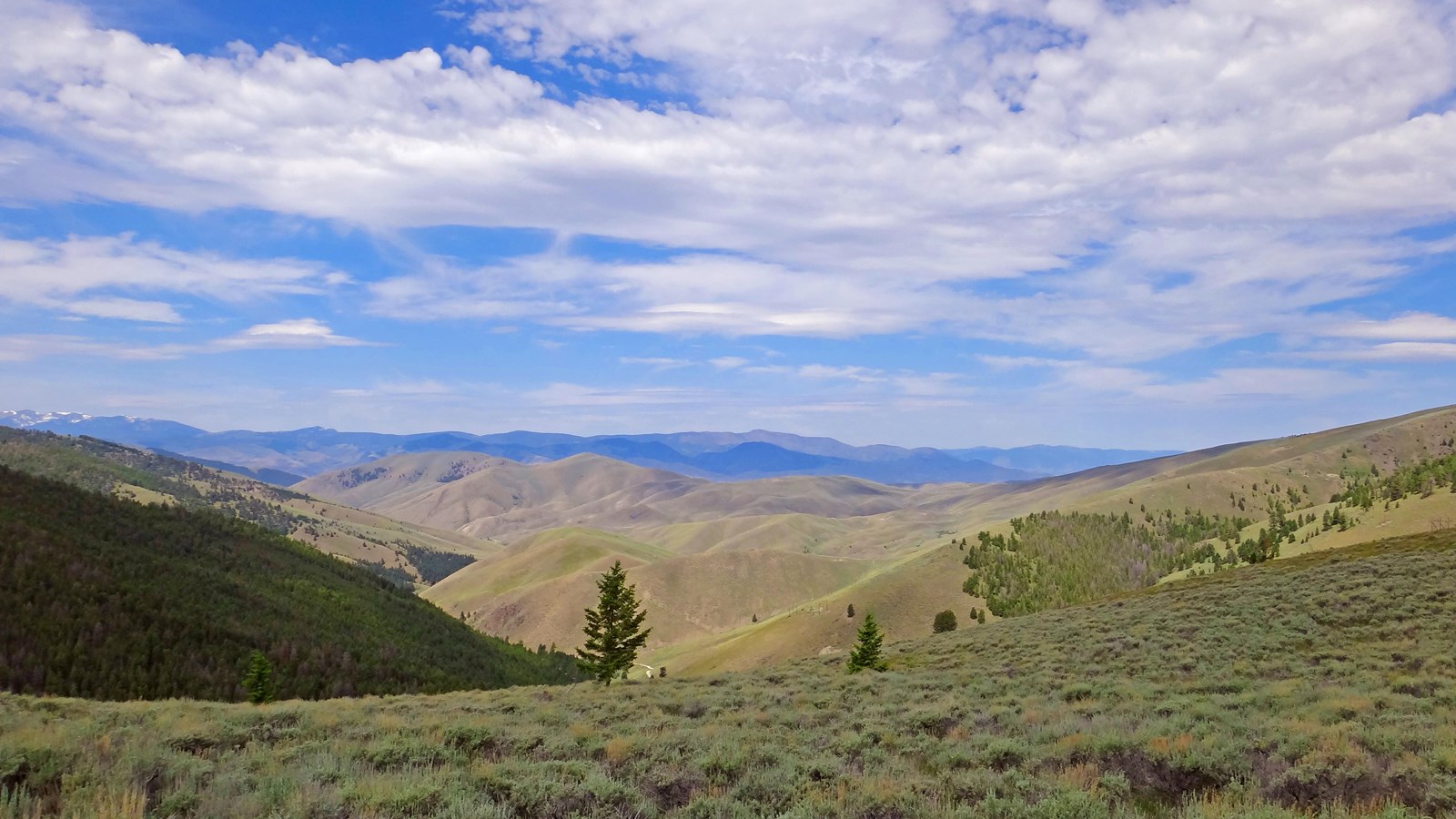 Location:
Lemhi County, ID/Beaverhead County, MT
Significance:
Corps crossed the Continental Divide
Designation:
National Register of Historic Places, National Historic Landmark
Lewis and Clark NHT Visitor Centers and Museums
Visitor Centers and Museums along the Lewis and Clark National Historic Trail
Lemhi Pass is a High Potential Historic Site on the Lewis and Clark National Historic Trail.

On August 9, 1805, Lewis departed the main group with a scouting party that included Drouillard, Shields, and McNeal. Their objectives were to "find a portage if possible" and make contact with the Shoshone Tribe in order to acquire horses. A few days later, on August 12, Lewis crossed the continental divide through Lemhi Pass. This marked the point of departure from both United States-controlled territory and the Mis­souri River watershed. Lewis wrote, "two miles below McNeal had exultingly stood with a foot on each side of this little rivulet and thanked his god that he had lived to bestride the mighty & heretofore deemed endless Missouri. after refreshing ourselves we proceeded on to the top of the dividing ridge from which I discovered immence ranges of high mountains still to the West of us with their tops partially covered with snow. I now decended the mountain about ¾ of a mile which I found much steeper than on the opposite side, to a handsome bold running Creek of cold Clear water. here I first tasted the water of the great Co­lumbia river." Following successful contact with the Shoshone and acquition of horses, the full expedition crossed the pass on August 26.

The pass was named in 1855 by Mormon missionaries for King Limhi, a character from the Book of Mor­mon. Located in the Beaverhead Mountains of the Bitterroot Range, it spans about two miles across the boundary between Montana and Idaho. Lemhi Pass is encompassed by two national forests – Beaverhead- Deerlodge National Forest in Montana, and Salmon-Challis National Forest in Idaho.
Last updated: November 27, 2020