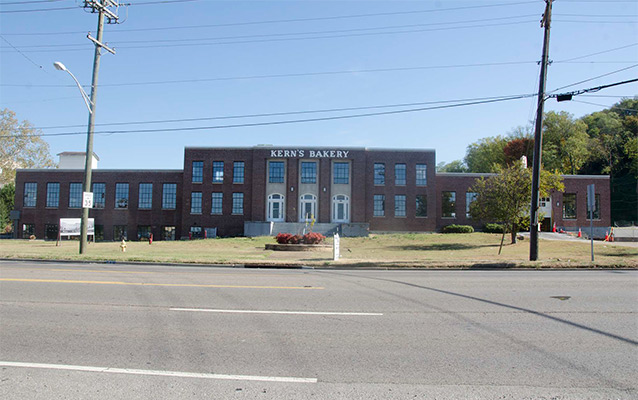 Location:
2110 Chapman Highway, Knoxville, Tennessee
Significance:
Architecture, Commerce, Industry
Designation:
Listed in the National Register – Reference number 100000979
Built in 1913, Kern's Bakery is locally significant for its historic significance in industry and commerce and its architectural significance as an industrial example of the Art Deco style. Its period of significance is from 1931 when the building was completed until 1967 during the height of Kern's popularity. The facade retains a high degree of integrity retaining original materials and design. The rear and side elevations contain rear additions that date from the period of significance illustrating the success of the Kern's brand as the factory expanded to increase production. The building overall exhibits a high level of integrity. Kern's Bakery became a Knoxville landmark and successful regional bakery business that expanded from Knoxville with other three other factory locations in Virginia and Kentucky and delivery routes spread through the southeast to Nashville, Atlanta and Greenville, SC. It was well known to Knoxville residents from its prominent location that also served as a retail store, and through its unique family-focused outreach to the Knoxville community. Bread was produced at the factory until 2012. The building is a muted version of the Art Deco style. It contains references to classical architecture with its symmetrical central bay and the modern with modest geometric detailing in the doors, transom, sidelights, and cut stone detailing.
Last updated: July 10, 2018