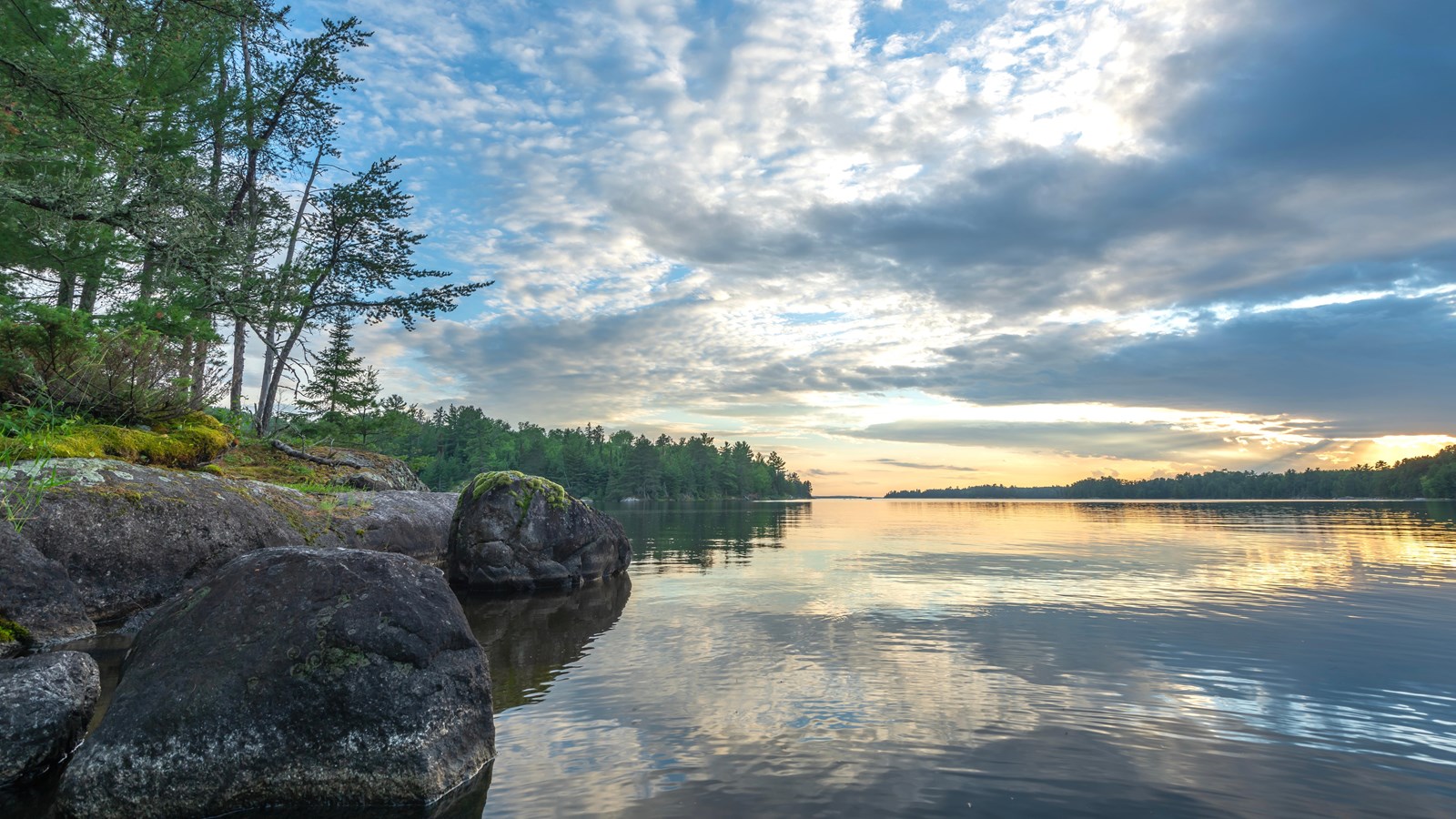 Accessible Sites, Aquatic Invasive Species Inspection, Beach/Water Access, Benches/Seating, Boat Ramp, Canoe/Kayak/Small Boat Launch, Dock/Pier, Parking - Auto, Parking - Boat Trailer, Parking - Bus/RV
Kabetogama Lake can be accessed by the gateway communities of Kabetogama and Ash River. Kabetogama Lake is 15 miles long and 25,760 acres in size. It has 78 miles of shoreline, a maximum depth of 80 feet, and 200 islands. All of Kabetogama Lake is in the park. Kabetogama has an Ojibwe Indian name – Ga-bi'-togum-ag' za' -ga-I-gun that translates as "the lake that lies parallel or double with another lake," meaning Kabetogama lies parallel to Rainy Lake. French fur traders referred to Kabetogama Lake as "Travere" or "Travers" which translates as "abreast or alongside." Kabetogama has been spelled a variety of ways through the years including Kahpetogamak and Capetogama. 
Kabetogama Lake provides great boating, camping, paddling, and fishing opportunities.  
Get out on the lake: 
Voyageurs National Park offers boat tours. Reservations can be made online or by calling recreation.gov at 877-444-6777. 

There are commercial services in the park that offer private boat tours, fishing charters, canoe rentals, etc. 

In the winter there are snowmobile trails and an ice road that leads to a sledding hill and the Ash River Visitor Center. Please check the current winter trail conditions for updates.  
Camping Details: 
All Frontcountry  campsites are water-based, require a permit, and can only be accessed by boat. Frontcountry campsites are directly accessible by boat. 

28 campsites on Kabetogama Lake. 

Reservations required. Reservations can be made online or by calling by calling recreation.gov at 877-444-6777. 
Last updated: December 21, 2020