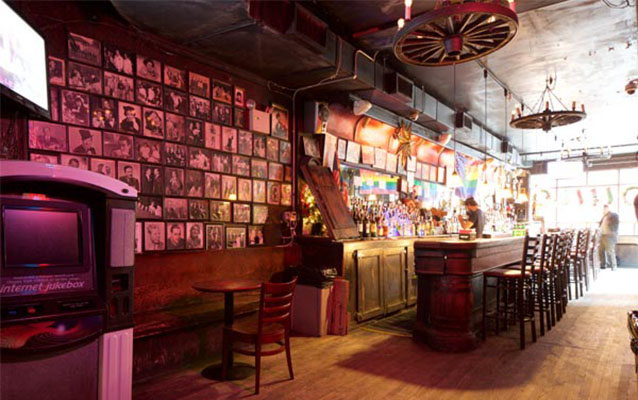 Location:
188 Waverly Place [159 West 10th St.], New York City, NY
Significance:
Social History
Designation:
Listed on the National Register of Historic Places, ref# 16000242
Julius' Bar in Greenwich Village is significant in the area of social history for its association with an important early event in the modern gay rights movement. Julius', now the oldest gay bar in New York City (and also one of the oldest bars in the city in continuous operation), is a bar and restaurant that dates back to the nineteenth century, with its current design probably dating from the late nineteenth or early twentieth century.  
By the 1960s, some four decades after Greenwich Village had become the center of New York City's LGBT community, the bar was attracting a significant number of gay men, although it was not exclusively a gay bar. On April 21, 1966, three members of the Mattachine Society, an early and influential gay rights organization, organized what became known as a "sip-in." Their intent was to challenge New York State Liquor Authority regulations that were promulgated so that bars could not serve drinks to known or suspected gay men or lesbians, since their presence was considered de facto disorderly. The State Liquor Authority regulations were one of the primary governmental mechanisms of oppression against the gay community because it precluded their right of free assembly. This was particularly important because bars were one of the few places where gay people could meet each other. 
The sip-in was part of a larger campaign by more radical members of the Mattachine Society to clarify laws and rules that inhibited the running of gay bars as legitimate, non-mob, establishments and to stop the harassment of gay bar patrons. When Dick Leitsch, Craig Rodwell, John Timmons, and Randy Wicker announced that they were homosexuals and asked to be served a drink, the bartender at Julius' refused their request. This refusal received a great deal of publicity, including articles in the New York Times and the Village Voice, at a time when issues involving discrimination against gay people were not generally discussed in the press. The reaction by the State Liquor Authority and the newly empowered New York City Commission on Human Rights resulted in a change in policy and the birth of a more open gay bar culture.    
Scholars of gay history consider the sip-in at Julius' as a key event leading to the growth of legitimate gay bars and the development of the bar as the central social space for urban gay men and lesbians. 
This nomination was funded in part by an Underrepresented Communities Grant via the State, Tribal and Local Plans and Grants Division of the National Park Service.
Last updated: June 9, 2022