Place
Juan Rodriguez Cabrillo Statue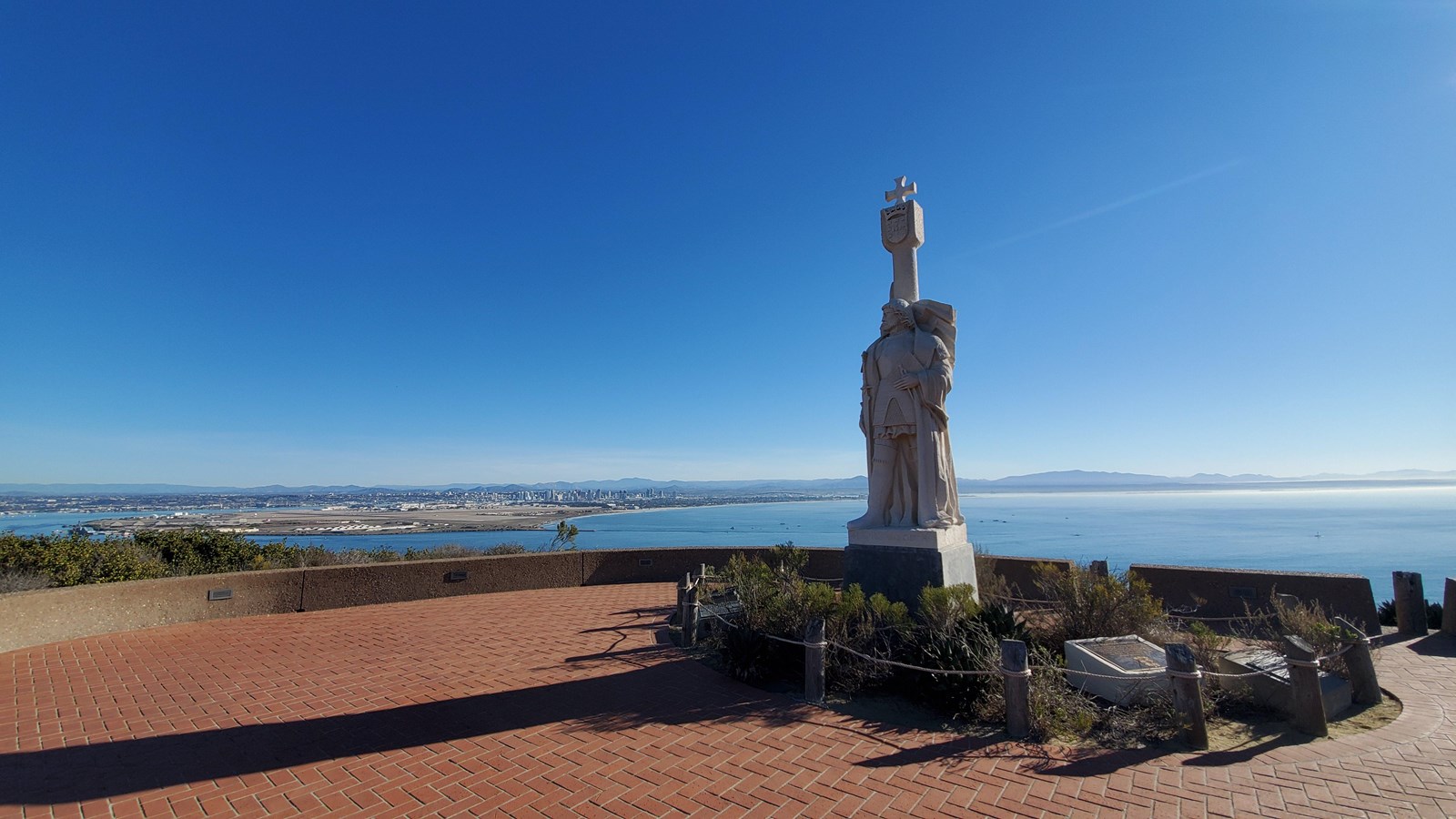 Historical/Interpretive Information/Exhibits, Scenic View/Photo Spot, Wheelchair Accessible
History of the Monument and Statue
Woodrow Wilson established Cabrillo National Monument in 1913, in recognition of Juan Rodriguez Cabrillo and his voyage of exploration. Cabrillo led the first European expedition to set foot on what would become the west coast of the United States, and the first to chart the coast of California.

The original Cabrillo statue at the site was made by Portuguese sculptor Alvaro DeBree. It was donated to San Francisco in 1939 for the Golden Gate International Exposition, but eventually wound up here, at the monument. Over time, the marine climate and weather of Point Loma eroded the original statue to the point where most details showed visible wear.

Funded by a generous donation from San Diego resident Marian Reupsch, Portuguese sculptor Joas Chartes Almeida carved an exact replica of the original statue out of a more resistant stone, and it was installed in 1988. The new statue stands here, overlooking San Diego Bay, while the original statue was eventually relocated to Ensenada, Mexico. Today, the statue continues to commemorate the voyage of Juan Rodriguez Cabrillo and his exploration of California.

In addition to remembering Cabrillo's story, the monument is a place to experience many other stories of Point Loma. The Kumeyaay, the Old Point Loma Lighthouse, World War II coastal defenses, San Diego's native coastal sage landscape, tidepools, whale migrations, the local kelp forest, and more all have a story to tell here!
Did You Know?
Cabrillo started his voyage in Navidad, Mexico (modern day Barra de Navidad). That is over 1,200 miles (1,931 km) away, as the crow flies! That's quite the trip! It took him 103 days to reach the site of modern-day San Diego Bay.
After Cabrillo's death, his crew possibly made it as far north as the Rogue River in Oregon. That's just shy of 2,000 miles (3,219 km) away from where they started! Imagine beginning a voyage at a sunny beach in Mexico and making it as far as the cold and wet pacific northwest!
The original plans for the monument called for a towering statue at the site of the Old Point Loma Lighthouse!
Learn More
Read about the life and voyage of Juan Rodriguez Cabrillo!
Access
The statue viewing area is down a short walking path just off the traffic circle in front of the Visitor Center.
Last updated: March 25, 2021