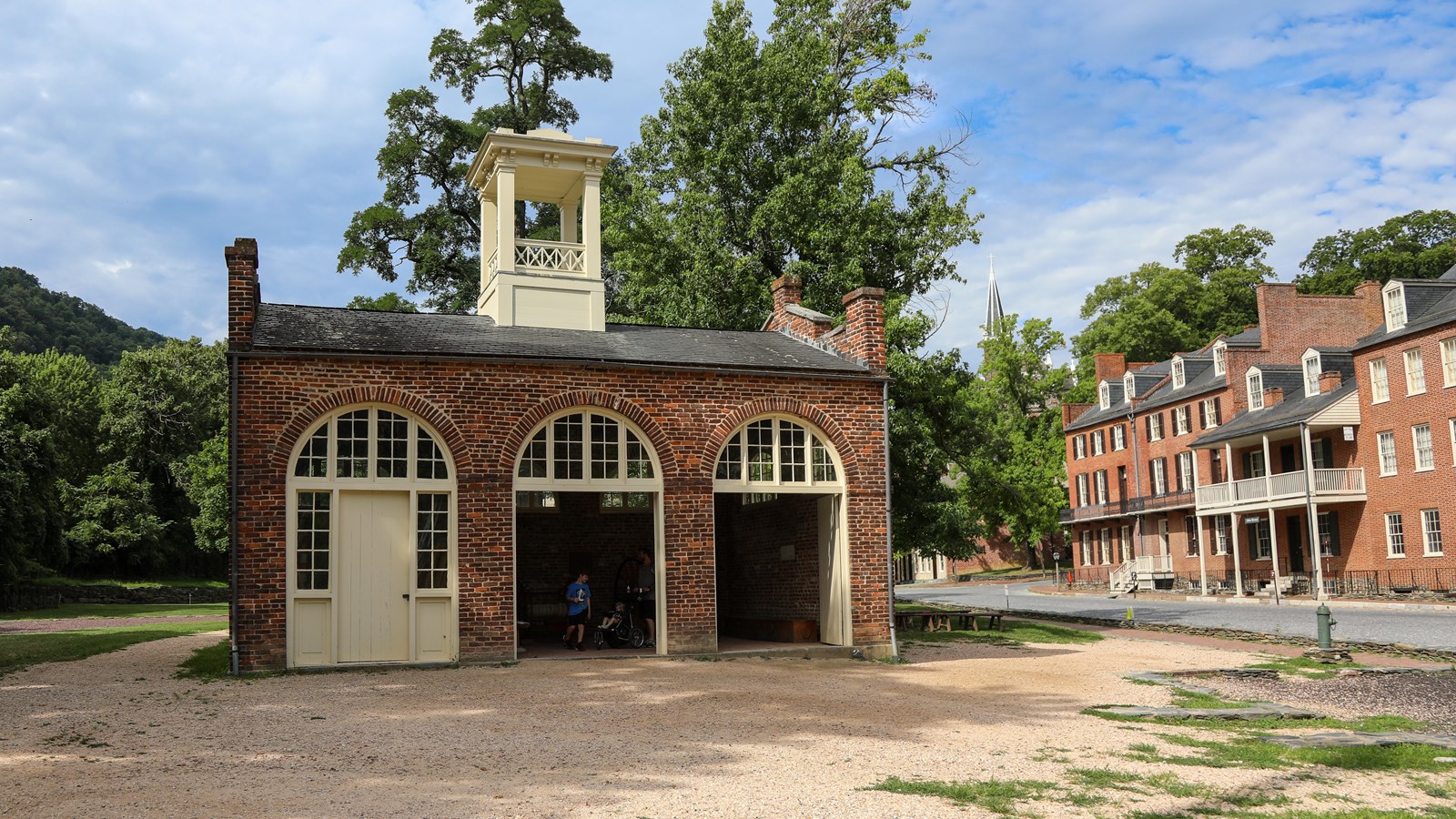 Location:
Harpers Ferry, WV
Significance:
Site of the last stand of abolitionist John Brown in his 1859 assault upon slavery at Harpers Ferry
Designation:
National Park, National Register of Historic Places, HABS/HAER/HALS
Historical/Interpretive Information/Exhibits
The structure we now call John Brown's Fort was erected in 1848 as the Armory's fire engine and guard house. The building was described in a June 30, 1848, Armory report: "An engine and guard-house, 35½ x 24 feet, one story brick, covered with slate, and having copper gutters and down spouts, has been constructed, and is now occupied." It was in this building that John Brown and several of his followers barricaded themselves during the final hours of their ill-fated raid of October 16, 17, and 18, 1859.

John Brown's Fort, as the structure became known, was the only Armory building to escape destruction during the Civil War. In 1891, the fort was sold, dismantled and transported to Chicago where it was displayed a short distance from The World's Columbian Exposition. The building, attracting only 11 visitors in ten days, was closed, dismantled again and left on a vacant lot.

In 1894, Washington, D.C. journalist Kate Field, who had a keen interest in preserving memorabilia of John Brown, spearheaded a campaign to return the fort to Harpers Ferry. Local resident Alexander Murphy made five acres available to Miss Field, and the Baltimore & Ohio Railroad offered to ship the disassembled fort to Harpers Ferry free of charge. In 1895, John Brown's Fort was rebuilt on the Murphy Farm about three miles outside of town on a bluff overlooking the Shenandoah River.

In 1903, Storer College began their own fundraising drive to acquire the structure. In 1909, on the occasion of the 50th Anniversary of John Brown's Raid, the building was purchased and moved to the Storer College campus on Camp Hill in Harpers Ferry.

Acquired by the National Park Service in 1960, the building was moved back to the Lower Town in 1968. Because the fort's original site was covered with a railroad embankment in 1894, the building now sits about 150 feet east of its original location.
Timeline
1848 Built as fire-engine house for U.S. Armory.
1859 Serves as stronghold for John Brown and his raiders.
1861-1865 Escapes destruction during Civil War (only armory building to do so), but is vandalized by souvenir-hunting Union and Confederate soldiers and later travelers.
1891 Dismantled and transported to Chicago Exposition.
1895 Rescued from conversion to stable and brought back to Harpers Ferry area to be exhibited on a farm.
1909 Purchased by Storer College and moved to campus
1968 Moved by National Park Service to within 150 feet of its original location
Photo caption: On October 16, 1859, the abolitionist John Brown and his men attacked Harpers Ferry. By the following afternoon the local militia had penned the raiders in this building. United States Marines stormed the building at dawn on the 18th and captured Brown. Convicted of murder, treason, and inciting slaves to rebellion, he was hanged in nearby Charles Town on December 2, 1859.
Last updated: March 27, 2023