Place
Indiana: Kennedy-King National Commemorative Site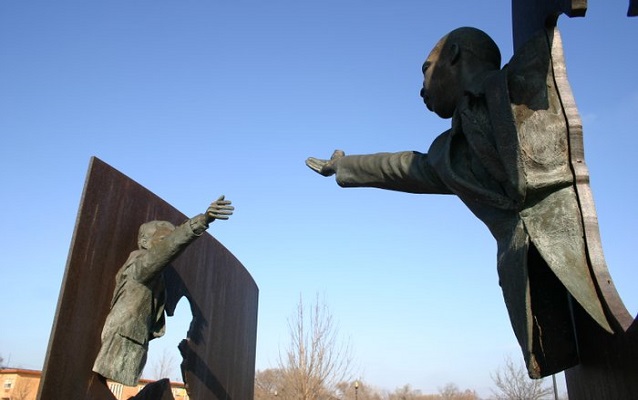 Location:
1701 Broadway Street Indianapolis, IN 46202
Significance:
Memorial to the lives of Robert F. Kennedy and Rev. Dr. Martin Luther King Jr. both of whom were assassinated within months of one another.
Designation:
African American Civil Rights Network






After Rev. Dr. Martin Luther King Jr. was assassinated on April 4, 1968, Robert F. Kennedy gave an impromptu speech in Indianapolis, Indiana. At the time Senator Kennedy was running for the presidential nomination for the Democratic Party. He had announced his candidacy just weeks before King was killed. 
Kennedy began his speech:
I have bad news for you, for all of our fellow citizens, and people who love peace all over the world, and that is that Martin Luther King was shot and killed tonight. Martin Luther King dedicated his life to love and to justice for his fellow human beings, and he died because of that effort.
Kennedy even referenced his late brother, President John F. Kennedy in the speech. President Kennedy was killed by an assassin's bullet in Dallas, Texas in November 1963:
I had a member of my family killed, but he was killed by a white man. But we have to make an effort in the United States, we have to make an effort to understand, to go beyond these rather difficult times.
Authorities in Indianapolis had advised Senator Kennedy against making the speech for fear that it could escalate tensions in the city. Indianapolis had a turbulent year leading up to King's assassination, and officials feared that Kennedy's speech could further inflame racial tensions once people learned about King's death. However, the improvised speech to a mostly African American crowd was later credited for preventing a potential riot in the city. Kennedy's perceived empathy with the black community felt genuine to many in the crowd who found his speech powerful and healing. However, other major cities found themselves not so lucky, and experienced deadly rioting that night in response to King's assassination.
Kennedy-King Park was added to the African American Civil Rights Network in April 2018.

The African American Civil Rights Network (AACRN) recognizes the civil rights movement in the United States and the sacrifices made by those who fought against discrimination and segregation. Created by the African American Civil Rights Act of 2017, and coordinated by the National Park Service, the Network tells the stories of the people, places, and events of the U.S. civil rights movement through a collection of public and private elements.
Last updated: January 13, 2022