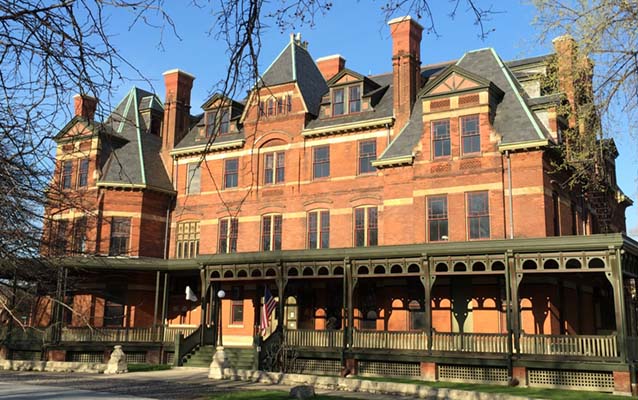 Location:
11111 S. Forrestville Ave., Chicago, Illinois
Significance:
Contributing building in Pullman Historic District
The Hotel Florence is a former hotel located in the Pullman Historic District on the far south side of Chicago, Illinois. It was built in 1881 to a design by architect Solon Spencer Beman. George Pullman approved the design, and construction commenced on the new 50-room Hotel Florence to rent rooms to supply representatives for his company. 
The hotel cost $100,000 to build. George Pullman named the hotel after his oldest daughter, Florence Pullman. The most luxurious suite in the hotel, the Pullman Suite, was designed for the personal use of George Pullman and his family. The hotel could also offer first-class accommodations to railroad CEOs who came to Pullman to do business with the firm. The hotel opened to guests on November 1, 1881.
George Pullman died in 1897. The town of Pullman was divested from the company and the Hotel Florence was sold in 1898 into new owenership. The Hotel Florence built a major addition, the Annex, in c. 1914. The Historic Pullman Foundation purchased the hotel in 1975 to save it from demolition; the Illinois Historic Preservation Agency (now the Illinois Department of Natural Resources) took the title in 1991. 
Visit the
Illinois Department of Natural Resources website
for more information.
Last updated: January 8, 2023