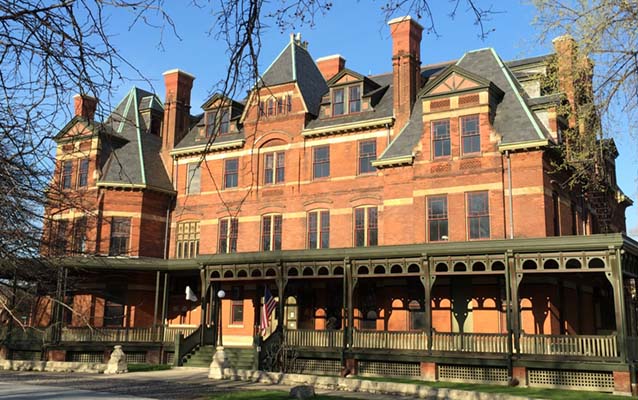 Quick Facts
Location:

11111 S. Forrestville Ave., Chicago, Illinois

Significance:

Contributing building in Pullman Historic District

OPEN TO PUBLIC:

Yes
The Hotel Florence is a former hotel located in the Pullman Historic District on the far south side of Chicago, Illinois. It was built in 1881 to a design by architect Solon Spencer Beman. 
George Pullman approved the design, and construction commenced on the new 50-room Hotel Florence to rent rooms to supply representatives for his company. 
The hotel cost $100,000 (in gold-standard dollars) to build. George Pullman named the hotel after his oldest daughter, Florence Pullman. The most luxurious suite in the hotel, the Pullman Suite, was designed for the personal use of George Pullman and his family. The hotel could also offer first-class accommodations to railroad CEOs who came to Pullman to do business with the firm. The hotel opened to guests on November 1, 1881.
The hotel was off limits to Pullman workers. George Pullman did not want his laborers to drink, and banned the sale of alcohol within town limits. An exception was made for guests of the Hotel Florence, however. A bar served whiskey and other beverages inside the hotel. A hotel restaurant specialized in pork chops, which entered the hotel menu in 1902.
George Pullman's control over his company town began to come apart in 1889 when the city of Chicago annexed Pullman and its surroundings and began to extend its ordinances over the neighborhood. Another blow was the bitter strike in 1894 led by labor leader Eugene Debs. George Pullman died in 1897.
Under Pullman's successor, Robert T. Lincoln, the sleeping-car business continued to expand into the twentieth century, and the Hotel Florence built a major addition, the Annex, in the 1910s. This was, however, the decade that marked a peak for the American passenger railroad industry. With the growth of the automobile industry, travelers and salesmen began to drive themselves around. Almost all of the American railroads still offering night train services relinquished them to Amtrak in 1971. The sleeping-car business died.
The Historic Pullman Foundation purchased the hotel in 1975 to save it from demolition; the Illinois Historic Preservation Agency took title in 1991. The Hotel is open for tours to individuals and groups and is often open for special events.