Place
Hope Lutheran Church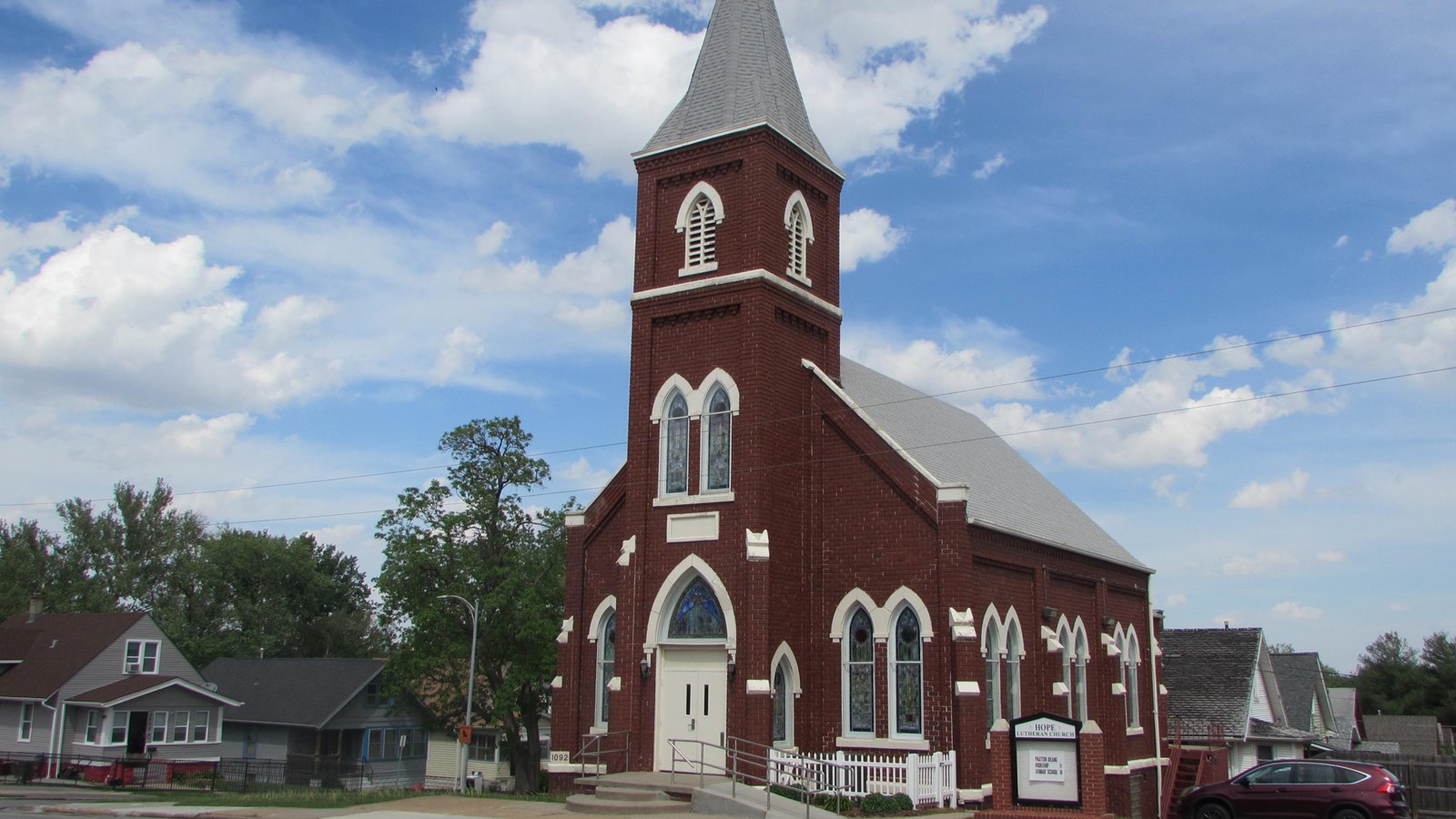 Location:
2721 North 30th Street
Significance:
Ethnic Heritage (Black); Social History; Architecture
Designation:
National Register of Historic Places
Hope Lutheran Church is a mid-nineteenth century, Gothic Revival style church situated within a residential neighborhood in Omaha's Near North Side. Constructed in 1913 by the Pella Danish Lutheran Church congregation, Hope Lutheran Church occupied the building in 1946 and continues to hold services in the building today.
Lutheran Missionary Rosa Young helped plant the seeds of Hope Lutheran Church when visiting her friend, Ella McIntosh, in Omaha during a 1931 speaking tour. The church would utilize several small spaces in the community until the congregation's growth necessitated a permeant space. Built in 1913 by the Pella Danish Lutheran Church, the church was vacant following 'White flight' from the Near North Side as Blacks moved into the area. Hope Lutheran Church began conducting services in the building on Easter 1946. While the area had several White Lutheran congregations, Hope Lutheran Church is the first established Lutheran-Missouri Synod African American Lutheran church in Nebraska, giving Black Omahans a place to gather to worship.
The church is also representative of the Civil Rights work of Reverend Rockefeller F. Jenkins, a leader in movement during the 1960s. Reverend Jenkins co-founded a helped guide the Citizens' Coordinating Committee for Civil Liberties (4CL) which successfully advocated for equality for Black Omahans in employment, education, and housing. Along with other area churches, Hope Lutheran held numerous 4CL meetings and Reverend Jenkins was an active participant in Civil Rights demonstrations throughout the city.
Its architecture can be admired from the public right-of-way while Hope Lutheran Church still conducts Sunday worship services today.The National Register nomination for this property is not yet digitized but can be requested from the 
Nebraska State Historic Preservation Office
.
Last updated: September 19, 2022