Place
Holman's Barber Shop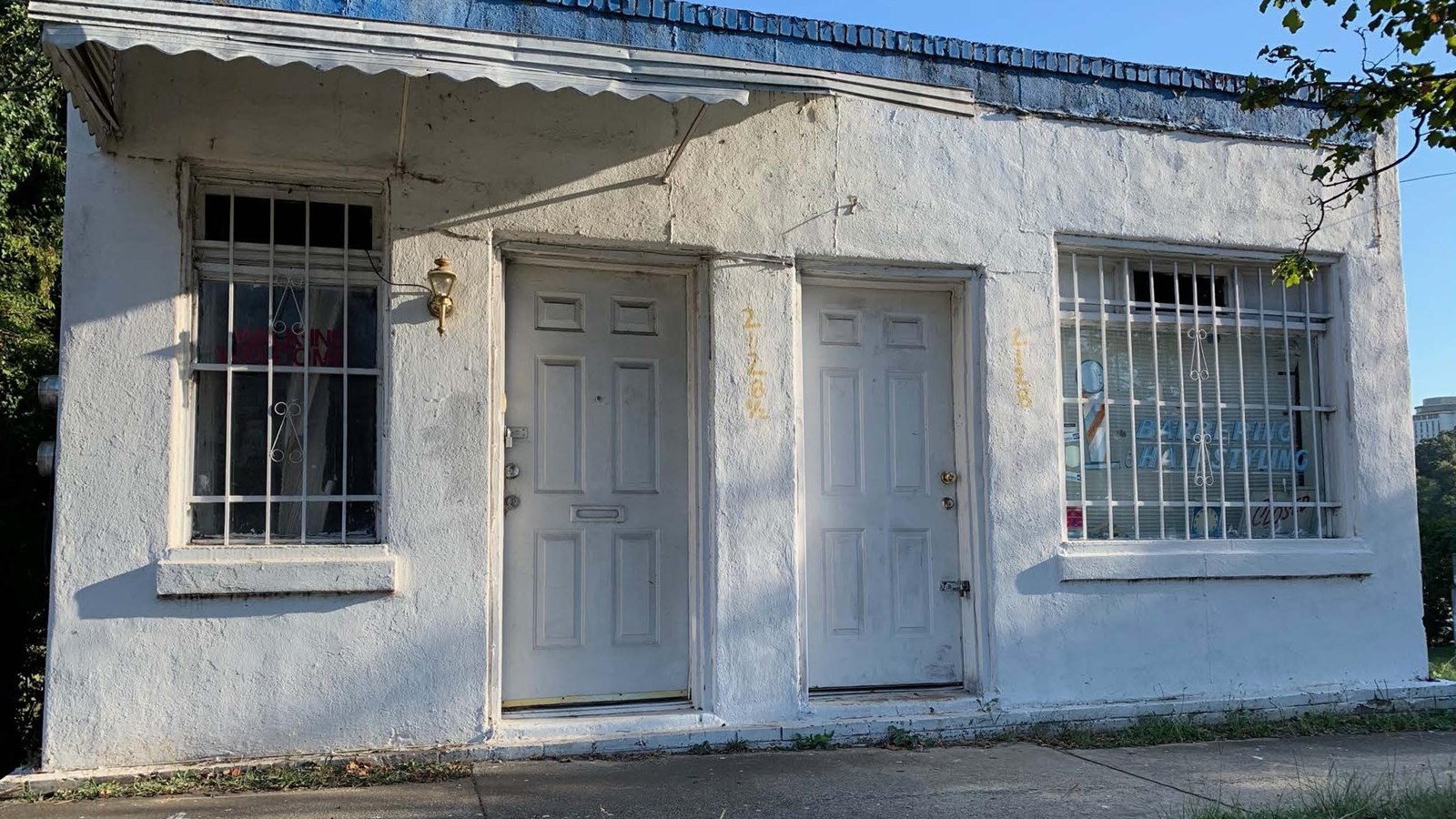 Location:
2128 Gervais Street, Columbia, South Carolina
Significance:
Social History, Ethnic Heritage/Black
Designation:
Listed in the National Register – Reference number 100006884
Holman's Barber Shop, at 2128 Gervais Street in the Lower Waverly neighborhood of Columbia, South Carolina, is a rectangular, hollow concrete block commercial building with a brick veneer foundation, likely covering concrete block, and a flat roof composed of tar and gravel. It is a small, one-story building with a walkout basement and is approximately 1,452 square feet in size. The building containing Holman's Barber Shop and the neighboring stores at 2128 ½ Gervais Street was likely constructed in 1944. 

Operating for over seventy years within Lower Waverly, Holman's Barber Shop reflects Black barber shops' vital roles within local African American communities and is one of the only mid-century Black-owned barber shops in Columbia known to still stand and have integrity to its earliest years of operation. As reflected in the shop's listing in the Negro Traveler's Green Book, Holman's provided Black Columbians and other African Americans with an alternative public space where patrons could meet, freely converse, and receive quality, convenient service without fear of the harassment and degradation that often awaited them in the white-controlled spaces of mid-century Columbia. The operation of Ret's Beauty Box and later the Modernistic Beauty Salon in the other half of the building provides a parallel story of beauty care, social history, and upward economic mobility for Black women. The building endures as a reminder of Black entrepreneurship in the face as adversity and of African Americans' broader resistance to the system of segregation. 

Born in Holly Hill, South Carolina in June 1900 to James and Amanda Holman, Lewis Holman moved to Columbia to earn a degree from Allen University. While doing so, he pursued barbering as a source of income. Ultimately, Holman took up the trade as a career and established himself within Columbia's Lower Waverly neighborhood, a historically prominent African American neighborhood developed in the early twentieth century to the south of the older Waverly neighborhood. While predominantly residential in character, Lower Waverly also contained a number of Black-owned small businesses, including Holman's Barber Shop. From 1928-1945 Lewis Holman worked as a barber at various addresses along Gervais Street. Around 1945, Lewis Holman relocated his business to 2128 Gervais Street—the year in which the shop is first listed in the Columbia City Directories as "Holman's Barber Shop." Long home to both working-class and professional Black citizens, by mid-century Lower Waverly was also home to a number of local civil rights activists.

During Jim Crow segregation, Black barber shops like Holman's often occupied the same level of significance within African American communities as other prominent Black community institutions, including churches, newspapers, and beauty shops. On an economic level, Black barber shops offered African American entrepreneurs a relatively straightforward path toward financial security and autonomy. It is not surprising that Lewis Holman supported himself through barbering, since barbering represented one of the surest paths to successful business ownership for Black entrepreneurs. Barber shop startup costs were relatively minimal in comparison to other businesses, and customers would always need haircuts regardless of the current economic state.  As independent shop owners who catered to Black customers, barbering also gave African American barbers a fair degree of economic autonomy, as barber shop owners were not dependent on, or as susceptible to economic reprisals from, white customers.

Segregation may have prevented African Americans from being able to patronize Columbia's white-owned barber shops, but the quality of service they received at Holman's and other Black-owned shops led many Black patrons to embrace such businesses and genuinely prefer them over the white shops from which they were excluded. Made racially exclusive by both segregation and personal preference, Black barber shops provided African American customers with a "racialized public space" in which Black culture was embraced, rich conversation on topics ranging from sports to racial issues flowed, and African American customers found a refuge from the racial discrimination of the outside world. Such shops represented one of the few public spaces where African Americans could talk freely without fear of white scrutiny—specifically, African American men, who, notwithstanding Black women's occasional patronage of such shops, have historically predominated in such spaces. As a male-dominated space, Black barber shops acted as places where African American men affirm their masculinity through spirited conversation and impressing their peers with their verbal reasoning skills. At Holman's Barber Shop, African American customers came together to discuss both community and national events. This discussion was occasionally augmented by a game of checkers, or a shoeshine. The barber shop's pivotal role within the community is further illustrated by the fact that local politicians would stop by Holman's from time-to-time to ask for community assistance.

The trust and support that Black men cultivated with one another inside barber shops over superior cuts and conversation likely helps explain how Holman's Barber Shop was able to remain in business until 2018, decades after many other types of Black-owned businesses were forced to close due to clientele moving on to newly desegregated white-owned establishments. As Holman's exemplifies, while desegregation and urban renewal negatively impacted Black businesses, integration did not have the same impact on Black barber shops as other commodity-based African American businesses. African American consumers could find cheaper goods at other institutions, but they could not find the same celebration of Black culture and heritage offered by Black barber shops. 

The same building containing Holman's Barber Shop also housed different Black beauty salons over the years. Just like Black barber shops fulfilled significant economic, cultural, and social functions for African American men, Black beauty salons provided parallel services for African American women. Similar to the entrepreneurial opportunities provided by Black barber shops, Black beauty parlors offered a pathway toward economic success and financial independence for African American women. Few employment opportunities were available to Black women outside of domestic work, factory work, or agricultural labor. Such positions were typically characterized by arduous work done for paltry wages. In contrast, Black beauty culture, with relatively little education and overhead required, enabled African American women to enter a profession, become business owners, and attain a level of economic self-sufficiency not achievable through other means of employment. Working as a beautician also gave some African American women greater flexibility to schedule their work hours around their social activities, and, for Black beauticians who ran beauty parlors from their homes, the chance to work while keeping an eye on their children. The economic self-sufficiency afforded by Black beauty salons enabled Black beauticians to embrace social and political activism more easily than other Black employees working in white-dependent occupations. As such, Black beauticians were vital participants in the civil rights movement. Beauty Salons that were housed in the same building include Ret's Beauty Box from 1945 to 1950, with Loretta Jones as proprietor and the  Modernistic Beauty Salon from 1953 to 1987 operated by Carolyn R. Harrison. 

Holman's Barber Shop is one of a few known examples of historic Black barber shops still extant, making it a valuable resource for telling the story of such properties' long-standing role in local African American communities. Thus far, Holman's Barber Shop has escaped the fate of demolition suffered by other Columbia Green Book sites. Holman's Barber Shop is a visual reminder of Columbia's story as a segregated city, as well as a story about how local African Americans opened their homes and businesses to help Black travelers mitigate white violence, travel safely, and exercise agency in their travel decisions.  In addition, it is also the only confirmed Black barber shop in the Lower Waverly community that retains its original appearance.
 
Last updated: May 5, 2022