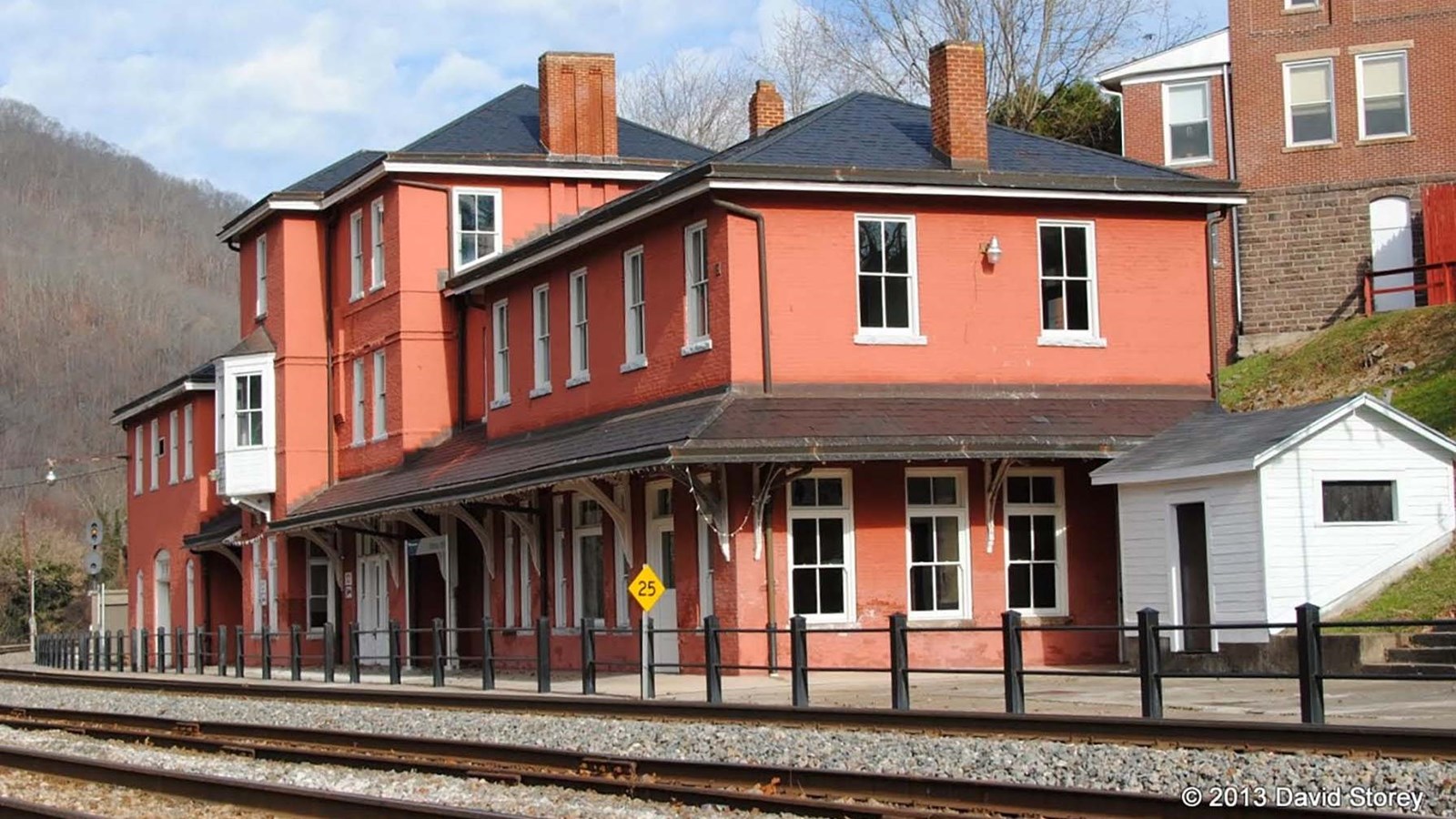 Location:
100 Second Ave, Hinton, WV
Historical/Interpretive Information/Exhibits
African American Heritage Driving Tour Stop 17: Migration of African Americans to WV
Hinton and the Chesapeake and Ohio Railway became an important migration corridor for thousands of African Americans. For nearly sixty years, 1870 to 1930, African Americans traveled to West Virginia through major rail centers like Hinton.  They came in search of jobs as well as economic and political opportunities denied to them in other states.

Beginning in 1869, African Americans poured into the state to fill hundreds of jobs building the C&O Railway, its branch lines, and other railroads through the mountainous landscapes. Once the railroads opened up the large coalfields of Central Appalachia, even more journeyed to West Virginia. 

Hinton became an integral stop for African American men and their families who came to fill hundreds of jobs in the coal mines. Although some remained in Hinton to work for the railroad, some became buisnessmen, teachers, and ministers, but the majority passed through on their way to new jobs and new lives in the coal camps of the New River Gorge and southern West Virginia.

Hinton Railroad Depot
The Hinton station was built for the Chesapeake & Ohio Railway (C&O) in 1905 as a division terminal. The station and tracks lie along a bend in the New River; in a quirk of engineering, the eastbound trains pass southwest through the station and westbound trains pass northeast. The otherwise two-story depot has a middle section that stands at three stories and is built entirely from red brick with a rock-faced stone belt course that runs at the window heads. The porch coverings are supported by heavy wooden brackets that feature a wood-fan pattern trim. Currently, the station is largely unoccupied except for an Amtrak waiting room opened and closed by a caretaker. Along the hillside bordering the platform, a neighbor maintains a lush garden for the enjoyment of rail passengers.
Other nearby places of interest:
Hinton, WV
Hinton Railroad Museum
Driving Directions
Physical Address: 100 2nd Avenue, Hinton, WV 25951
GPS Coordinates: N37.675011 -W80.892184

From Beckley, WV: Take I-64 East to Exit 139 (Hinton/Sandstone, WV). Turn left on to Highway 20 south and travel 10 miles to Hinton, WV. Route 20 will become Summers Street (one-way) through town. Turn right on 2nd Avenue and park along the right hand side of the road. Tour Stop (Hinton Depot) will be on your left at the bottom of the street. You are welcome to walk around the Depot to the exhibit area. PLEASE STAY OFF THE TRACK.
Directions to the next tour stop:
Quinnimont Missionary Baptist Church
Physical Address: Stanaford Road (Highway 41), Prince, WV 25907
GPS Coordinates: N37.855641 -W81.045615

From the Hinton Depot, travel up Second Avenue to Temple Street (Hwy 20) and turn left. Travel 22 miles on Hwy 20 North to Meadow Bridge and turn left on Meadow Bridge Road (Route 31). Travel 6.5 miles to Danese and turn left. Travel 11.5 miles on Hwy 41 South to Quinnimont. At Quinnimont, you will turn right at the first gravel road at the African American Heritage Tour sign. Tour Stop and parking is at the second church on the left.
Migration of African Americans to West Virginia (Audio Narration)

Written by: James Welt Narrated by: Adrienne Jenkins Music: "Be You Self" - written by Lady D and Robert Gray Robert Gray - keyboard and bass Dan Bailey - guitar and bass Doris A. Fields (Lady D) - vocals
Last updated: May 24, 2022