Place
High Water Mark Monument and Copse of Trees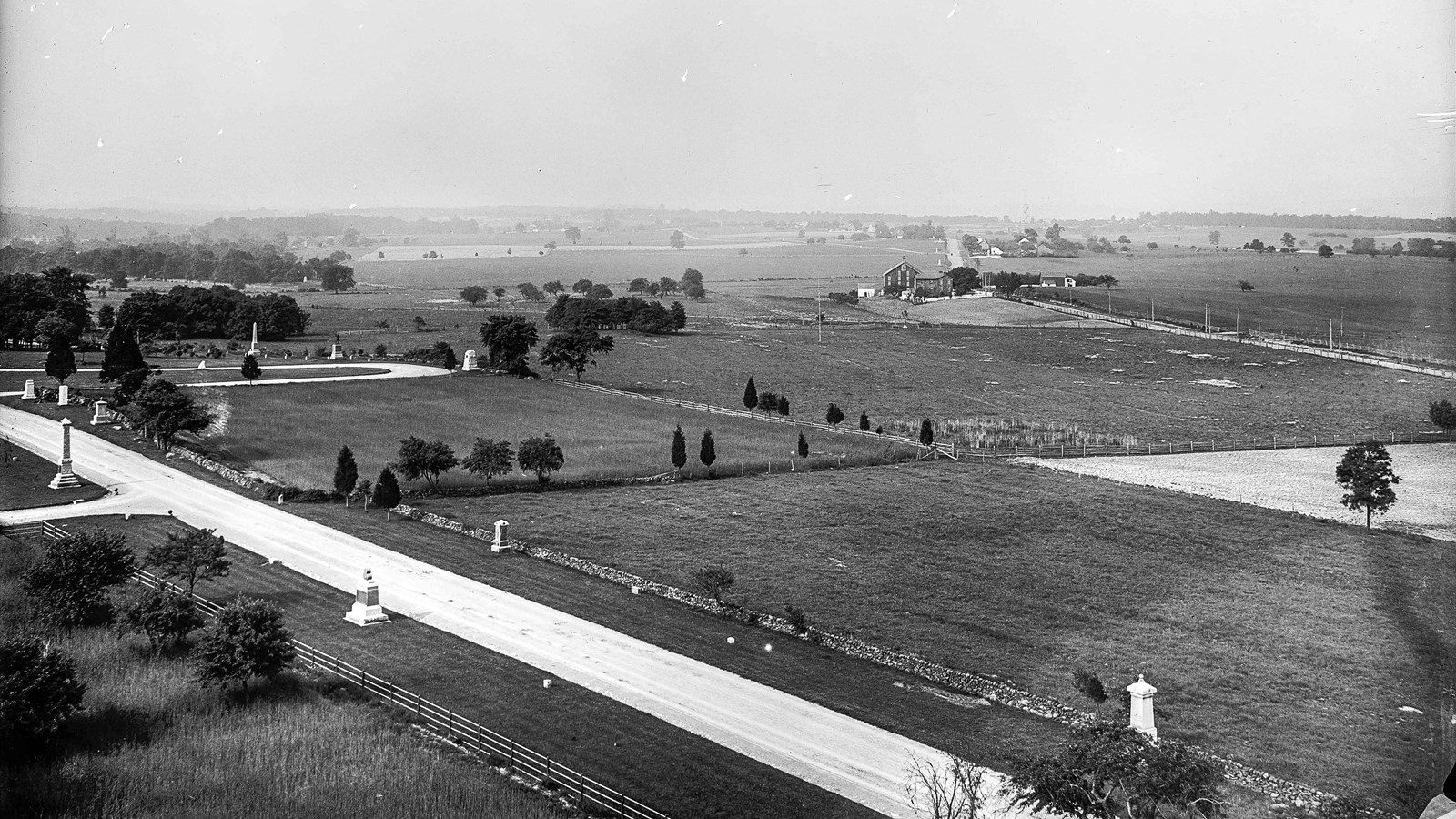 Location:
Gettysburg National Military Park
Significance:
The High Water Mark during the Battle of Gettysburg
Designation:
Civil War Monument
Granite rock near the surface prevented this ground from being placed in cultivation, and in 1863, a clump of bushes and small trees grew here. In the planning for Pickett's Charge on July 3, the clump, later dubbed the Copse of Trees, was designated as a landmark to guide the attacking troops. In 1887, the iron fence was built to protect the trees from souvenir hunters. None of the trees inside the fence today date to 1863. The High Water Mark of the Rebellion Monument was erected in 1892 to honor the commands of both armies that participated in the July 3 "Longstreet's Assault," which today is more popularly known as Pickett's Charge. The monument was designed by John B. Bachelder, the first historian of the battlefield.

The monument to Captain Andrew Cowan's 1st New York Artillery is to your left as you facethe High Water Mark Monument. During the Confederate attack on July 3, Cowan's gunspreserved the Union line at this point by fi ring double rounds of canister (like giant shotguncharges) at the oncoming Confederates who broke through a gap in the infantry line.

Behind you on the east side of Hancock Avenue stands one of the more unusual monumentson the battlefield. The 42nd New York Infantry monument has the bronze sculpture of a Native-American as its main feature. The regiment, also known as the "Tammany Regiment," was raised in New York City in June 1861, under the sponsorship of Tammany Hall and the Union Defense Committee. Tammany Hall was a powerful political machine that dominated New York City politics from the 1790's to the 1960's. It was named for Tamanend, a peace-loving chief of the Lenni-Lenape nation in the Delaware Valley, and a friend of William Penn, the founder of Pennsylvania. Tamanend was reputed to be a chief of great bravery, skill and courage and, for this reason, was chosen by the survivors of the 42nd to symbolize both the political origin of the regiment and its courage and fighting ability.

One of the speakers at the dedication of this monument was General Ely S. Parker ofNew York. Parker had served as General Ulysses S. Grant's military secretary and draftedthe terms of surrender at Appomattox Court House on April 9, 1865. Parker was also asachem, or chief, of the Seneca tribe and the first Native-American to head the Department of Indian Affairs.
Last updated: August 29, 2022