Place
Harvard Shaker Village Historic District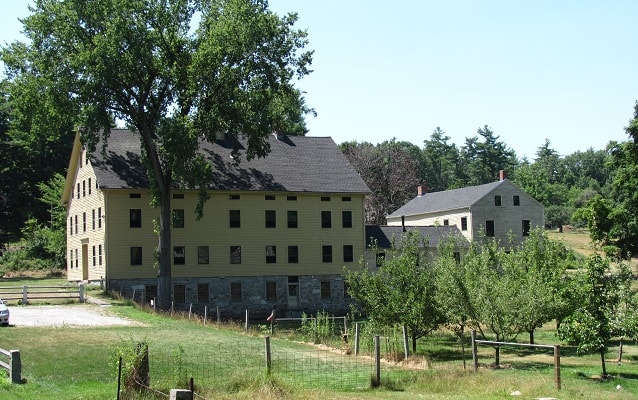 Location:
Shaker Road, Harvard MA
Significance:
Religious Community in Massachusetts
Designation:
National Register of Historic Places
The Harvard Settlement was the second Shaker community in the United States and the first in Massachusetts. Following a period of religious unrest, several dissenters abandoned the Protestant Church of Harvard. In 1769 they built what was to become known as the Square House. Mother Ann visited this group in 1781, slowly bringing them into United Society of Believers (Shakers) over the next few years.
The Harvard Shaker Village was similar to other Shaker communities. It followed the standard Family layout - with the Church, North, South, and East complexes. Members of the Families dug drainage canals where necessary, and turned surrounding marshland into agricultural fields. They altered the nearby landscape to create outdoor religious spaces as well. For example, they leveled the summit of Holy Hill and planted rows of maples in adherence with the Millennial Laws. They reshaped the world around them in an attempt to create a "heaven on earth."
The two most significant buildings of Harvard Shaker Village, the Meetinghouse and the New Office, are located at the center of the Church Family complex. The Meetinghouse was built in 1791 and was the most important building of the community - both the center of social and religious interaction. It adhered to common Shaker design, the Meetinghouse features a clapboard exterior, granite steps, and four entrances. The different entrances were used to separate men from women, and family members from elders. The New Office was built in the 1840s. Daily business occurred on the first floor, while the trustees, guests, and office staff worked in the floors above. Today, the New Office interior remains largely unchanged.

The Burial Ground, near the South Family complex, offers a different look at Shaker history. The first burial occured in 1792, and is the final resting place of more than 300 members of the Harvard community. In the 1850s, the Harvard Shaker population peaked at about 200 members and its landholdings totaled more than 2,000 acres. After the Civil War, many members left and the population plummeted to under 40 by 1890. The Shakers were forced to begin selling properties. In the early 20th century, the remaining Eldresses sold Harvard's first office building, built in 1794, to preservationist Clara Endicott Sears. The building was moved to the Fruitlands Museum and opened it to the public.
Last updated: February 7, 2018