Place
Harmony Borax Works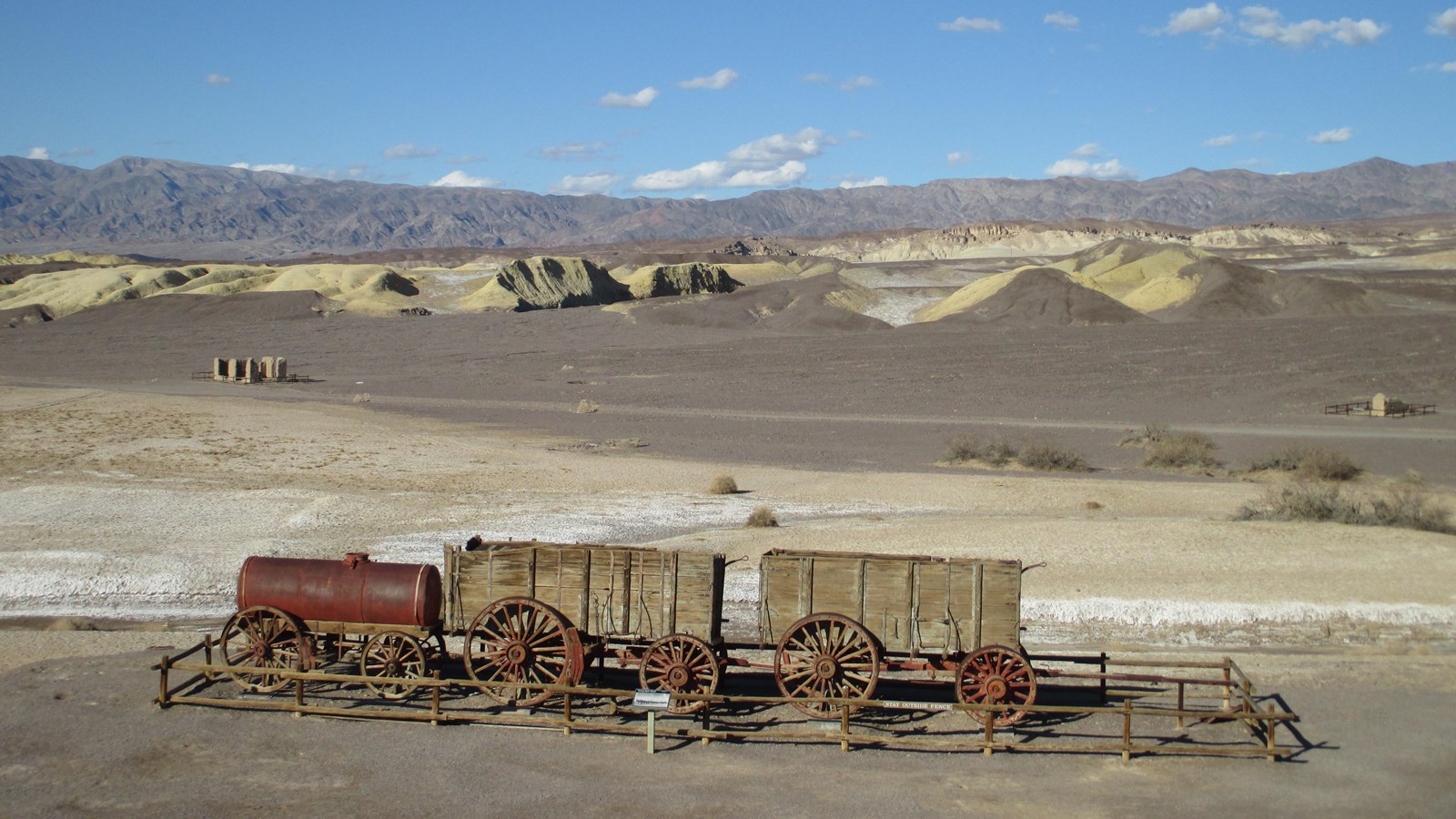 Location:
Death Valley National Park
Significance:
Mining History
Designation:
National Register of Historic Places
Historical/Interpretive Information/Exhibits, Parking - Auto, Trailhead, Wheelchair Accessible
Harmony Borax Works and the famous Twenty mule team brought the desert of Death Valley into homes across America.
After borax was found near Furnace Creek Ranch (then called Greenland) in 1881, William T. Coleman built the Harmony plant and began to process ore in late 1883 or early 1884. When in full operation, the Harmony Borax Works employed 40 men, who produced three tons of borax daily. What little evidence remains indicates that the bulk of this labor force was composed of Chinese workers. The Chinese laborers gathered the impure chunks of mineral from the valley floor and loaded them into one-horse carts for transport to the borax plant.

During the summer months, when the weather was so hot that processing water would not cool enough to permit the suspended borax to crystallize, Coleman moved his work force to the Amargosa Borax Plant near present day Tecopa, California.

Getting the finished product to market from the heart of Death Valley was a difficult task, and an efficient method had to be devised. The Harmony operation became famous through the use of large mule teams and double wagons which hauled borax the long overland route to Mojave.The romantic image of the "20-mule team" persists to this day and has become the symbol of the borax industry in this country.

The Harmony plant went out of operation in 1888, after only five years of production, when Coleman's financial empire collapsed. Aquired by Francis Marion Smith, the works never resumed the boiling of cottonball borate ore, and in time became part of the borax reserves of the Pacific Coast Borax Company and it successors. On December 31, 1974, the site was placed on the National Register of Historic Places.

HIKING NOT ADVISED AFTER 10AM IN THE SUMMER

Round Trip Length: 0.4 mi (0.6km) 
Round Trip Time: 30 minutes 
Difficulty: Easy
Elevation Gain: 50 ft (0.8km)
Trail Type: paved, current conditions include sandy areas, uneven and missing pavement due to flood damage.
Location: 1 mile (1.6km) west of Furnace Creek on CA-190
Parking: Paved area with large spaces for RVs and buses
Closest Restroom: No restrooms. Furnace Creek Visitor Center 1 mile (1.6km) east.
Route: The paved loop brings visitors around a mining site, where you can see adobe ruins and a 20-Mule Team wagon. Interpretive panels along the way explain borax processing, the story of the Mule Skinner, and life in Harmony.

Note: pets are not allowed on any trail in Death Valley National Park, even if carried. Do not leave your animal in your vehicle. Speak with a ranger about one of the incredible dirt roads where you may walk your pet.
Last updated: October 3, 2023