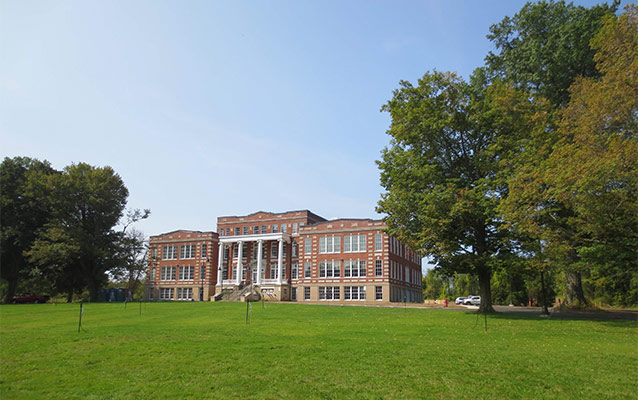 Quick Facts
Location:

702 S Westfield St., Agawam, Massachusetts

Significance:

Architecture, Education, Politics/Government, Social History

Designation:

Listed in the National Register of Historic Places – Reference number 100002781

OPEN TO PUBLIC:

No
The former Hampden County Training School is a Classical Revival-style brick-and concrete reform school erected in 1916 to address the problem of truant and disorderly juvenile boys in public school districts in Hampden County's 23 cities and towns and in the nearby counties of Hampshire, Franklin, and Berkshire. 
The school was built in a rural agricultural community on the west side of the Connecticut River, seven miles from the center of Springfield. The choice of location was intended to provide a rural farm environment and to avoid the temptations of the city. The isolated location, surrounded by farmland, ensured that students could not easily walk away from the school to rejoin their friends and families. Despite the remote location, the Hampden County Commissioners report of 1918 noted that 36 boys still ran away from the training school a total of 69 times and that 5 were still at large at the end of the year.
The Hampden County Training School was in operation from 1916 to 1972. The facility was conceived on an outdated and ineffective "congregate" model. The building itself was overbuilt and designed for a capacity that was never needed or achieved. The architect's original design was modified to reduce construction costs. The facility was poorly managed throughout its years of operation and the staff lacked adequate training. County taxpayers and politicians consistently complained about the cost of operating the school and the marginal benefit that was derived. When the Hampden County Training School finally closed in 1972, the building was turned over to the state and left vacant. From 1985 to 2005, the building was used as a police academy training center, but maintenance needs were generally ignored and the building suffered substantial water damage. Instead of addressing the building's problems directly, the state spent a large amount of money on an ineffective solution, installing tons of structural steel and temporary cribbing in the upper floors and making the spaces completely inaccessible and unusable.
In 2017, the Hampden County Training School was rehabilitated for use as housing for homeless veterans by Soldier On, a private nonprofit organization established in 1994. The project utilized state and federal historic rehabilitation tax incentives to convert the building to a viable new use.
The Hampden County Training School also meets National Register Criterion as a particularly strong example of institutional design. Noted regional architect George Perkins Bissell Alderman (1862–1929) designed the Classical Revival-style structure. Alderman was well known in western Massachusetts for designing dozens of public buildings, churches, and commercial blocks, all expressive of the Classical Revival style.