Place
Hakone Historic District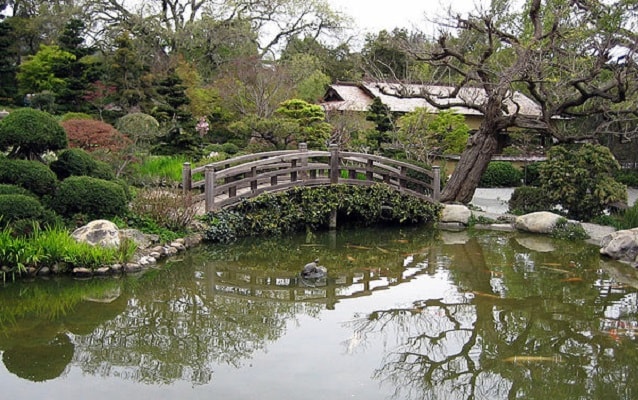 Location:
21000 Big Basin Way, Saratoga, CA
Designation:
National Register of Historic Places
Hakone Historic District (Hakone) is located approximately a half mile west of the City of Saratoga, just south of the San Francisco Bay area in California. Established in 1915, Hakone occupies 18 acres of land and contains a series of gardens and buildings that make up the oldest Japanese-style country villa in the Western Hemisphere. Hakone is unique in that it was built as a private and modest summer retreat, rather than part of a large, expansive estate, as was more common at the time.
 
In 1915, prominent San Francisco philanthropists and patrons of the arts Oliver and Isabel Stine purchased land west of the small town of Saratoga for a summer family retreat. Inspired by the Japanese gardens and cultural exhibits at the 1915 Panama-Pacific International Exposition in San Francisco, Mrs. Stine traveled to Japan in 1916 and toured numerous estate and temple gardens, becoming especially enamored of those in the Fuji-Hakone region west of Tokyo. After returning from her travels, Mrs. Stine began plans to build a Japanese country-style villa on the Saratoga property. She chose the name "Hakone" to honor one of her favorite areas in Japan.
 
In 1917, Mrs. Stine hired architect Tsunematsu Shintani, a native of the Japanese prefecture of Wakayama, to design Hakone's buildings. For the landscape and gardens, Mrs. Stine hired landscape architect Naoharu Aihara, who was from a long line of Imperial Gardeners based in Koyobashi, Tokyo. Hakone was built into a steep hillside with views of the "Valley of the Heart's Delight" (modern Silicon Valley) and was designed in the style of a Japanese Edo Period country villa with gardens. Plant specimens, garden features, and building materials were imported from Japan, and Japanese craftsmen were employed to construct the villa and install the gardens.
 
The Stines used Hakone extensively as both a summer residence and for entertaining. Mrs. Stine returned from her travels in Japan with numerous Kabuki theater costumes and wigs. She taught her children to reenact scenes from samurai plays performing the scenes for guests on the grounds at Hakone. In 1923, Mrs. Stine, a co-founder and patron of the San Francisco Opera, hosted the West Coast premiere of Puccini's opera, "Madame Butterfly," in the gardens at Hakone. Guests traveled from as far away as Los Angeles, Seattle, and New York to see the production which won rave reviews for the San Francisco Opera.

In 1932, the Stine family sold Hakone to financier Major Charles Lee Tilden who hired Japanese-trained landscape gardener James Sasaki to make improvements to the gardens and build several additional structures such as a mon gate, moon bridge, upper pavilion, and wisteria arbor. After Tilden died, Hakone passed to his sister, Mrs. Walter Gregory. Upon her death in 1959, her son, Michael Gregory, put the property up for sale.
 
Hakone was bought in 1961 by a partnership of Saratoga residents: Joseph and Clara Gresham, their son Eldon and his wife Deon, and four Chinese American couples: John and Helen Kan, Dan and June Lee, George and Marie Hall, and John and Mary Young. The partners maintained the gardens and property using Hakone as a private retreat. In 1966, the City of Saratoga purchased Hakone to save it from potential subdivision and development.
 
After the purchase, the City hired Tanso Ishihara, a Kyoto-trained landscape gardener, who worked with architect Kiyoshi Yasui, a 14th generation architect to the Japanese Imperial Household, to develop a master plan for expanding the gardens across the 18-acre site. Ishihara restored and refurbished the original main gardens, constructed a series of trails on the hillside south and west of the garden area, and restored the ponds, waterfalls, and pathways.
 
In 1984, a group of Saratoga citizens, in cooperation with the City, organized a municipal commission to provide financial relief to Hakone. Since 2000, the Hakone Foundation, a non-profit formed to preserve and enhance the Hakone Estate and Gardens, has maintained the site.
 
Hakone contains 18 acres of woodlands, chaparral, and four Japanese gardens, three of which are historic and original to the site - the Hill and Pond Garden, the Zen Garden, and the Tea Garden. The fourth one, the Bamboo Garden, was built in 1987. The gardens were designed and installed following traditional Japanese landscaping principles and encompass four garden types that are viewed in Japan as being the most "Japanese" in terms of their design and materials. These are Chisen-shuyu (Pond Garden), Chisen-kaiyu (Stroll Garden), Karesansui (Dry Landscape Garden), and Roji (Tea House Garden). Each garden also contains unique species of plants that are typical of traditional gardens found throughout Japan.
 
The Hill and Pond Garden, a Chisen-shuyu garden, has a large koi pond with a central island, a small waterfall, and a lily pond. The garden contains a wisteria pavilion and paths enclosed by a wisteria arbor. The hillside that makes up part of the garden contains native plants such as California Holly, California Lilac, buckeye, and elderberry and includes redwood trees which were planted as part of the original garden design. The Hill and Pond Garden also has elements of a Chisen-kaiyu style garden with paths designed for strolling while looking at the changing views.
 
The Zen Garden is a classic Karesansui. The garden consists of raked gravel and several large stones contained within an enclosure. Throughout the small garden there are original plant and tree specimens along with more delicate shrubs, mosses, and flowers. The garden is primarily for meditative viewing and is never entered. The Zen Garden is the most private of the gardens at Hakone.

The Tea Garden is modeled on a Roji, and is made up of many quiet and serene views. The garden contains a tsukubai (water basin), stepping stone paths, and mature plants and trees, including Japanese maples, hinoki cypress, wisteria vines, and black pine that were imported from Japan.
 
The Bamboo Garden (Kizuna-en), while not historic, complements the character and design of Hakone and represents the friendship between Saratoga and its sister city, Muko-shi, a suburb of Kyoto, Japan. Built in 1987, the garden is cared for by the Bamboo Society and contains prized bamboos from Yasui, Japan as well as from throughout California, and various location in Japan and other countries.
 
The historic buildings and structures at Hakone were built using traditional Japanese architectural designs and carpentry methods and follow shoin-zukuri and sukiya-zukuri design principles. These are based on 16th and 17th century residential architecture favored by the Japanese samurai warrior class and later associated with the tea ceremony. The three oldest buildings on the site are the Upper House built in 1918, the Lower House built in 1922, and the Tea Waiting Pavilion built in 1927.
 
Designed to resemble a rustic-style Japanese residence, the Upper House was constructed to accommodate sleeping, eating, reading, and performance of the tea ceremony. The house was also situated to facilitate "moon viewing," a centuries-old activity in Japan. The Upper House has an engawa (veranda) on two sides with glassed panels which can be opened or closed to provide access to the one-room building. The interior contains the four main elements associated with the shoin-zukuri architectural style: a tokonoma (decorative alcove), chigaidana (staggered shelves), tsukeshoin (desk alcove), and chodaigamae (decorative doors), as well as sliding shoji screens and tatami mats.
 
The Lower House (Zen Garden House) is a blending of traditional Japanese construction with the California bungalow style and served as the Stine family's summer residence until 1929. The house incorporates many Japanese features such as post and beam construction, sliding doors, and windows as well as western-style bedrooms, a bathroom, and a fireplace. The Lower House is an example of the Organic Architecture movement which emphasized harmony between human habitations and the natural world.
 
The Tea Waiting Pavilion is a small, square building constructed in 1927 which was used to prepare for the tea ceremony. The Pavilion is an open air wood building with no windows or screens that is simply furnished with wood benches. The interior and exterior are unpainted and have been allowed to weather naturally.

During the 1940s, several structures were added to Hakone including the Main Gate or Mon, a temple-style gateway that provides a dramatic entrance to the gardens, and the Wisteria Pavilion modeled after typical Japanese garden pavilions. Additional structures include the Moon Bridge (a small arched foot bridge), the Upper Pavilion holding views of both the gardens and the natural terrain, and the Wisteria Arbor (Fuji-dana), typical of the long arbors that found in traditional Japanese gardens.
 
In addition to the gardens and structures, symbolic and ritual objects are important elements of the landscape at Hakone. These include a metal crane sculpture, stone and metal lanterns based on traditional Japanese designs, stone and wood basins, two carved stone images representative of Buddhist beliefs, and three large stones – Master Stone, Worshiping Stone, and Stone Washing Basin (Chozubach). Stones such as these are symbolically important in Japanese culture and are often found in traditional gardens.
 
Hakone Historic District is a significant designed landscape as well as an example of traditional Japanese garden and building designs imported to the U.S. and California during the late 19th and early 20th century. The site was designed and constructed as a fully integrated environment with the gardens, buildings, and objects all combining to emphasize a harmony between humans and the natural world.

Hakone Historic District, listed in the National Register of Historic Places, is located at 21000 Big Basin Way, Saratoga, CA. For more information, visit the Hakone Estate and Gardens website.
Last updated: May 30, 2018