Place
Gwen Frostic Studio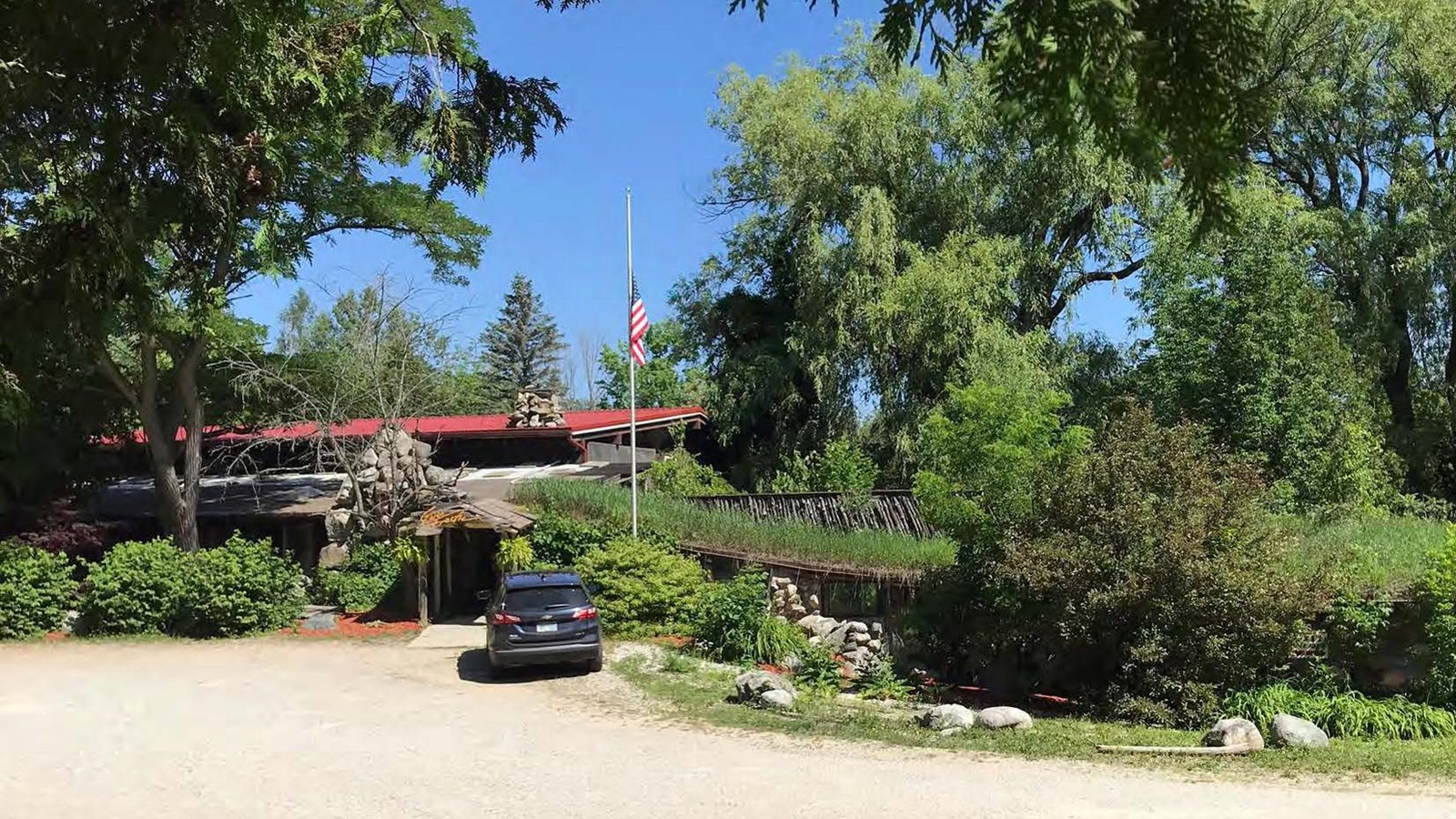 Location:
5140 River Road, Bezonia Township, Michigan
Significance:
Architecture, Art
Designation:
Listed in the National Register – Reference number 100006321
Michigan born, Sara Gwendolyn Frostic (1906-2001), was one of America's foremost nature inspired artists. Carefully carving the designs of nature into linoleum blocks. Gwen then used Heidleberg letter presses to bring her images alive on stationery, and, as an entrepeneur, created a thriving print shop in the process.  

The Gwen Frostic Studio is located on a ten-acre site at 5140 River Road in Benzonia Township. It is in a rural area,  approximately two miles west of the village of Benzonia, Michigan (population around five hundred), and about a half mile south of the winding Betsie River. It consists of mostly undeveloped wetlands and fields. Ms. Frostic affectionately referred to her property as "The Frog Pond." The Gwen Frostic Studio consists of her printing operation, the store for her merchandise, as well as her personal residence and office. 

The building was designed by Gwen Frostic and her contractor, starting in 1964,  in an organic style that served as an expression of Ms. Frostic's love of the nature environment. The building is wedged into the hillside and adjacent to a pond. It was constructed, in part, utilizing natural materials from the site with long, low-pitched roofs to blend into the natural environment. It is of wood frame construction and utilitarian concrete block, with large expanses of windows for natural light and to view the bucolic landscape around the building.  The building reflects the art she created while living there with nature; the books she wrote, illustrated, and printed based on her love of Michigan's natural environment; her unique store which hosted millions of visitors and earned millions of dollars; the printing operation over which she had total control; and her actions to conserve and promote Michigan's natural environment. The building is not imposed upon the environment but is in harmony with it. The building reacts to the environment and eschews the dictum of form following function. Rather, the form, materials, and arrangement of spaces are a reflection of the natural world. 

The building was sited adjacent to the pond, and laid out so her lower-level office and upper level residence overlooked it with floor to ceiling windows. The mail room lunchroom was elevated and had a protruding screened-in porch with floor to ceiling windows, for the employees to enjoy the view as well. Ms. Frostic developed walking trails around the property and pond, and along the trails were "sketching places," small screened-in "huts" where she could sketch without being bitten by insects. 

The original structure, approximately nine thousand square feet in size, grew incrementally over fifteen years in a series of additions. As of  2020, the structure stands at twenty-one thousand square feet. Like the building itself, the site grew incrementally from an initial forty acres to over two hundred acres of fields and wetlands, as Ms. Frostic acquired and preserved additional adjacent property. The multi-functional building contained all aspects of Ms. Frostic's professional and personal life. It housed her business, Presscraft Papers, including the printing press operation and retail store, as well as her personal office and residence. The building continues to be used as the place of production and sales for Ms. Frostic's artwork.

Gwen Frostic was a physically disabled artist and businesswoman. Despite the odds, she became a very successful artist, writer, nature lover, and entrepreneur.  She was born Sara Gwendolen Frostic in Sandusky, Michigan, on April 26, 1906, but was always known as Gwen. At eight months of age, she was sickened by a fever of unknown origins, later thought to be polio. Shortly thereafter, she became lame, her mouth drooped, her hands were stiff, and she spoke with a slight slur. "Experts" saw a limited life for her, in both length and quality. Her parents, Sara and Fred Frostic, did not agree. They did not coddle Ms. Frostic, and instead imbued in her an independence and toughness which served her well through her extraordinary life. She went to school and was expected to do household chores, just like her siblings. Later in life, she reprimanded those who called her handicapped. 

In 1927, to the disappointment of her parents, Ms. Frostic left college just short of a degree, wanting to earn her own living. She chose metalworking as her medium, and set up a shop in her parents' basement in their home in Wyandotte, Michigan. Naming her business Metalworks, she created works of art as well as taught metal craft to small groups of students. One of her most important commissions at this time was copper vases that she made for Clara Ford, the wife of Henry Ford.

The advent of World War II changed the course of her life. Ms. Frostic was unable to buy metal for her business due to its scarcity, so her metal artwork languished. To do her part for the war effort, she went to work for the Ford Motor Company as a tool and die draftsperson at the bomber plant at Willow Run Airport in Ypsilanti, Michigan. She designed the tools needed in the shop and helped to troubleshoot and fix the machines when things went wrong with the plant operations all with limited mobility. 

Her brother Ralph aided her in obtaining her first printing press. He had loaned a friend money, and coincidentally the friend had a used, hand-fed electric printing press in his garage. In exchange for canceling the debt plus forty-five dollars, Ms. Frostic acquired her first press. Not knowing how it worked, she took it apart and reassembled it to find out. She printed her first linoleum block carving of a fish on note cards, and in 1945 Presscraft Papers was born. During the day, she worked at the bomber factory. On weekends and at night, however, she worked at her printing business.  

After the war, she returned fulltime to her printing business. By 1951 the business was steadily growing. Ms. Frostic invested all her efforts and funds into running the presses and the shop herself. Although the printing business was an outlet for her artistic work, other menial printing jobs consumed most of her time, and pulled her away from her beloved Michigan nature sketches and prints. To keep up with the orders, she purchased an Original Heidelberg press, the first of many, to supplement her first press. It eventually became the only press she would use. The Original Heidelberg Platen Press was referred to by printers as "The Prince of Presses."  Frostic started with one Heidelberg, and eventually owned eighteen of them. 

Writing began as a happy accident, another expansion of her business and her life. As a member of the state board of the National Federation of Business and Professional Women's Clubs, Ms. Frostic was asked by her fellow board members to write and illustrate a book as a gift to the national officers. The result was "My Michigan" (1957), a compilation of prose describing her concepts of nature and illustrated with images of Michigan's natural environment. She was surprised at its popularity, and continued to write and illustrate. By 1999 she had written twenty-two books. 

In the early 1960s there was talk in Frankfort, where she was then located, of turning the swamp across from Main Street into a marina. With her source of sketching inspiration threatened with elimination, Ms. Frostic purchased a piece of property, a forty-acre site with a swamp, southeast of Frankfort in the countryside near Benzonia, Michigan. Here, she envisioned relocating her printing operation and store, and incorporating a residence for herself above the operation. She would be surrounded by nature and in control of her surroundings. The townspeople wondered at the logic of moving a perfectly good, thriving business out of downtown Frankfort with its summer tourist crowds, but that was exactly what she did. She called her new home, this studio, The Frog Pond. 

There was no architect involved on the project. Ms. Frostic and her contractor, Jim Rogers, designed the building, and made revisions and incorporated features as they occurred to her as meeting her needs. When a neighbor suggested that they make it bigger, they made it bigger. When they discovered a spring in the building footprint, they incorporated it into the building, creating a water feature. She created hiking trails around the property for visitors to use. She used the natural materials on the site such as logs, tree branches, and driftwood, for the finishes, furniture, and decoration. Farmers brought her rocks which they had removed from their fields; she instructed the workers to pile them naturally, so they looked comfortable, like they just landed there. When she needed additional space for her growing printing business, additions were made incrementally. In this way, it is an organic structure: using materials from nature, blending into the landscape, and growing as the needs of the occupants grew. The grand opening for the shop occurred on April 26, 1964, Ms. Frostic's fifty-eighth birthday. 

"Miss Frostic has the artistic ability to transfer the beauties of wild nature, both flora and fauna, through poetic words and original block prints to a highly distinctive line of note cards and stationery. The beauty of work and sketch of each of the hundreds of selections of Presscraft Papers have their Alpha and Omega in Miss Frostic's mind and soul and hands. The physical production of Presscraft Papers have their beginning and end in the Presscraft Papers shop under the direct control and immediate person attention of their creator." Presscraft Papers grew into a success on the efforts of Ms. Frostic's continuous promotion. She was thought of as one of the few very successful people in the arts and crafts business, and sold about half a million dollars' worth of printed books, stationery, and other paper products per year. The business was her life, and she poured her entire self into it. She held court at her shop, talking to customers and autographing books that they bought, which personalized the experience. When she was not at her studio, she traveled the state by car, giving approximately forty lectures per year about her work and the importance of Michigan's natural environment. 

Her subject matter in her art, writing, and lectures was the natural environment. Because it related to the environmental causes which were highlighted at the time, it earned her the admiration of environmentalists. In the early 1970s, Ms. Frostic gave lectures and seminars on ecology, a topic that was dear to her heart. She considered the outdoors to be Michigan's and the nation's greatest asset. In her lectures, she said that people must feel akin to all life and look to the common good; that government and science alone cannot solve the ecological problems. Citing Earth Day celebrations, she noted that the idea of recycling is not new; nature does it all the time. She was not anti-industry, but noted that industry has the money and technology to find creative ways to preserve the environment. "We must try to get people to think differently rather than do differently."
 
Last updated: February 23, 2022