Place
Gates of the Mountains Boat Tour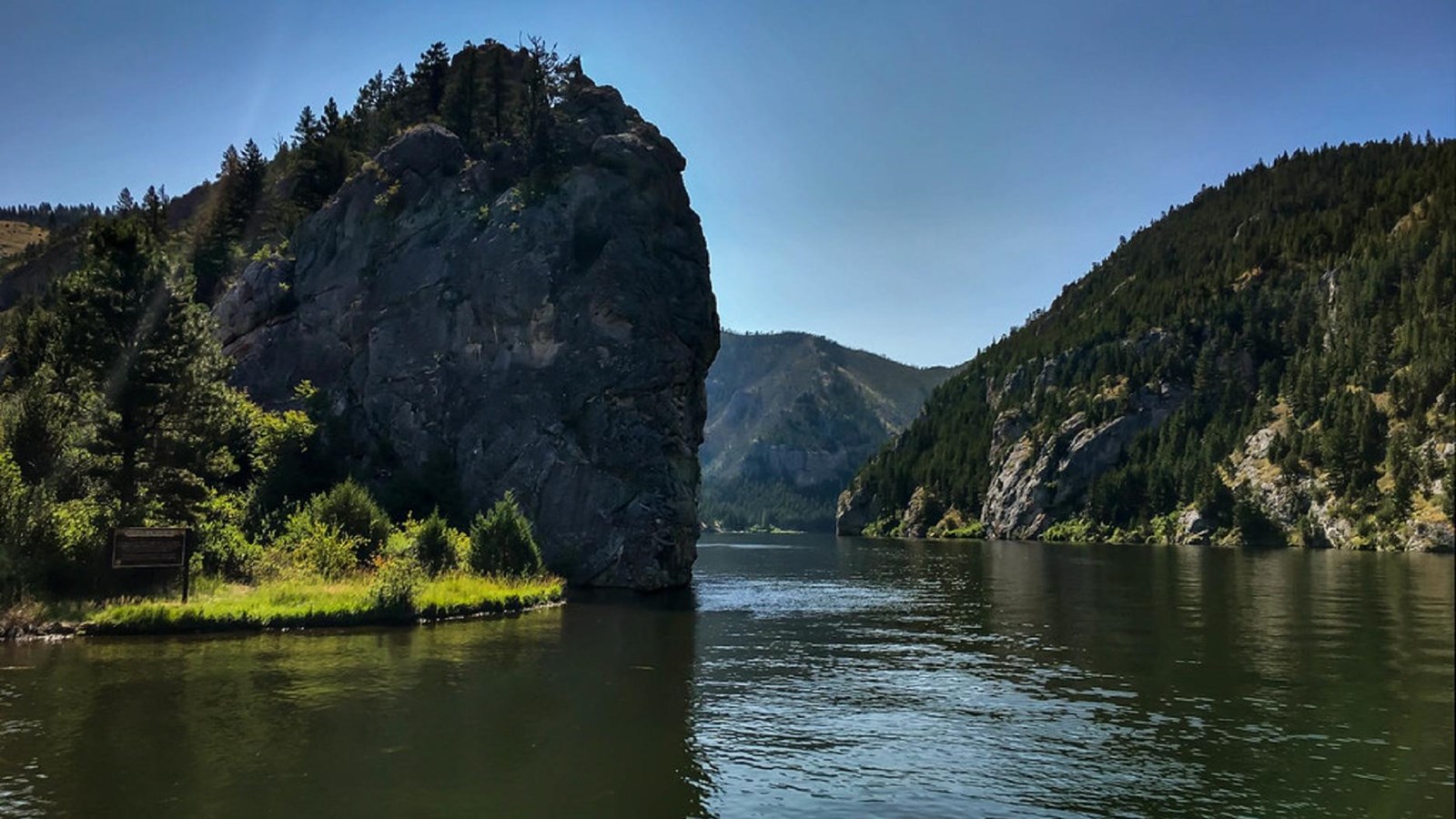 Historical/Interpretive Information/Exhibits, Information, Information - Ranger/Staff Member Present, Parking - Auto, Parking - Bus/RV, Restroom, Ticket Sales
Lewis and Clark NHT Visitor Centers and Museums
Visitor Centers and Museums along the Lewis and Clark National Historic Trail
The evening of July 19,1805, was a hot one in the wilderness that would later become Montana. On the Missouri River, not far from present day Helena, the hardy members of the Lewis and Clark expedition toiled to move upstream. Rock embankments made towing from shore impossible, and the deep channel forced the men to row rather than pole their boats forward.
Suddenly, there loomed before them towering rock formations unlike any they had ever seen. From both sides of the river, limestone cliffs rose to a spectacular height of 1200 feet. "In many places," wrote Meriwether Lewis, "the rocks seem ready to tumble on us." At each bend in the waterway, great stone walls seemed to block passage, only to open like gentle giant gates as the expedition drew near. In his journal, Meriwether wrote: "I shall call this place: "GATES OF THE MOUNTAINS".
The name stuck, and for nearly two centuries travelers have ventured down this stretch of the Missouri to marvel at its natural wonders. Today, most visitors enjoy the beauty of the Gates of the Mountains from aboard a tour boat – the "Canyon Voyager" or the "Sacajawea" (named after the only women and indigenous person on the Expedition). Aboard a comfortable open-air boat (covered in case of rain), you'll glide through magnificent country Meriwether Lewis would still recognize if he could return.
Great towering walls of limestone still stand guard over the river. Bighorn sheep and Mountain Goats scamper in the rocks high above the water. Ospreys, eagles (bald and golden), vultures and falcons (peregrine and prairie) still soar on the updrafts. The canyon is also home to otters, deer, squirrels, ermine, beaver, mountain lions, black bears and other wild creatures. The life list for bird species is over 120 right now.
From the vessel you can see Mann Gulch, the site of the raging forest fire that killed 13 smokejumpers, August 5, 1949. This tragedy was the main subject matter of Norman Maclean's book "Young Men and Fire". The story of Mann Gulch is one of the more interesting stories told by the guide and pilot.
Near Mann Gulch the pilot will hug the shoreline to give you a look at Indian pictographs painted on the rock wall. Proof that indigenous people lived here long before Meriwether named it the Gates of the Mountains.
The tour's main attraction, though, is the inexhaustible scenery – wooded slopes, rugged rock formations, and the placid beauty of the timeless Missouri.
Last updated: July 1, 2021