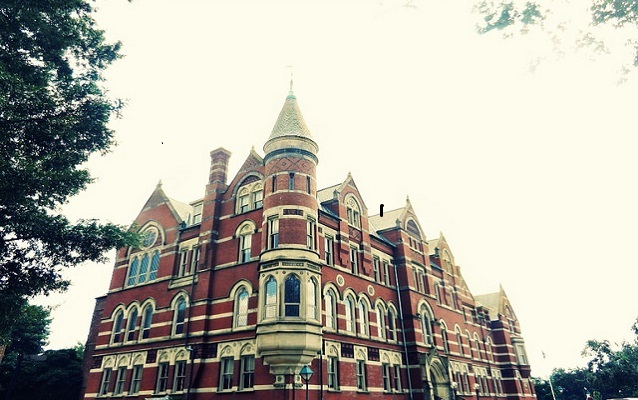 Location:
Florida Ave. between 6th and 9th Sts. NE, Washington DC
Designation:
National Register of Historic Places; National Historic Landmark
Gallaudet College, founded in 1864 as the National Deaf Mute College, has been since its inception the only university in the United States devoted specifically to the education of the deaf.
The historic district consists of most of the original campus which was planned in 1866 by Olmsted, Vaux & Co. This leading late 19th century landscape and architecture firm felt that since the college's students lacked the ability to hear extra care should be taken so that "the senses of sight and smell are gratified in a most complete and innocent way." Gallaudet College's romantic informal plan was one of the firm's earliest collegiate works.
The 1866 plan divided the campus into two parts separated by a large green. At the east are the academic buildings and at the west are a row of faculty residences. The 'Main Central Building' at the College, Chapel Hall, is one of the finest examples of post-Civil War collegiate architecture in the US and is the focal point of this college. It is a picturesque, brownstone, High Victorian Gothic designed by Frederick C. Withers of the leading mid-nineteenth century firm of Vaux,Withers and Co. Chapel Hall is in the Ruskinian Gothic Revival style which was popular in the 1870s, but it exhibits a restraint and fine handling of materials which creates a subdued coloristic harmony unusual in buildings in this polychrome style. College Hall is a fine example of polychrome High Victorian Gothic Revival architecture and was included in the 1866 plan. The east wing, designed by architect E.S. Friedrich, was erected in 1866. The main block of the building was designed by Withers and erected in 1874-1877.

Gallaudet University," Image by M R, CC BY-ND 2.0
Last updated: October 12, 2017