Place
Franklin D. Roosevelt Presidential Library and Museum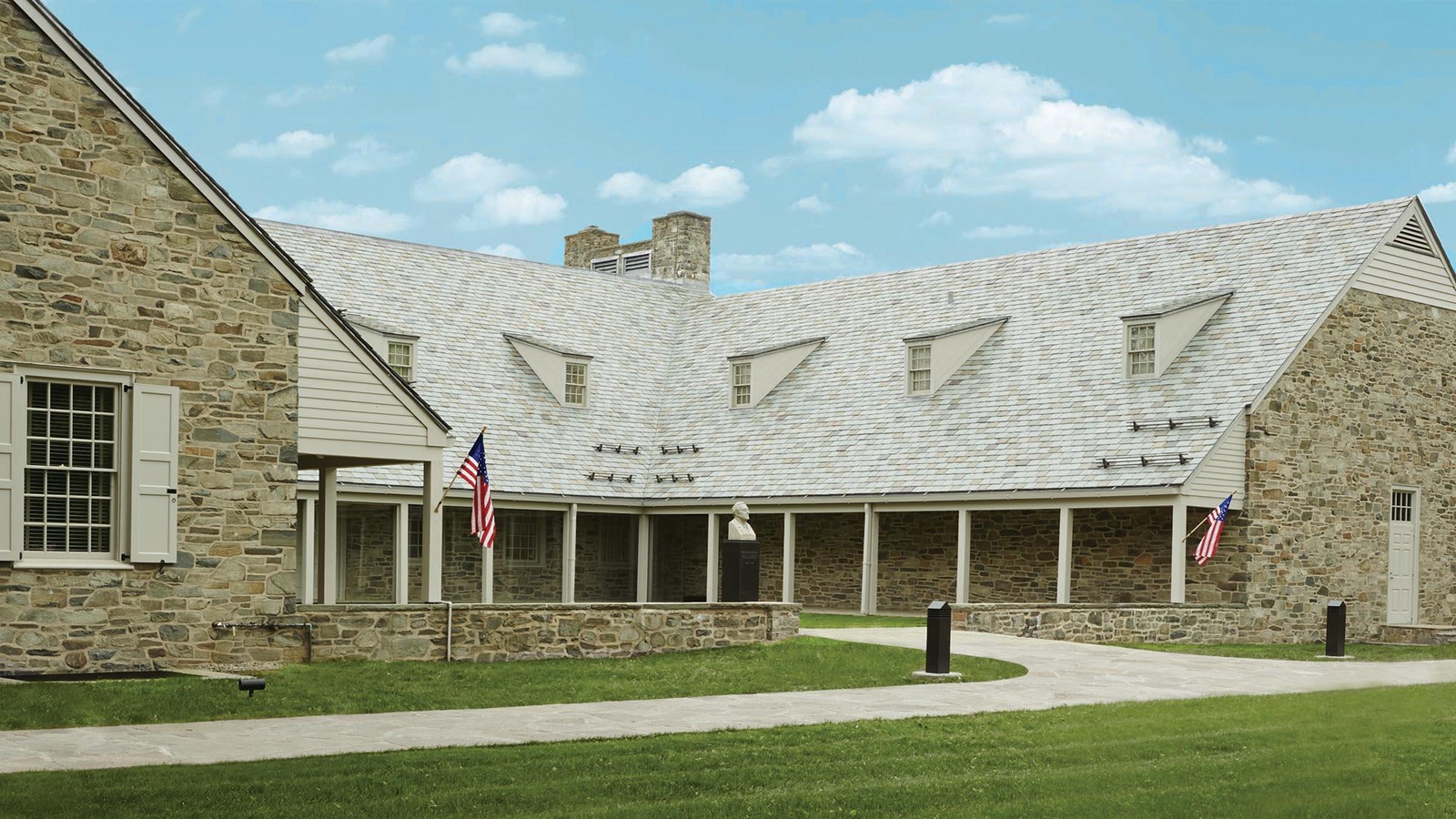 Significance:
The Nation's First Presidential Library
Designation:
National Register of Historic Places
When President Franklin D. Roosevelt proposed the idea of building a library to house his papers and memorabilia, detractors believed he was simply interested in constructing a monument to himself. Roosevelt, however, viewed the library as a solution to two problems—how to simultaneously preserve and provide public access to the records of his presidency. His was an attitude of "open government," believing that the people of the United States were entitled to a better look at how their government was working, even at the executive level.
As an avid amateur historian, Roosevelt recognized the value of his papers and believed they should be saved for future historians and the American people. His collections contain personal and family papers, manuscripts related to his public career at the state and national level, photographs, sound and motion picture recordings, books, and periodicals. FDR also had a vast memorabilia collection, including ship models, prints and paintings, state gifts, gifts from the American people, and family items.
By the time FDR reached the Presidency, his personal and professional papers amounted to such a large collection of material there was no single place that could adequately house it all. During his presidency, Roosevelt received approximately 4,000 letters a day from people commenting on his policies and his running of the government. He enjoyed his contact with the people and encouraged their writing. On November 19, 1939 at the cornerstone laying ceremony for the library, Roosevelt said, "Of the papers which will come to rest here I personally attach less importance to the documents of those who have occupied high public or private office, than I do the spontaneous letters which have come to me and my family and my associates from men, from women, and from children in every part of the United States, telling me of their conditions and problems, and giving me their opinions."
In 1934, Roosevelt signed legislation allowing for the creation of the National Archives, a repository dedicated to preserving the nation's history. He had always had an interest in history and recordkeeping, and often involved himself in the organization of the new agency. In a 1949 article published in The American Archivist, Dr. R.D.W. Connor recalls his first meeting with Roosevelt, during which he was appointed Archivist of the United States. Connor described his meeting with Roosevelt, saying he "delivered a dissertation on the importance of the National Archives, both to the government and to scholars, pointed out some of its problems that required immediate attention, and assured me that I could rely on his continued interest in its development. 'You know,' [Roosevelt] added, 'it's my baby!'"
At a press conference held December 10, 1938, Roosevelt explained the need for a place to keep his own papers after his presidency, saying, "For the last two years I have been considering more and more the final disposal of what amounts to probably the largest collection of original source material of almost anybody over the last quarter of a century." To solve this problem, FDR wanted to build a library to house his collections on his family property in Hyde Park.
Roosevelt shared this vision with those at the press conference, saying, "Because these papers relate to so many periods and activities which are not connected with my service in the Federal Government, I do not wish to break them up, leaving a portion of them to the National Archives and dividing the rest . . . It is my desire that they be kept as a whole and intact in their original condition, available to scholars of the future in one definite locality."
In addition, Roosevelt hoped the library would also become the repository for the papers of his associates and contemporaries. He envisioned creating a source material collection, a place where people could research not just the FDR administration, but a significant period in American and International history. Roosevelt explained this idea at his press conference, saying the library would hold all of his own collections along with "other source material relating to this period in our history as might be donated to the collection in the future by other members of the present Administration."
FDR's idea was to build a new library using private funds, then to give the structure and its historical collections over to the United States government. The National Archives would become stewards of the library and its historical materials—museum objects, archival documents, photographs, and moving images. The government would also be charged with maintaining open access to these materials in the form of a museum and research room.
His plan for the first presidential library set a precedent that all future chief executives have followed since, and the National Archives and Records Administration (NARA) now administers 13 of these institutions in all.

Article courtesy of the Franklin D. Roosevelt Presidential Library and Museum.
Last updated: March 9, 2023